For those deeply invested in gold shares, the past few weeks have resulted in one of two scenarios:
1. Tears, heart attack, hair loss and other such events and emotions that dispel the notion that investing is easy
2. The buying opportunity of a lifetime
Which scenario applies depends on how one has been positioned, and whether they kept capital aside ready for a big sell-off. If you didn't have any cash reserves and had to learn the hard way this time, consider the bright side: It'll be easy to remember the lesson - which is to have cash ready for sell-offs, for times when the sentiment is extremely negative and fear is in the air. The volatility we're seeing in today's markets is a function of deregulation and expansion of the money supply; neither of those trends seems to be reversing, and so I consider it a reasonable assumption to expect volatility to continue, and probably increase. In light of this situation, it is especially important not to chase momentum, but rather to wait for a pullback - even more so for those who are taking the risk of investing in exploration stocks with a market capitalization below $500 million. Volatility, like luck, favors the prepared.
In any event, I'm especially inclined to think we've reached the bottom of this retracement in gold and gold stocks, and the fun of rising prices can thus resume for gold bugs. One reason that leaves me confident in this prognostication is the price action we saw in gold and gold shares yesterday; both were down sharply yesterday but quickly rallied, with gold shares even managing to close in the green - and by a wide margin. It was a rather volatile day, which only reinforces the point made earlier in this article. It also illustrates the value of using limit orders to capture quick price drops.
The chart below, of the ETF (NYSEARCA:GDX) that tracks producing gold miners, illustrates the situation.
(Click to enlarge)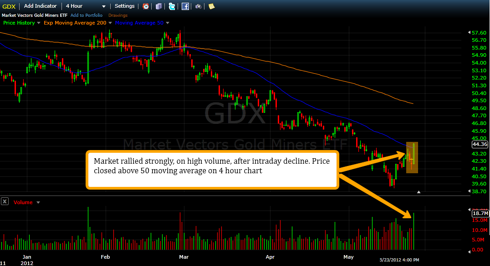 When we look at the price of (NYSEARCA:GLD), we see that the current retracement from the September highs near $1,920 appear like normal, previous corrections in the current bull market in gold. The chart below compares the pullback since September with the pullback in the second half of 2008.
(Click to enlarge)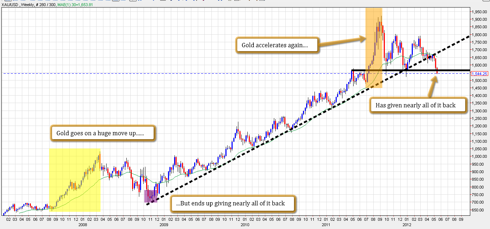 From this perspective, I think it's an especially great time to load up on gold and your favorite gold stocks. In the wake of the 2008 correction - if we go from the start of 2009 until the start of 2011 - rallied from around $20 per share to over $60 per share. I believe we're in for an even more dramatic move this time around, as the situation is more extreme. The global sovereign debt crisis is facing its day of reckoning this year, as the nation-states of the world owe 7.6 trillion in bond coupon payments. The price of gold is a function of this sovereign debt crisis, and the price of gold stocks can be seen as leverage applied to the price of gold.
Caveat: A Diaper-Changing Panic
The one caveat to the aforementioned analysis - meaning a reason why gold and gold stocks might continue to fall - is if we have what Ian McAvity referred to at the New York Hard Assets Conference as a "diaper changing event." By this humorous euphemism he meant a panic of some kind, perhaps like the collapse of Lehman Brothers in 2008. Certainly, we are still seeing flash crashes, which suggests a market rife with instability. Personally, I don't think we will see a "diaper changing event" that pushes broad indices down 10% or more in a day. I think regulators and monetary authorities are determined to prevent that and will do everything in their power to prevent a sharp decline (if they lack the ability to do so, I suspect they may grant themselves more power). But as markets are full of surprises, it may be worthwhile to have some cash allocated in the event there is a big panic, characterized by a large and sudden drop in all U.S. equities, similar to what we saw on the worst days of the 2008 crisis. If that occurs again, it will be the best time to buy - and investors who are prepared will find remarkable opportunities.
For those who are new to the gold market, my two favorite picks for the uninitiated are Franco Nevada (NYSE:FNV) and Goldcorp (NYSE:GG). I regard them as relatively safe and stable but still with a lucrative upside. You can find my review of many other gold stocks in my archive of columns on Seeking Alpha.