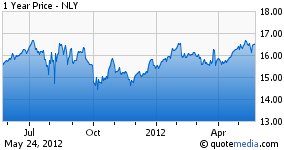 With historically low interest rates likely to continue throughout the next year or two, companies in the REIT sector have benefited by way of higher earnings and increased dividends - many yielding in excess of 12%. One such REIT that has been consistently performing well for its investors is Annaly (NYSE:NLY).
The variety of benefits that are obtained by investing in REITs in general are many, including a potential for two sources of income - dividends and capital gains - as well as cash flow in any market direction and a great hedge against inflation.
In this article, I will discuss why I have a particular liking for Annaly that is due in large part to the company's good earnings growth, strong quarterly revenue growth, and a very nice dividend yield.
Fundamentally Sound
Annaly owns, manages, and finances a portfolio of real estate and real estate related investments. These include collateralized mortgage obligations (CMOs), mortgage pass-through certificates, and other securities that represent an interest in or an obligation that is backed by a pool of mortgage loans.
Thanks to the decision by the Federal Reserve to keep interest rates at or near 0% through at least late 2014, REITs overall have been able to take advantage of these low rates for borrowing purposes - thus boosting earnings. Because REITs are required by law to pay out 90% of their taxable income to shareholders as dividends, investors have likewise seen dividend yields that are in the double digits on their REIT investments.
For Annaly, this has equated to a dividend yield of just under 14% and a nice quarterly revenue growth of over 29%. In fact, the company's five year dividend growth rate is in excess of 15%, thus providing investors with a steady income stream for some time now.
Annaly has also proven positive on the earnings side with an annual earnings per share of $2.57 in 2011, up from $1.57 in 2007, and an estimated earnings per share growth rate over the next 3 to 5 years of 2.
Recently, Annaly's CEO Michael Farrell announced that, based on the company's relatively conservative operating profile that has been designed to prepare the firm for potentially slow economic growth and uncertainty in Europe's monetary policy, the firm was well positioned to continue generating attractive risk-adjusted returns over the long term.
In addition, Annaly also recently announced that it had priced a public offering of 11 million shares of its Series C Preferred Stock with a liquidation preference of $25 per share. This will give the company gross proceeds of roughly $275 million that it intends to use for the purchase of additional mortgage backed securities as well as possibly payoff of some its short- and long-term indebtedness.
Other REITs of Note
While Annaly has a number of positives, there are several other options in the REIT arena that are also worth taking a close look at. One such company is Chimera (NYSE:CIM). Although investors are still waiting for year-end 2011 results due to a change in company auditors, Chimera has some strong points, including a current dividend yield in the neighborhood of 16% and a 5-year average dividend yield of just below 13%.
While Chimera may considered by some as being more risky due to the high percentage of non-agency backed securities in its portfolio, these shares could very well provide investors with a steady income, regardless of which direction the market moves, and I think they would be an especially good buy if they can be picked up for below $3 per share.
Another strong REIT contender is Dynex Capital (NYSE:DX). Since 2009, net income at Dynex has more than doubled from roughly $18 million to approximately $40 million for year-end 2011. And, with a five year 38% growth rate along with a 12% dividend yield going to investors, I'd keep this one on the list of potentials as well.
One REIT that possesses a particularly strong management team, as well as a long-term reputation for managing risk, is Cypress Sharpridge Investments (NYSE:CYS). Currently providing investors with a 15% dividend yield - and a 12% average yield over the past few years - Cypress is another strong player in this field.
Rounding out some of the top performing REITs in the sector is AMOUR Residential REIT (NYSE:ARR). Here, investors have seen a dividend yield closer to 17%. Earlier this year, the company announced the offering of 30 million additional common shares and it has also allowed the purchase of more than 4 million shares.
With a current share price of just below $7, I firmly believe that ARMOUR will meet its second fiscal quarter estimated price of $7.30. ARMOUR would be a great buy for investors - particularly if they can pick up shares below $7 per.
The Bottom Line
Due to Annaly's successful use of leveraging short and long-term interest rates, the company is highly likely to continue paying investors double digit dividend yields - regardless of which way the economy and the market move.
Given Annaly's strong and consistent dividend yield as well as its well-positioned long-term strategy that allows for slower economic recovery yet continued low interest rates, I believe that Annaly is a great addition to investment portfolios that are seeking good solid income along with some potential growth. The shares would be an especially good buy if they could be purchased for under $16.
Disclosure: I have no positions in any stocks mentioned, and no plans to initiate any positions within the next 72 hours.