The health care sector as a whole dropped slightly during the month ending January 18 but still easily outperformed each of the other 11 sectors Morningstar tracks. The relatively strong performance was brought about in part by a minor rally in pharmaceutical stocks, which helped deliver PowerShares Dynamic Pharmaceuticals (NYSEARCA:PJP) to position 19 on our PowerShares Momentum Tracker sector table last week, up from 27 on December 26.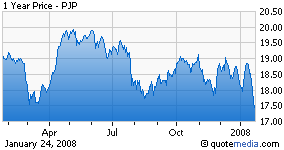 PJP and the rest of the health care sector benefited from the increasingly gloomy outlook for the overall economy, which has led many investors to gird their portfolios with defensive stocks. Pharmaceuticals fit the bill, due to the fact that demand for medicine usually stays fairly steady even during major economic downturns, and because stocks in the industry tend to pay robust yields while sporting relatively low price volatility.
But funds like PJP would probably be performing quite a bit better if many major pharmaceutical firms weren't plagued by a host of challenges. In addition to a continuous onslaught from generics-makers, which pump out cheap, low-margin versions of major brandname drugs, big pharma is coping with rising costs, dried-up pipelines, and the possibility of a less-friendly regulatory environment. PJP isn't likely to deliver soaring returns unless pharmaceutical firms can come up with a remedy for those ills, even if troubles in the broad market allow it to continue ascending the PowerShares Momentum Tracker sector table.
PJP, which invests in 30 mostly large-cap pharmaceutical stocks, hasn't stood out lately among its peers. The fund lost about 2% for the month ending January 17, a performance that tops the S&P 500's showing for the period by nine points, but lags behind about two-thirds of the funds in Morningstar's health care category. PJP was held back largely by a few top holdings that suffered major crises in the last few weeks.
The worst news for investors in PJP came from Merck (NYSE:MRK), which recently shifted from the top spot in the fund's portfolio to the fifth. The firm finally released the results of a clinical trial done two years ago, which indicated that its new cholesterol drug Vytorin may be no more effective than an older and cheaper drug the company produced. Vytorin, which was sold in partnership with Schering-Plough (SGP), accounted for an enormous share of Merck's revenues last year, thanks in part to a $200 million ad campaign. The release of the trial results had at least two effects: On Capitol Hill, Congress called on executives of Merck to testify about why they had marketed the drug so heavily despite the study results; and on Wall Street, investors shed the firm's shares, leaving its stock down more than 10% for the month ending January 18.
On top of its troubles with Vytorin, Merck continues to fend off 25,000 lawsuits stemming from its ill-fated drug Vioxx, which has already cost the firm a settlement worth nearly $5 billion. The remaining cases could amount to another few billion dollars. The upshot: Despite ending 2007 with its stock up nearly 38% for the year, Merck looks as if it could be in for a rough spell. That said, several promising drugs recently released or about to be launched by the drugmaker do allow for some optimism.
Abbott Laboratories (NYSE:ABT), PJP's top holding as of last week, also has several promising products toward the end of the pipeline, and the blockbuster drugs it currently has on the market haven't brought the headaches that Merck has had to cope with. Moreover, Abbott Labs faces the loss of only one key patent this year, even while many pharmaceutical firms are faced with losing several. Shares in Abbott Laboratories rose 18% in 2007 and gained almost 4% for the month ending January 18.
Recent PJP number two holding Eli Lilly (NYSE:LLY) is coming off a lackluster period, and its stock trades about where it did three years ago. There's reason to believe that this could be the year the stock finally takes off. Morningstar analyst Brandon Troegle points out that while many of its competitors invest between 14% and 18% of their revenues in R&D, Eli Lilly devotes a full 20%. And unlike Abbott Laboratories, which depends heavily on acquisitions, partnerships, and other external sources for its new products, Eli Lilly emphasizes internal development. That means it has full control over the drugs it's creating, as well as the expertise to churn out more. The firm's investment in R&D has left it with a healthy pipeline packed with potentially huge moneymakers. In particular, keep an eye on Prasugrel, a medication for acute coronary syndrome that could turn blockbuster if clinical trials prove it to be effective.
Regardless of the triumphs and challenges of individual pharmaceutical firms, the industry as a whole is likely to attract investors as long as the broader market remains volatile and the economy appears troubled. Whether PJP is the optimal ETF for a stake in the defensive health care sector will depend on how good PowerShares' Intellidex indexing system turns out to be at selecting stocks for this fund's portfolio, and how the current shake-up in global markets plays out.