Selling naked puts is a great way to purchase shares in companies you like at a predetermined price. In essence, you are getting paid to wait.
Benefits associated with selling naked puts
In essence, you get paid for entering a "limit order" for a stock or stocks you would not mind owning.
It allows one to generate income in a neutral or rising market.
When you sell a naked put you are in a way acting like an insurance agent. The seller of the option agrees to buy the stock in the future if it drops to a certain level before the option expires. For this, you (the seller) are paid a premium upfront. If this strategy is repeated over and over again these premiums can really help boost returns over time.
Acquiring stocks via short puts is a widely used strategy by many retail traders and is considered to be one of the most conservative option strategies. This strategy is very similar to the covered call strategy.
The safest option is to make sure the put is "cash secured." This simply means that you have enough cash in the account to purchase that specific stock if it trades below the strike price. Your final price would be a tad bit lower when you add the premium you were paid up front into the equation. For example, if you sold a put at a strike of 20 with two months of time left on it for $2.50, $250 per contract would be deposited in your account.
Time is on your side. Every day you profit via time decay as long as the stock price does not drop significantly. In the event it does drop below the strike you sold the put at, you get to buy a stock you like at the price you wanted. Time decay is the greatest in the front month.
Some reasons to be bullish on Alcatel-Lucent (ALU):
It's trading $0.83 below book value.
A high beta of 2.29 makes it a good candidate for covered writes and for selling naked puts.
Cash flow increased from $-0.22 in 2009 to $.050 in 2011.
Annual EPS before NRI increased from $-0.27 in 200y to $0.47 in 2011.
It is well positioned to benefit from the growing optics and IP markets. These two divisions currently represent 25% of the revenues generated from the total Networks segment, and this figure is expected to move towards 30% by end of 2012.
Surging growth in mobile broadband data traffic has increased the expenditure in wireless equipment spending in North America. This has pushed carriers to add capacity and upgrade their 3G data networks, which in turn should lead to increased revenues from its wireless division.
Net income increased from $-703 million in 2007 to $1.48 billion in 2011.
A decent levered free cash flow of $632 million.
Projected year over year growth rates of 63% for 2013.
A projected 3-5 year EPS growth rate of 10%.
A decent quick ratio of 1.11.
An adequate interest coverage ratio of 1.72.
Zack's has a target price of 2.50.
Alcatel-lucent was reviewed in detail in our recent article titled Alcatel-Lucent: Time To Buy Or Flee?
Suggested Put Strategy for Alcatel-Lucent: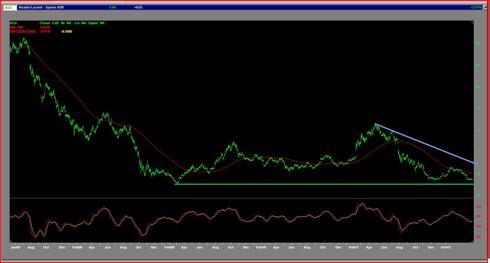 Alcatel-Lucent has very strong support in the1.25-1.30 ranges. We would wait until it trades within these ranges and then sell puts.

It is trading at 1.58 currently and the Dec 1.50 puts are trading in the 0.25-$0.35 ranges. If the stock dips down to the 1.25-1.30 ranges it would be fair to assume that this put would be trading in the $0.35-$0.45 ranges. For this example we will assume that we can sell the put at $0.35 when it trades down to the 1.25-1.30 ranges. If the stock trades below the strike the shares could be assigned to your account; your final cost then would be 1.15 (1.50-0.35). If the stock does not trade below the strike price you get to walk away with the premium which works out to a gain of 7%. If Alcatel-Lucent can close above 2.55 on a weekly basis the outlook would turn bullish and it could potentially test the 3.50 ranges before pulling back.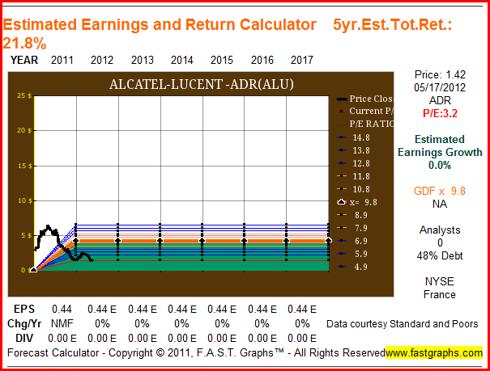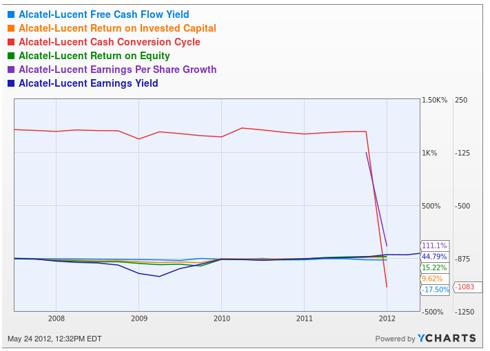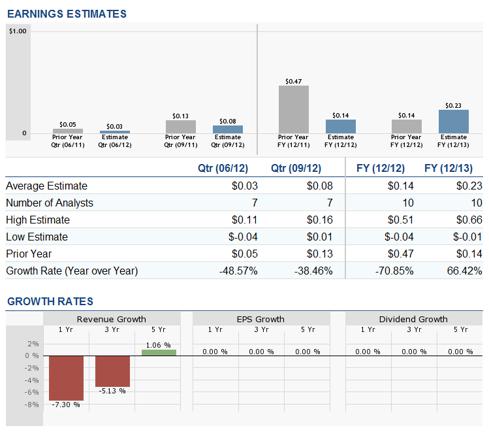 Conclusion
We still believe there is more downside to this market before a multi month bottom takes hold. Long-term investors can use strong pullbacks to slowly start deploying money into long-term investments. A great way to get into a stock at a price of your choosing is to sell puts at strikes you would not mind owning the stock at. Investors looking for even more investment ideas might find these articles to be of interest - General Electric: An Option Strategy That Could Potentially triple your yield and Kimberly Clark: A Great Strategy To Potentially Double your yield.
Disclaimer
This list of stocks is meant to serve as a starting point. Please do not treat this as a buying list. It is imperative that you do your due diligence and then determine if any of the above plays meet with your risk tolerance levels. The Latin maxim caveat emptor applies - let the buyer beware.
Disclosure: I have no positions in any stocks mentioned, and no plans to initiate any positions within the next 72 hours.
Additional disclosure: EPS and Price Vs industry charts obtained from zacks.com. A major portion of the historical data used in this article was obtained from zacks.com. Earnings and Growth data sourced from dailyfinance.com. Ycharts sourced from Ycharts.com.