What could be better than a double digit return on a security? Low interest rates have been a boon for mREITs. That is, residential mortgage real estate investment trusts (mREITs). Equities that are classified as mREITs often hold non-agency and agency mortgages. An mREIT with agency securities has government sponsored enterprise (GSE) backed mortgages for which the principal and interest payments are guaranteed by the United States government.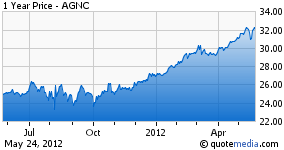 American Capital Agency (NASDAQ:AGNC) is an agency mREIT. AGNC purchases residential mortgage pass-through securities and collateralized mortgage obligations (CMOs) from GSEs such as, Fannie Mae (OTCQB:FNMA) (the Federal National Mortgage Association), Freddie Mac (OTCQB:FMCC) (the Federal National Mortgage Association) and Ginnie Mae (the Government National Mortgage Association). AGNC is externally managed by American Capital AGNC Management, LLC, and an affiliate of American Capital, Ltd ("American Capital"). The company was founded on January 7, 2008 and headquarters are located in Bethesda, MD.
What Can Go Right with mREITs Like AGNC?
To be a REIT, AGNC must annually distribute 90% of taxable net income to shareholders. According to the AGNC 2011 Annual Report, shareholders received an economic return of 37%, that's dividends plus the change in book value, measured against beginning Net Asset Value. This was $5.60 per share in dividends and an increase in NAV of $3.47 per share. Details about AGNC's financial performance are provided in the company's easy-to-understand Investor Fact Sheet.
The primary sources of funds are borrowings under master repurchase agreements (a repurchase agreement is a contract in which the vendor of a security agrees to repurchase it from the buyer at an agreed price), equity offerings, asset sales, and monthly principal and interest payments on the investment portfolio.
The equity offerings help reduce the firm's leverage risk. AGNC had equity offerings in 2009, 2010 and 2011. During fiscal 2011, AGNC completed four (January 2011, March 2011, June 2011, and November 2011) follow-on public offerings of common stock. In 2011, AGNC raised $4.4 billion and added 159 million shares. This allowed AGNC to source assets and hedge them as needed during the year. AGNC expected leverage to be within 6 to 11 times stockholder's equity. As of December 31, 2011 the leverage ratio was 7.9 times the amount of stockholder's equity, including total borrowings and net payables / receivables not yet settled.
AGNC has been hovering around $32, and has a P/E (NYSE:TTM) ratio of 4.78 and a dividend yield of $5 (15.70%). The following compares the selling price, P/E ratio and dividend yield of several other mREITs that own agency-backed securities. Annaly Capital Management (NYSE:NLY) is selling at $16.52 and has a P/E ratio of 29.20 and a dividend yield of $2.20 (13.40%), ARMOUR Residential (NYSE:ARR) has a selling price of $6.83 and a P/E of 12.78 and a dividend yield of $1.20 (17.50%), CYS Investments (NYSE:CYS) has a selling price of $13.70, a P/E of 10.46 and a dividend yield of $2 (14.70%) and finally Chimera (NYSE:CIM) has a selling price of $2.75, a P/E of 5.02 and dividend yield of $0.44 (15.90%). As you look over these comparisons, remember the higher the P/E ratio the more expensive the security. To my way of thinking, the price of AGNC at $32.10 is a bargain. I would target AGNC closer to a selling price of $34.
What Can Go Wrong with a Security like AGNC?
Interest rate risk tops the list of what can cause an mREIT to crash. Let's say that 10-year Treasuries have a 2% return and you are receiving a return of 15% for your mREIT. In this situation, you may want to consider the 13% difference your risk premium. In other words, if a negative event materializes, it can happen in the blink of an eye. The interest rate risk that mREITs experience is the decline of the spread between short-term rates and long-term rates. There are many factors that affect interest rates, such as competition, actions by the Federal Reserve, and other economic reasons that affect the interest rate environment. AGNC makes a profit by actively managing the portfolio, net interest income, and net realized gains and losses on investments. Investments are primarily funded through short-term borrowings structured as repurchase agreements.
Credit risk frequently plagues mREITs. Credit risk is when borrower's default. Credit risk can negatively affect mREITs that have non-agency mortgages due to write-downs and insolvencies. For agency-backed securities the risk is similar to the risk of U.S. Treasuries defaulting. Another type of mREIT risk is prepayment risk. Prepayment risk is when borrowers pay off loans before maturity. This costs the mREIT future coupon payments. According to the AGNC 2011 Annual Report, AGNC benefited when tighter underwriting practices were put into place because prepayments were reduced.
Additionally, AGNC lowered the portfolio's prepayment exposure by including Home Affordable Refinance Program (HARP) securities and adding loans with lower loan balance collateral to the portfolio. The AGNC 2011 Annual Report states that AGNC actively fended off prepayments during this period of low interest rates by carefully selecting securities that have natural impediments to refinance activity. Therefore as of December 31, 2011 about 91% of the 15-year portfolio and 68% of the 30-year portfolio were backed by lower loan balance or HARP securities. Consequently, AGNC experienced prepayments well below those of the mREIT industry standard.
Conclusion
I give AGNC a high five and my top recommendation. AGNC has provided a steady stream of double-digit returns, has proven strategies for reducing risk, and in this low interest rate environment should provide more double digit returns. I value this mREIT at $34. Its current price of around $32 makes it a great pick. However, I will keep a close eye on it. Blink, blink.
Disclosure: I have no positions in any stocks mentioned, and no plans to initiate any positions within the next 72 hours.