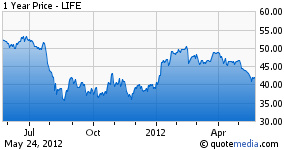 Life Technologies (NASDAQ:LIFE) has had an interesting 2012 so far. It started the year at around $39 a share, shot up to $50 in February and have sold off with the overall market in the last two months and its shares are back down to $42 a share. I believe the shares have a lot of value here given the stock's low valuation, defensive nature (Healthcare) given the increasing volatile nature of the market and some positive trends.
Recent positives for Life Technologies:
An Officer made a $150K plus buy of new shares in late April.
Consensus earnings estimates for both FY2012 and FY2013 have ticked up over the past month.
The company affirmed 2012 guidance in late April. It also has two potential game changing products coming out by end of the year. (Watch video of company's CEO on Mad Money explaining new products and prospects here)
4 reasons LIFE is a bargain at under $42 a share:
The company has beat earnings estimates the last three quarters and LIFE sells for under 10 times forward earnings, a discount to its five year historical average (14.9).
The stock is selling at the bottom of its five year valuation range based on P/E, P/B, P/S and P/CF.
The stock is selling at 9 times operating cash flow, has a relatively low beta (.87) and a reasonable five year projected PEG (1.15)
The median analysts' price target on LIFE is $54. S&P has a "buy" rating and a $58 price target on the stock.
Disclosure: I am long LIFE.