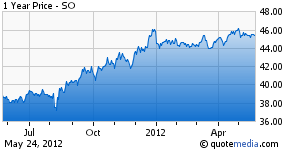 The Southern Company (NYSE:SO) has long been a staple in conservatively managed dividend and retirement portfolios. The company is comprised of 4 power generating units, Alabama Power, Georgia Power, Gulf Power, and Mississippi Power, all of which are typical regulated public utilities, based in the southeast US. In addition, Southern Company owns Southern Power, which is a merchant wholesale generator, and Southern Nuclear, which is the licensed operating arm for the 3 nuclear plants in Alabama and Georgia owned by the firm. Finally, Southern Company also owns SouthernLinc Wireless, and Southern Telecom, a fiber optic wholesaler based in the southeast.
The reason that SO has become a fixture stems from the firm's dependable financial performance over extended periods of time. Total shareholder returns over 5, 10, and 30 year periods have been 9.9%, 11.4%, and 16.3%, respectively. The dividend was increased by 3.7% in April, 2012 (from $0.4725/sh/q to $.49), making 11 consecutive years of increasing dividends, which places it on SA contributor Dave Fish's "Contender List". The firm has consistently paid a dividend for 258 quarters (more than 64 years.
Lest one gets overly enamored by the returns the firm has generated in the past, there ARE some flies in the ointment that perspective investors should be aware of. Probably the largest one, at least for the moment, is the fact that SO is heavily reliant on coal generated power. Given the current (and growing) emphasis on "green" energy, SO will likely be spending increasingly larger amounts in capex as environmental controls and regulations become increasingly stringent.
The second caveat that should be noted, in light of the Fukushima nuclear disaster. SO has been involved in nuclear plants for many years, and no doubt, this seemed to be one way for the firm to get "greener", and cut coal-related emissions, but what happened in Japan was definitely a huge step backward for the nuclear power generating industry. Having said that, SO has been able to get the needed approvals for the expansion of the firm's Vogtle plant, located in eastern Georgia, near the South Carolina border.
Moving back to the positive side of the ledger, the approval of the expansion of the Vogtle plant points to one of SO's key strengths, which is the fact that the company operates in a historically business-friendly environment, and enjoys excellent relations with local regulatory bodies. The firm's earned this rapport by virtue of providing relatively inexpensive power (compared on a national basis) in a reliable fashion. A good working relationship with regulators is key for any regulated utility.
The firm's management appears to be well aware of the challenges being posed by the shift towards cleaner power, and has been moving increasingly into more environmentally friendly generation projects, such as biomass, (a 100 MW facility is under construction in Texas, as well as the conversion of an older coal-fired plant in Georgia), hydroelectric, and solid waste/landfill gas power generation.
Looking at the numbers, SO is currently near it's 52 week high of $46.69 (it closed at $45.55 on 5-23-12) and yields 4.32%. In comparison, Duke Energy Corp (NYSE:DUK), a somewhat similar utility operating in the mid-Atlantic and Midwest areas yields 4.63% (and is also trading just off the 52 week high). As a footnote, DUK also owns some Latin American assets (including the firm's sole hydroelectric plant, located in Brazil, which accounts for approx. one half of the firm's international earnings).
Yet another competitor would be American Electric Power (NYSE:AEP), which looks like a comparative bargain, since it trades just above the middle of the 52 week range, resulting in a yield of 4.97%. However, AEP will be facing some headwinds as Ohio transitions to a de-regulated energy system. Duke Energy will face integration challenges as it finalizes the merger with Progress Energy (PGN) which is slated to close in 2012, assuming regulatory approval.
In summation, although a bit pricey, I think it would behoove income oriented investors to keep an eye on SO for any pullbacks in price.
Disclosure: I have no positions in any stocks mentioned, but may initiate a long position in SO over the next 72 hours. I have owned SO in the past, and have placed it on my watch list.