Selling naked puts is a great way to purchase shares in companies you like at a predetermined price. In essence, you are getting paid to wait.
Benefits associated with selling naked puts
In essence, you get paid for entering a "limit order" for a stock or stocks you would not mind owning.
It allows one to generate income in a neutral or rising market.
When you sell a naked put you are in a way acting like an insurance agent. The seller of the option agrees to buy the stock in the future if it drops to a certain level before the option expires. For this, you (the seller) are paid a premium upfront. If this strategy is repeated over and over again these premiums can really help boost you returns over time.
Acquiring stocks via short puts is a widely used strategy by many retail traders and is considered to be one of the most conservative option strategies. This strategy is very similar to the covered call strategy.
The safest option is to make sure the put is "cash secured." This simply means that you have enough cash in the account to purchase that specific stock if it trades below the strike price. Your final price would be a tad bit lower when you add the premium you were paid up front into the equation. For example, if you sold a put at a strike of 20 with two months of time left on it for $2.50; $250 per contract would be deposited in your account.
Time is on your side. Every day you profit via time decay as long as the stock price does not drop significantly. In the event it does drop below the strike you sold the put at, you get to buy a stock you like at the price you wanted. Time decay is the greatest in the front month.
Reasons to like Alcoa Inc (NYSE:AA):
Management expects global demand for aluminum to come in the 7% ranges as it feels confident that the increased consumption from North America, Russia and Brazil will help bolster demand. It projects 11% growth in China and 8% in Asia excluding China.
It teamed up with Ma Den to build the largest and lowest-cost aluminum facility in the Middle East where new infrastructures are developing to keep up with the growing consumer demand. The smelter is on schedule to come online in 2013 and the refinery in 2014.
A good free cash flow yield of 6.6%
Year over year growth rate of 67% for 2013
A manageable long-term debt to equity ratio of 0.61
A low payout ratio of 23%
A strong levered free cash flow of $1.2 billion
A high beta of 1.96 makes it a good candidate for covered writes or for selling naked puts if one is bullish on the stock.
Good institutional support; percentage held by institutions is 63.4%
Short percentage of float is 6.7%, which makes it a pretty good candidate for a potential short squeeze.
Net income increased from $-1.15 billion in 2009 to $611 million in 2011.
EBITDA increased from 283 million in 2009 to $3.06 billion in 2011.
Sales surged from $18 billion in 2009 to $24 billion in 2011.
A five-year cash flow average of $2.60 per share
A projected 3-5 year EPS growth rate of 10%
An acceptable current ratio of 1.25
It is aggressively slashing costs. It curtailed 390,000 tons of its smelting capacity to improve its competitive position. In January 2012, it also announced the temporary idling of its smelters in Aviles and La Coruna both of which will run at 50% capacity. It also announced that it's going to permanently close its Tennessee smelter and two of the six potline at its Rockdale Texas smelter as part of its cost cutting imitative.
Suggested Put strategy for Alcoa Inc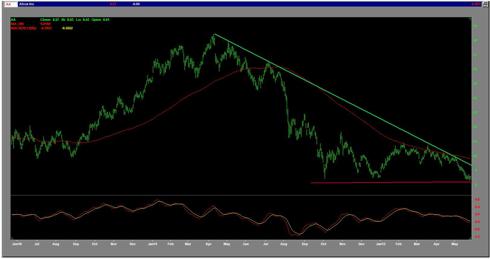 Click to enlarge
It has fairly strong support around 8 but could potentially trade down to test its five-year lows in the 5.50-6.00 ranges, though we would not hold our breath for this event. We would divide our money into 2-3 lots and deploy one lot at a time. The first lot can be deployed on a test of 8 and the individuals can look to sell the Jan 2013 7.50 puts.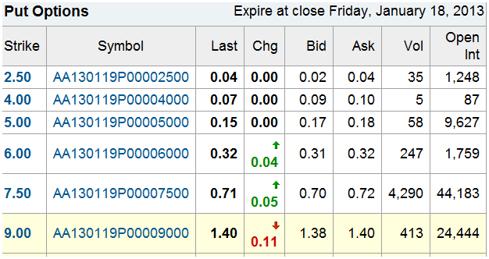 Click to enlarge
The stock is currently trading at 8.51 so the Jan 13, 7.50 puts should rise in price by 10-20 cents if it dips down to 8.00. Let's take the mid range and assume they rise in price by 15 cents. The 7.50 puts are currently trading in the 70-72 cent ranges and so could potentially rise to 85 cents if Alcoa dips down to 8.00. For each contract sold $85 will be deposited in your account. If the stock trades below 7.50, the shares will be assigned to your account and your final cost will be 6.65 (7.50-0.85). If the stock does not trade below 7.50 you get to keep the premium which works out to a gain of 13.3%, which is not too shabby considering the pathetic yield treasuries offer.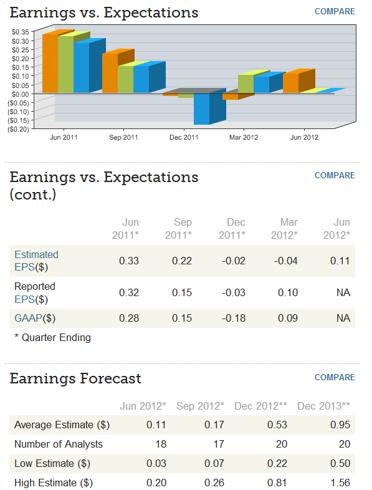 Click to enlarge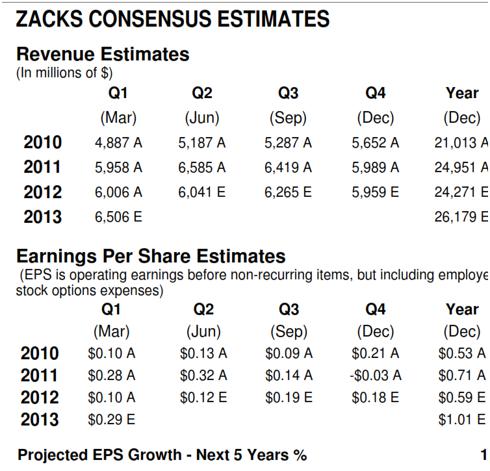 Click to enlarge
For investors looking for other ideas detailed data has been provided on Kraft Foods get you started. Investors might also find some investment ideas here - Alcatel-Lucent: A Chance To Earn 7% Plus A Lower Entry price with this strategy.
Company: Kraft Foods Inc (KFT)
Basic Key ratios
Percentage Held by Insiders = 0.36
Number of Institutional Sellers 12 Weeks = 1
Relative Strength 52 weeks = 79
Dividend 5-year Growth = 2.07
Cash Flow 5-year Average = 2.61
Dividend Yield 5-Year Average = 3.71
Growth
Net Income ($mil) 12/2011 = 3527
Net Income ($mil) 12/2010 = 4114
Net Income ($mil) 12/2009 = 3021
Net Income Reported Quarterly ($mil) = 813
EBITDA ($mil) 12/2011 = 8142
EBITDA ($mil) 12/2010 = 7106
EBITDA ($mil) 12/2009 = 6114
Cash Flow ($/share) 12/2011 = 3.14
Cash Flow ($/share) 12/2010 = 2.81
Cash Flow ($/share) 12/2009 = 2.66
Sales ($mil) 12/2011 = 54365
Sales ($mil) 12/2010 = 49207
Sales ($mil) 12/2009 = 40386
Annual EPS before NRI 12/2007 = 1.82
Annual EPS before NRI 12/2008 = 1.81
Annual EPS before NRI 12/2009 = 2.02
Annual EPS before NRI 12/2010 = 2.02
Annual EPS before NRI 12/2011 = 2.29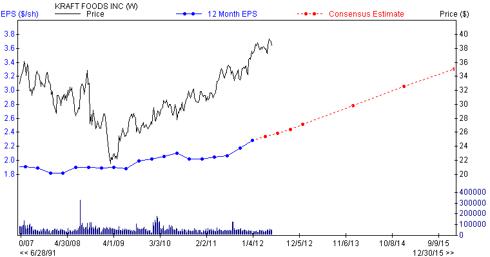 Click to enlarge
Dividend history
Dividend Yield = 3.00
Dividend Yield 5 Year Average 12/2011 = 3.71
Dividend 5 year Growth 12/2011 = 2.07
Dividend sustainability
Payout Ratio 09/2011 = 0.5
Payout Ratio 5 Year Average 12/2011 = 0.57
Change in Payout Ratio = -0.07
Performance
Next 3-5 Year Estimate EPS Growth rate = 8
5 Year History EPS Growth 12/2011 = 4.35
ROE 5 Year Average 12/2011 = 10.91
Return on Investment 12/2011 = 6.87
Current Ratio 12/2011 = 0.92
Current Ratio 5 Year Average = 0.97
Quick Ratio = 0.57
Cash Ratio = 0.22
Interest Coverage Quarterly = 3.06
Conclusion
We still believe there is more downside to this market before a multi month bottom takes hold. Long-term investors can use strong pullbacks to slowly start deploying money into long-term investments. Investors looking for other ideas might find this article to be of interest - General Electric: An Option Strategy That Could Potentially triple your yield.
Disclaimer
This list of stocks is meant to serve as a starting point. Please do not treat this as a buying list. It is imperative that you do your due diligence and then determine if any of the above plays meet with your risk tolerance levels. The Latin maxim caveat emptor applies - let the buyer beware.
Disclosure: I have no positions in any stocks mentioned, and no plans to initiate any positions within the next 72 hours.
Additional disclosure: EPS and Price vs industry charts obtained from zacks.com. A major portion of the historical data used in this article was obtained from zacks.com. Earning vs expectations charts sourced from smartmoney.com. Options data sourced from yahoofinace.com.