UTStarcom (NASDAQ:UTSI) is one of the leading providers of Interactive Protocol (IP)-based network solutions in Interactive (iD)TV, IPTV, Internet TV and Broadband for cable and telecom operators. The company was founded in 1991 and listed on the NASDAQ in 2000, the company has its operational headquarters in Beijing, China and research and development operations in China and India.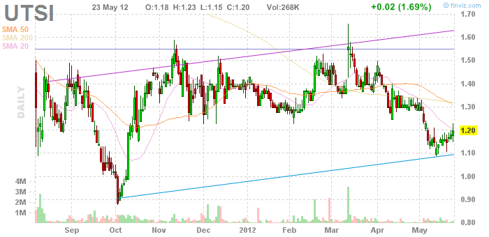 (Click to enlarge)
I see at least 4 reasons to buy the stock currently
1. Strong financials
First quarter 2012 total revenues increased 23.8% year over year to $46.7 million, compared to $37.7 million of adjusted revenue in the first quarter 2011 excluding $23.6 million amortization of Personal Handy-phone System deferred revenue and is a non-GAAP measure. As of March 31, 2012 the company had net cash of $285.4 million. The company has 151.3 million shares outstanding. This creates cash of $1.89 per share. The company expects to reach operational cash flow breakeven in 2012.
2. The company is buying back shares
The company announced a $20 million corporate share repurchase program in August 2011 and started this program in September of last year. As of May 16th, UTStarcom has repurchased approximately $7.2 million worth of the company's shares. At the same time, company's management team has collectively and with their personal fund, fully executed the $0.5 million management share repurchase program that was also announced in August 2011. UTStarcom will more aggressively execute the remaining corporate share buyback plan in the second quarter of 2012 according to latest earnings call.
3. The company is growing its IPTV customer space
On May 10, 2012 UTStarcom announced that it has been awarded a contract from Hainan Network Television to build an integrated IPTV broadcasting control platform. Hainan is the second among 42 recently designated trial markets to award an IPTV solutions contract to UTStarcom. The new broadcasting control platform will support the content management and distribution needs of IPTV, Internet TV and mobile TV.
"This new platform will cover all of Hainan province and provide approximately 100,000 household subscribers with digital, high-definition, and bi-directional IPTV. It will also enable HNWTV to centrally manage their television content distribution, storage, advertising posting, and subscriber data information," said UTStarcom President and CEO Mr. Jack Lu. "We are excited to have won our second contract in this current phase of China's network convergence plan, as we continue to expand our market share and look to a smooth and accelerated development of the interactive media industry in the second half of 2012."
Since 2010, UTStarcom has won and built nine additional IPTV broadcast control platforms across China, specifically in Beijing, Hubei, Hunan, Shandong, Shenzhen, Sichuan, Tianjin, Zhejiang, and Chongqing.
Specific competitors in this segment include Alcatel-Lucent (ALU), Cisco Systems (NASDAQ:CSCO), Huawei Technologies, Sonus Networks (NASDAQ:SONS), and ZTE Corporation (OTCPK:ZTCOF).
4. The company expects Video Service Cloud platform to become a revenue generator in 2012
UTStarcom launched its next generation Video Service Cloud (VSC) platform along with several commercial services associated with the platform at the China Content Broadcasting Network Exhibition on March 21-23, 2012.
The VSC platform, which the company has been developing since 2011, is a key strategic initiative for UTStarcom as the company accelerates its transition to providing media operation support services. Leveraging UTStarcom's Rollingstream technology, optical network infrastructure and the advanced technology of video exchange cloud, the VSC platform can store, exchange and distribute video and audio content through telecom networks, cable networks and the Internet. The VSC platform has the advantage of aggregating audio and video content which allows media operators to rapidly launch their IP video services and offer subscribers a high-quality and highly interactive experience through multiple video devices such as TVs, PCs, tablets and mobile phones.
The main services include the video distribution network (VDN), cloud-based B2B application services and video content exchange service. The VDN is focusing on digitalization, distribution, storage and acceleration of audio and video content with significant broadband cost savings. The cloud-based B2B video services have a wide range of value-added services such as video conferencing, online education, online office and targeted push video content for enterprise customers.
At the current stage, the company has established VDN nodes in major cities in China and started VDN services to a couple of Internet TV operators on a trial basis. The company plans to focus on the VDN service and video-based B2B application service offerings to generate a steady stream of revenues in 2012.
Conclusion
UTStarcom is currently trading below its net cash of $1.89 per share. I believe the current share price is a good entry point for the stock. UTStarcom has indicate that it will more aggressively execute the remaining corporate share buyback plan in the second quarter of 2012.
Disclosure: I am long UTSI.