Investors in Spansion (SPSN) have had a terrific ride. From $15 last January, the stock has made warp 9 all the way to $3.00 at Wednesday's close.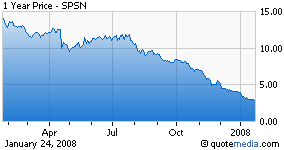 Spansion makes NOR memory, used for running cell phone operating code, and as DRAM/NAND pricing has come way down there is concern that NOR memory is becoming irrelevant in the face of a DRAM/NAND code shadowing combination. Certainly NOR pricing came down a lot Q1 and Q2 of '07, but was this caused by DRAM or just correlated with it?
Investors seem to be pricing in total causation, with more of it coming. By way of proof they can point to strong growth of mobile DRAM sales and to Samsung's OneNAND NOR emulator taking a 13% share of the NOR market in 2006, just its first year.
The argument for correlation is that DRAM/NAND prices declined throughout 2007, falling 40% from Q3 to Q4 alone, while Spansion's ASP's stabilized in Q3 and actually went up in Q4.
Furthermore, Samsung's OneNAND share stablized at 13% for the second half of '07, i.e. did not go up, even though DRAM/NAND pricing tanked in Q3 and Q4.
What may resolve this dilemma is that there are two types of NOR technology in the market. Intel and STMicro, the number 2 and 3 players, use floating gate technology on 200mm wafers, and they have been ceding share to Samsung's OneNAND.
But also to Spansion, which uses the other, newer, technology: charge trapping. In 2006 Spansion took 5 points of share away from Intel and STMicron, the #3 player. It took another 2 points in 2007. Spansion lost some money doing this, but you should see the other guy. Intel, with 22% market share, made a Q3 operating loss of $140 million on sales of $553 million, most of it NOR.
Those following the story know that Intel and ST are merging their NOR business, tellingly taking cash out of it, and letting the newco try to make some economies of scale. By my calculations - combining sales but counting only Intel's nonCOGS operating expense - Numonyx will run about EBITDA break-even. This, compared with annualized EBITDA of $340 million from Spansion.
But so far the story has taken place on a 200mm background, with Intel running a 65nm process against Spansion's 90nm. The clincher is, starting in Q2 '08, Spansion will be running a 65nm process on 300mm wafers but of its brand new fab, SP1.
They estimate a 22% cost advantage over a mega fab running 65nm/200mm/floating gate, i.e. Intel/ST. With some investment they can take the fab to 4000 wafers per week and get a 34% cost advantage over Numonyx et al. What will this do to Spansion's market share? If it hits 40% they could be making between $60 and $120 million in annual EBIT. Adding at least $500 in depreciation and subtract $1 biilion in net debt (all due 2012 b.t.w.), and I get the stock price at $7 on a base case.
More on the upside: some months ago the CEO opined they were getting near to being competitive with DRAM in the server market. Just imagine, too, were pricing in the PC market to ever recover, say because the Vista upgrade cycle finally materialized, or because of Solid State drives, or because Qimonda went bust. Imagine if Spansion's partners actually did come out with a charge trap NAND product, as SMIC is trying to do. There are just too many kickers in this story, which is why I am still long SPSN.