When I bought CNH Global (NYSE:CNH) on Tuesday, I thought I had a low risk entry upon a bounce off its 200 DMA. Well, if I were to use a "catching falling knives" analogy, I didn't just cut my hands, I got them nailed to the floor. Nonetheless, I just can't see how the selling is justified by the fundamentals.
Ostensibly, the bloodbath was precipitated by a disappointing '08 EPS guidance of $3.30-3.60, below the consensus of $3.67. However, at its lower bound, the guidance is still 40% above the '07 EPS of $2.36. From the chart below, we can see that the P/E of CNH was around 20 in '05 when earnings were flat. Through its bull run, its P/E rarely dip below 20. Thursday's closing price of $6.00 gives it a trailing P/E of 19.5 and a forward P/E of 13.9 when assuming an '08 EPS of $3.30. On a historical basis, and in view of the 40+% anticipated earnings growth, the stock is cheap.
click to enlarge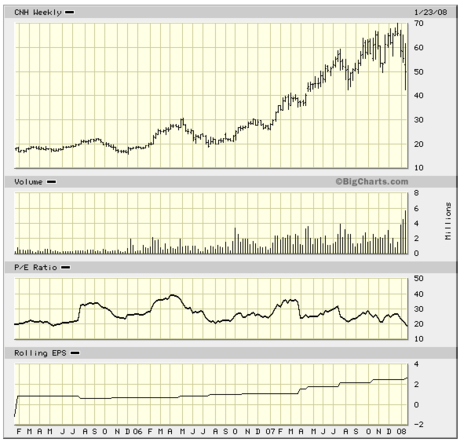 Perhaps people were unnerved with its guidance of North American construction equipment sales being down 10% in '08; however, for '07 the company saw a reduction of 23% in the same category but still managed a gain of 23% in worldwide construction equipment sales. The farm equipment side is more than twice as large, and growing much faster. In summary, I see this sell-off as an over-reaction at a difficult time in the overall market. I'm holding onto CNH since I'm confident of its growth prospects.