Do Canadian retailers deserve Chinese Internet valuations? Lululemon (NASDAQ:LULU), a specialty retailer of yoga inspired athletic wear based in Canada, is the most overvalued stock in the retail universe, even at the current sharply discounted price.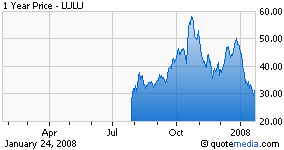 Having traded as high as $70 a share, the common is now at about $30. But even at the current lower price, the forward PE is about 45.
How does that compare to some other specialty retailers? Under Armor (NYSE:UA), also sharply down from a previous high and now trading at about 35, is trading at a forward PE of 25. Another former apparel darling, Crocs (NASDAQ:CROX), is trading at a forward PE of 15. The lesson to be learned here is that the retail momentum crowd is exceptionally fickle, and, once a company disappoints on earnings, or offers less than shining guidance, the stock gets punished brutally. Other metrics tell the same story; price/sales are 9.6, the industry average is 1.0. Price/cash flow is 78; the industry average is 12. The dominant retailer in the athletic space is Nike (NYSE:NKE); it trades at a forward PE of less than 15. LuLu's net income for the quarter ended October 31 was $11.2 million, yet it has had a market cap north of $5 billion dollars at its peak.
LuLu has 70 stores, and at the current market cap of $2.8 billion, each store is valued at about $40 million; that's phenomenal. I've been in several of these retail locations, and they're just fine, but nothing unusual; we're talking about perfectly conventional retail sales outlets, both in malls and street level retail; the sizes of the retail locations are very modest, perhaps 1,000-2,000 square feet or so; there is absolutely no barrier to entry in establishing this retail channel, which forms the bulk of Lulu's sales. Also, this market can easily be entered by others, Victoria's Secret has announced plans to do so.
If you visit LuLu, you'll also find that the items are very expensive; I haven't found anything, even a tee-shirt, for less than about $60. Compare this with Under Armor, which sells many of it's shirts for around $20. While very expensive and trendy yoga inspired apparel will appeal to a small cult following, the question is how big that following can grow outside a few very trend conscious cities like Los Angeles and San Francisco? The entire market cap assumes hyper growth and new store openings. But with recession clouds gathering, how large is the market for people buying very expensive exercise apparel? There are certain things that women will not cut back on, such as makeup and skin care. But one would assume that high end exercise apparel would be one of the first discretionary items to go as households cut back.
There is also the whiff of something just not quite right at LuLu. As reported in previous posts on Seeking Alpha, insiders pocketed 78% of the proceeds of last year's IPO, rather than investing these funds in the growth of the business, making a clear statement about what they thought about the company's future prospects. The company makes the very new age, and completely unverified, claim that the materials that are incorporated into the fabrics, such as silver, have health benefits. For instance, you can visit their web site to learn about a very simple looking tee-shirt that is promoted as using "Silverescent technology using X-STATIC, the silver fiber". The exotic materials are said to directly release amino acids and vitamins in the skin while working out. Really? It might just as well be shown down the road that such materials are health hazards, or more likely, that the claims are just another form of quackery. In fact, as has been previously documented in this space and elsewhere, those materials claimed to be woven into LuLu's apparel may simply not exist, as the New York Times discovered when it sent some Lulu items to independent labs for verification and found no evidence of a special seaweed fabric alleged to provide health benefits.
There are just so many gaps in this story; such as CNBC reporter unsuccessful Herb Greenberg's attempts to verify the claims on CEO Bob Meers's resume. And some of the numbers, like sales per square foot, seem too good to be true, based on my experience in the stores. Begging the question, can you trust the reported numbers any more than you can trust the content labels on the clothing, or the CEO's resume, or the original investors' time horizon?
On the 22nd LuLu was downgraded by BMO Capital markets to underperform. On January 15 Goldman downgraded the whole athletic sector due to recession concerns, and also cut the price target on LuLu. When this stock is trading in the single digits a few months from now, people will look back at the company's history and wonder how this small collection of quirky yoga gear ever was valued for billions of dollars; we'll all smugly say how we tasted, and then spit out, this lulu of a lemon.