Investors are a strange breed and I'm certain volumes have been written about individual investor psychology, as well as market psychology. Like any imperfect science, like technical analyses, you can diagnose all you want and still never know what makes it all tick. Fear, greed and the "fear of missing out" are good places to begin when trying to understand what drives or influences investment actions
We all know about momentum stocks. Having seen incredible rides up and then fiery crashes on a regular basis. You don't have to go back to the dot com days, you can look at the likes of Green Mountain Coffee Roasters (NASDAQ:GMCR), Netflix (NASDAQ:NFLX) and others to see examples of momentum gone bad.
I know that as you get older, wiser and more mature you're supposed to give up the wild life and settle down, but that's hard to do as an investor if you're inclined toward assuming risk. Sometimes you delude yourself into being blinded to the risk, much like a conversion hysteric, a term that has gone out of favor, as its very existence is now questioned.
No doubt, Apple (NASDAQ:AAPL) has its share of rabid proponents. And why not? It just keeps turning out aspirational products that never seemed to feel the pinch of a prolonged economic slowdown, as there was always a boom going on somewhere in the world. There's probably a secretly designed and generously applied "Apple Pheromone," too.
Consider the recent disappointments at JC Penney (NYSE:JCP) now under the stewardship of Ron Johnson, the "genius" behind the Apple Store. Maybe each of us is limited to only one great concept in a lifetime, or perhaps he needed some hand holding from Mickey Drexler.
Well you can forget about being a genius, as it's all about product. In fact, Andrea Jung, past CEO of Avon (NYSE:AVP) widely regarded as utterly destructive of share value, could have made a retail strategy based on going door to door, ringing bells and selling iPads in China or East LA.
It wasn't Mickey Drexler that drove GAP (NYSE:GPS) into the ground and rescued J. Crew. It was products, both undesired and good, respectively
Following the death of Steve Jobs, iconic founder, Chairman and CEO of Apple , the shares showed no evidence of surrendering any theoretical "Steve Jobs" premium.
Instead, the shares did what is usually reserved for those companies that unceremoniously dump a share value killing CEO, as if Jobs was holding back value.
From the date of Steve Jobs death and forward to this date (May 24, 2012), Apple shares have climbed nearly 52%. To put that in terms that is immediately more understandable, the shares added $198 in value, having come down a bit from its high point of $264.
To really put that into perspective, that increase is almost as much as a 5 GB overage cost of my son's iPhone 4S Wi-Fi hot spot while he's away doing his Army Advanced Individual Training.
Over the past few months we've heard any number of price projections for Apple that have been based on fundamental analyses, that consistently show Apple to be a greater bargain than others in its peer group. The fact that it hasn't traded higher, closing the gap, is itself likely related to some kind of overwhelming market psychology to which even emotionless algorithms appear to be subject. If the rationale for the higher stock price is that overwhelming, what possibly could prevent it from seeking and achieving its deserved higher ground?
There's very little of added value that could be said regarding Apple at the moment. Over the past 10 years or so the script has always been the same, other than the past controversy regarding Jobs' health, which ended with a liver transplant, under the highest levels of secrecy usually reserved only for purposes of national security.
Unless I never opened my mail, I'm surprised that entire episode didn't result in a Class Action lawsuit, as tremendous share value was lost in a very short time as confusion reigned and people were paralyzed at the very thought of life after Jobs. That was a period of a very tangible "Steve Jobs Premium."
The successful script has been new product, under-promise on guidance, over-deliver on earnings and then repeat, as necessary.
For the rest of us, the product craving public, the script has also been the same. There is always discussion and speculation regarding what the next product might be, when it will be released, at what price points , what new features and what its "i" name will be.
For those that are basing their entire investing life around Apple and its product cycles, the final part of the script concerns speculation over who the new suppliers are and perhaps which suppliers may be shown the door. Perhaps in the same genteel manner that Steve Jobs, then on the board of GAP, used when he informed Drexler that the door was now open for him to ride a one way highway out. Reportedly, that one way led Drexler to Johnson to advise regarding the Apple Store initiative. Open enough doors and Kevin Bacon is likely to be involved in the next great retail strategy, as well.
What confuses me is why the love has been so complete, as to the point of blinding investors to the rest of the market opportunities.
Sure, if you're an individual investor you may not have the resources to go through considering every publicly traded company. Forget about using stock screen filters, you don't even know what metrics to include or exclude.
Of course you could consider narrowing it down from the Wilshire 5000, to the Russell 2000 and then to the S&P 500. Of course, if you were really lazy and time constrained, you could look no further than the Dow Jones 30.
I know what you're thinking. There's no great party conversation that can be centered around any of those stodgy companies. Besides, you're not your grandfather.
But for some reason, there sits Home Depot (NYSE:HD). Instead of a Genius Bar, they have a "Brawn Bar" and can help you lift just about anything. Best of all, once you find one in the aisles, they are yours. They'll never abandon you and never have to ask another Brawny Buddy for advice. I can certainly envision one of Home Depots guys at a bar than U can the Apple employees.
But Home Depot gets no respect, despite the fact that it outperformed Apple since Steve Jobs' passing.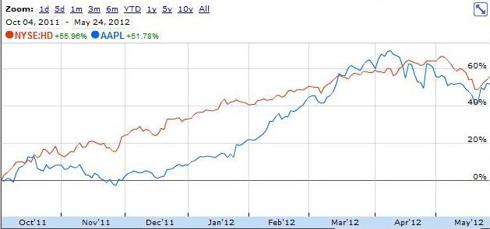 Click to enlarge
At the moment, I own neither Apple nor Home Depot. I've missed the last 30% in each. I've also missed getting the dividends that for Home Depot have been real and generous. Apple finally came to that party, but had to be dragged.
It's really difficult to understand why Apple and Home Depot are not discussed as equals, at least for the time being. Individual investors don't care about trivial details like market cap.
My guess is that it's all about hype. Whether it's hearing predictions that Apple will become the world's first $1 trillion dollar market cap company or analysts speaking in terms of a $1,000 price target, none of those compare to the media's incessant pieces on the phenomenon that has become Apple. If you believe in the power of marketing, there's no better return that having it done for you by the media at no cost.
Besides, we all know that Apple is a sexy company, with sexy products and offers a very enticing path to riches, if you're fortunate enough to own shares.
I wonder how sexy the Geniuses would look with an orange apron?
Better yet, how exciting will it be when the "Law of Small Numbers" hits Apple?
You haven't heard about the "Law of Small Numbers?" That's because all anyone was hearing about was the ubiquitous "Law of Large Numbers" and how Apple would be held back by a law that was widely accepted, but just not validated.
Apple suffers from having a relatively small number of products. Their high profile ones are landscape changing, but they are so narrowly focused. The entire world of electronics companies, such as Samsung (OTC:SSNLF), ready to jump at any mis-step. The "Law of Small Numbers" says that when you don't have much variety to offer relatively little product depth and are selling an integrated "ecosystem," all it takes is for one bomb of a product to wipe out a generation or two of good will and loyalty.
When that happens, even a orange apron won't make the Geniuses look sexy.
Disclosure: I have no positions in any stocks mentioned, and no plans to initiate any positions within the next 72 hours.