Guess Inc. (NYSE:GES) delivered a solid Q1 with both revenue and EPS beating Street estimates. Although Q2 and full-year guidance was cut primarily due to worries over Europe, its shares still jumped by ~7% during the day. The price action was partially fueled by Bloomberg's article talking about GES' attractiveness as a LBO target with the following reasoning:
Guess has a higher free cash flow yield than 97 percent of its rivals, the data show. It also holds a half-billion dollars in cash, has almost no debt and owns a globally recognized brand name that is driving growth in markets such as China.
Bloomberg's view reaffirms my recommendation in my last article, which states discounted price multiples, solid free cash flow generating ability, above-industry profitability, and sustainable dividends are the main value proposition for the stock. In this article, I am comparing GES with some of its industry peers in terms of various financial metrics and geographical exposures to stress my view that the investment remains deeply undervalued.
I have picked the following U.S.-listed fashion apparel retailers with comparable market capitalization relative to GES: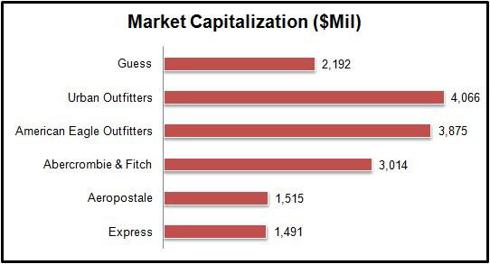 Their 5-year revenue growth trends are shown below: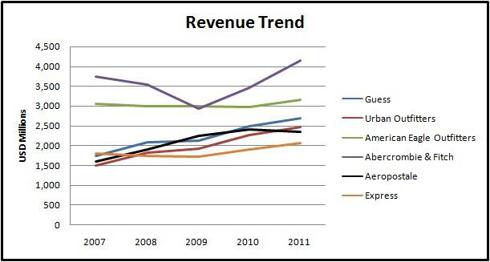 Compared with its peers, GES experienced one of the most steady growth trends. It is noted that although Abercrombie & Fitch (NYSE:ANF) rebounded substantially post-recession, its top line was hit the most during the recession.
Then let's look at the 5-year operating margin trend: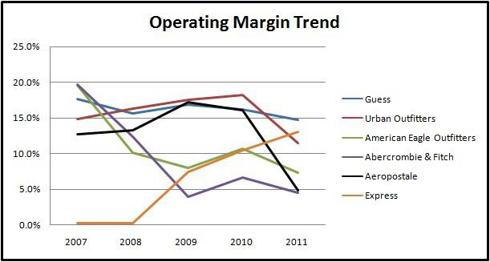 Except for Express (NYSE:EXPR), the whole group has seen its EBIT margins falling from their highs in 2007, driven primarily by higher input cost and sluggish consumer spending in North America and Europe. The drop for GES, however, is the least severe. EXPR is a relatively newer player in the field, and therefore the firm experienced significant margin expansion following its efforts in reining costs.
In terms of free cash flow generation as shown below, GES has done the best job among the group by demonstrating its ability in stabilizing free cash production even during the economic slowdown.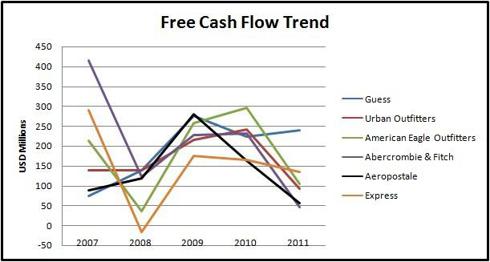 GES started with the lowest free cash flow in 2007 among the group. However, the firm is able to maintain relatively stable free cash flow over time and produces the highest level of free cash flow in 2011. Its cash flow trend is substantially less volatile compared with its peers.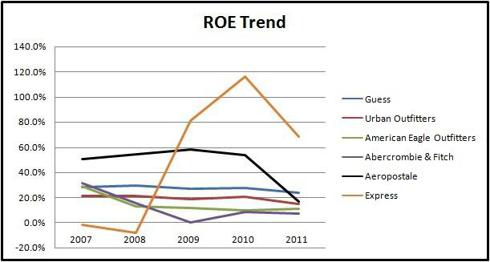 Although GES does not produce the highest ROE, its ROE stability should be noted. GES and Urban Outfitters (NASDAQ:URBN) demonstrate the least volatile ROE trend among the group.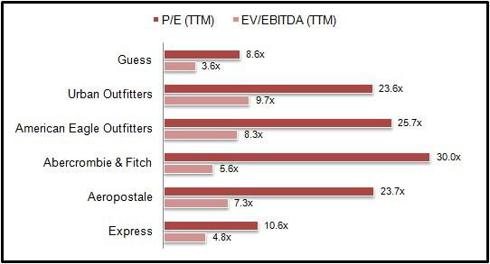 Overall, GES outperforms the group in terms of stability in profits and growth, as well as free cash flow production. However, its current valuation level is at a deep discount to its peers on both EBITDA and P/E multiple perspectives. The primary reason is attributable to GES' revenue exposure to Europe. I have summarized the group's respective revenue exposure below:

My view is that although GES' European exposure is the highest among the group, its valuation discount is still not warranted given its current expansion plan in Asia and Northern Europe region.
In my last article, I mentioned that GES is expanding into Northern and Eastern Europe to mitigate the slowdown in Southern Europe, and the firm also continues to expand in Asia, especially Korea and China, and has demonstrated substantial growth potential as Asian top line increased ~25% in the latest fiscal year. I firmly believe the market reaction to GES' European exposure is overdone. In the latest Q1 earnings call, GES management has indicated that the growth momentum in Northern and Eastern Europe is offsetting the negative in Southern Europe, and they continue to see strong growth opportunity in that region.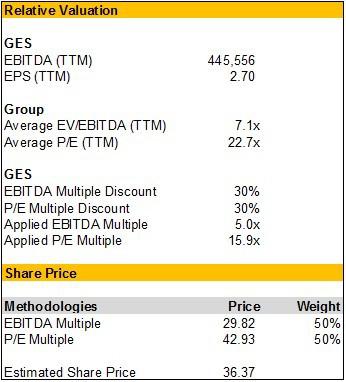 The above valuation method yields a stock value of ~$36, a ~39% upside from the current stock price. It is noted that my valuation calculation is fairly conservative as both the applied EBITDA and P/E multiples are 30% discounted to the group averages. At the current price level of ~$26, I continue to be a buyer.
Charts and exhibits are created by the author.
Financial data is sourced from company 10-Q, 10-K, press release, Yahoo Finance, YCharts, Wall Street Journal, and Morningstar.
Disclosure: I am long GES.