By Giorgio Ferrero
Daily Data: DirecTV (DTV)
Recently, we successfully traded DirecTV for a 20.77% gain (before commissions) using the May'18 47/46 bull put spread. DirecTV is interesting to trade these days because the stock has remained in a mild uptrend, has a low beta, and historically has shown low volatility in this time period. If you take a look below at the April to June option expiration date returns you will see that the worst return (rounded) has been -5%. The company continues to look to gain market share in emerging markets versus Dish (NASDAQ:DISH). We prefer them over Comcast (NASDAQ:CMCSA) and AT&T (NYSE:ATT) as well because the company is a better mid-term swing investment company. CMCSA and ATT seem ahead of themselves.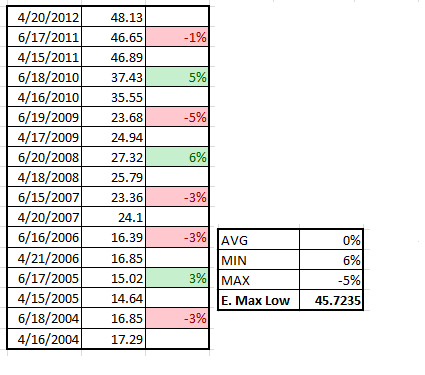 The returns above are now as great as we say for March to May but the low single digit loses are what attract me to DirecTV. The S&P is in a more volatile period right now. I want to place bull put spreads on stocks that are going to be less volatile right now so that we do not get stopped out of our positions. My estimated max low for DirecTV is $45.72. The stock closed at $46.39 yesterday, which means this is probably a good time to start selling premium at or below the $45 level.
Fundamentally, DirecTV looks like a value. Both the 1yr (0.57) and 5yr (0.81) PEG ratios are below 1, signifying that DTV is trading below earnings expectations for the future. Earnings have been on the rise since early 2010 and are expected to double by 2015.
In the news DirecTV has been talking about expanding in Latin America which implies potential growth for the future. This stock seems to be a perfect choice for the current market environment we're in.
Based on the fundamental and technical information above I suggest the following trade:
Note: Since the market is looking to open negative this morning, we may this trade today near the open.
Click to enlarge.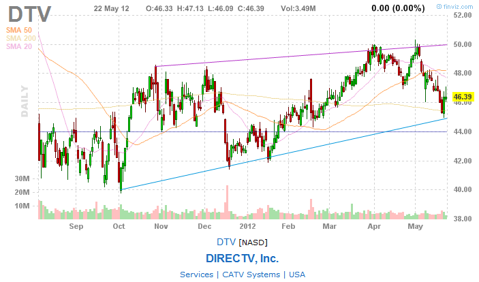 Suggested Trade: DTV - Sell June'15th 44/43 put spread (Bull Put Spread)
(Sell 44 Put/ Buy 43 Put)
Size - 8% of Option Spread Portfolio Size = (8 spreads)
Entry: Sell Limit: 0.13
Stop Loss: 0.30
Exit Price: 0.00
Max Return: 14.94%
(Max Return Calculated on Return on Risk from my entry, not Return on Margin)

Current Positions:
Ultrashort Proshares Gold (NYSEARCA:GLL) - I'm a big fan of gold right now, technically we'll see if the precious metal holds its recent lows this week.
June'15 21/22 Bull Put Spread
Price Target: Wait for spread to expire worthless
Adjust stop loss to: 0.32
Currency Shares Euro (NYSEARCA:FXE) - Being bearish Euro is the perfect trade right now, with all the negative headlines on Greece
Jun'15 131/132 Bear Call Spread
Price Target: Wait for spread to expire worthless
Stop loss to: 0.30
Apple (NASDAQ:AAPL) - Yesterday's pop in Apple was confidence-inspiring for our position; however, I'm not convinced that the sell-off is over just yet.
Jun'15 480/475 Bull Put Spread
Price Target: Wait for spread to expire worthless
Stop loss to: 1.50
Charts are from finviz.com, tradingeconomics.com.
Disclosure: I do not own any investments in DTV. I'm short shares of GLL, I own short calendar spreads and bear call spread on GLL. I own iron condors on SPY. I am long AAPL. The Oxen Group is also short AAPL in another portfolio.