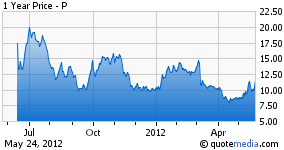 On Wednesday, Pandora (NYSE:P) reported stronger than expected first-quarter earnings on the heels of rising revenue. The company's performance over the past several months has been lackluster, but this quarter, the company brought what investors seemed to be looking for and that was revenue, active users and hours listened. P second-quarter results can be marked by 1Q13 revenue of $80.8 million, a 58% jump year-over-year; an increase in active users to 51.9 million, a 53% increase year-over-year; and an increase in market share to 5.95% of total U.S. radio listening.
These results illustrate that P is driving revenue through investments in marketing and sales efforts in markets across the nation. They also show that because of these investments, P is not seeing profitability and thus is operating solely to grow its listeners and revenue. P CEO and Chairman Joe Kennedy states,
Consumers continue to embrace Pandora's unparalleled personalized radio experience at an extraordinary rate, propelling Pandora's market leadership to an all-time record share of 5.95% of total U.S. radio listening. Advertisers want to be everywhere their consumers are. They are moving quickly to speak with their target customers across the Pandora platform, with the majority of the top 50 digital advertisers in the U.S. already having bought multi-platform advertising on Pandora. Pandora is the future of radio.
Nowhere within Kennedy's words is a focus on driving profitability and this lack of attention (or putting off profitability and only focusing on the number of listeners) makes profitability more difficult because of the cost of content within the music industry. Analysts Michael Pachter does not expect the company to reach positive profitability until 2014 at the earliest. This in conjunction with the fact that the company is trading at an incredible forward price/earnings ratio makes it a risky trade until the company proves profitability. When the company reports its first full year outlook with a positive profit margin, there will be still be time to capitalize on the fascinating and powerful medium of music.
Fundamentals: P is looking to become the largest Internet provider of radio in the world and to tap into the $17 billion spent annually on radio advertisement. Over the past year, P competition has increased through Spotify, a private company focused around Facebook, and Spotify will not be the last to enter the internet radio frenzy that is dominating music. Sirius XM (NASDAQ:SIRI) has figured out how to profit off of its service and all of these alternatives to P create an environment where differentiation is imperative. P software is revolutionary and this can be proved through the listeners the company has been able to harness, but until this formula reaches profitability, the company is fundamentally in a position to show shareholders it is a wise investment.
Costs: In order for P to ever reach profitability, it will need to control its content costs along with its advertising budget. The issue of content has troubled other content based company's over the past several years. Netflix (NASDAQ:NFLX), the largest online media provider, has faced the same issue of content costs rising dramatically over the past year. The issue for P is that with the increase in subscribers, comes an increase in advertising dollars, but also an increase in royalties. P cost to acquire content has increased by 101.25% and these types of increases have systemic consequences for profitability. Until P begins speaking of how it will control costs throughout all of its capital expenditures to drive profitability, P is not a wise investment.
Financials: If the following financials were for any company outside of the Internet/technology sector, they would be evidence of future bankruptcy. For P that is not necessarily the case, but the company does need to prove that over time it can reach profitability. The notion of pushing it to the back burner to drive active user counts does not prove the company is capable of it. These financials are simply concerning.
Forward Price/Earnings: 386.67
Return on Assets: -4.96%
Return on Equity:-21.59%
Profit Margin: -5.87%
Conclusion: Due to the aforementioned reasons, P is not a wise investment due to the fact that the company has been unable to drive profitability. P is not a new company at 12 years old and as Wedbush Securities analyst Michael Pachter says,
Profitability appears not to be Pandora's primary concern for the foreseeable future, potentially negatively impacting valuation," he wrote in a report. The company is investing in marketing and sales (particularly for the local ads market) in order to extend its market leadership position. In addition, the company previously disclosed that it will continue to invest in product development to increase compatibility with (Internet) connected devices and integration with different automobiles ... Due to the higher level of spending on these different initiatives, we expect profitability to remain challenged in the near term, and do not expect positive annual earnings until FY '14 at the earliest.
The argument is not that P is not a good company or that it is on the road to bankruptcy, but rather that until P is able to set forth positive profitability, a true valuation of the company is not able to be achieved.
(All financial metrics referenced above are obtained from Yahoo Finance, CNBC Analytics, S&P Capital IQ and Thomas Reuters.)
Disclosure: I have no positions in any stocks mentioned, and no plans to initiate any positions within the next 72 hours.