On Friday, GSC Investments (GNV)- a Business Development Company which focuses principally on senior debt financings - announced the closing of its new $400mn CLO Fund (which one of its affiliates will manage) and the Company's simultaneous $30mn equity investment therein. The Company had mentioned its plans to use its remaining cash, borrowing capacity and existing loans to invest in this senior debt CLO in its earnings report for the period ending November 30 2007, which were announced earlier this month. We thought then that GNV was making a bold move to invest the last of its available capital in the highest risk-return portion of a CLO. (See our commentary on Seeking Alpha on January 13th 2008: Buy GSC Investment - But Keep Your Fingers Crossed).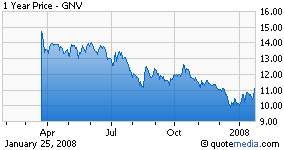 On Friday, we received confirmation that the CLO closed on schedule (a small but noteworthy sign in today's market when CLO issuance is supposedly frozen). Also worth noting is that the CLO is only 70% invested at this point, which suggests the CLO will be able to take advantage of the more advantageous market for lenders brought on by the summer's credit crisis.
We also received confirmation that the CLO will earn GNV $2mn a year in management fees, and this should continue for several years. The fees were higher than we were expecting, and will have a material impact on results. (In our earlier commentary we thought the fees would be modest). This fee income increases the Company's total evenues by 8% on a pro-forma basis , and could add 18- 24 cents a year to Net Investment Income Per Share, which is already running at $1.48 a year. That's before taking into account the actual income from the $30mn investment.
Of course, we need to see how GSC investments credit portfolio performs in the months ahead. However, the lower interest rate environment brought on by the recent Fed cut is a positive, as was recent insider purchase of additional stock. With GNV still trading at a wide discount to Net Asset Value (Friday's price was $11.0 and the latest NAV was $13.51- a 19% discount), we believe this under-appreciated BDC stock remains a bargain.
Disclosure: Author is Long GNV.