We gave Kohlberg Capital (NASDAQ:KCAP), a recently minted Business Development Company, a thumbs up back in November 7, 2007 (Kohlberg Capital Corporation: On the Right Track). At the time the stock was down 50% to $12.76. Since then, KCAP has dropped as low as $9.63, but has managed to claw its way back to $11.71. With a NAV of $14.77, KCAP continues to trade at a severe 21% discount to NAV. We said then that the market seemed to be writing off the value of the Company's asset management affiliate Katonah Debt Advisors, which is carried at $58mn, or 23% of KCAP's equity. Katonah is in the business of managing CDO ("Collateralized Debt Obligations") funds, in which KCAP invests, resulting in both management fees and interest income. Since the summer of 2007, anything related to CDO issuance has caused the market to run screaming in the opposite direction. It's worth noting,though, that KCAP has nothing to do with the mortgage market and all the CDOs under management have continued to perform without a material hitch during the intervening months.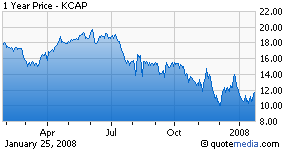 For a few months new CDO or CLO ("Collateralized Loan Obligations" ) issuance in the commercial loan market did slow down to a crawl. On Friday, though, KCAP announced the launching of the first of three Katonah Debt Advisors sponsored CLOs: a $315mn Fund. Funds two and three are being accumulated, and KCAP is on target to issue $1bn in CLOs in 2008. This news broke at the same time as GSC Investments (GNV) announced the launch of a CDO one of its affiliates sponsored, which underscores that this is no fluke. This suggests that by year end Katonah will be earning $5mn in incremental management fees, and an undetermined amount of set-up fees. We estimate Katonah will earn $2.8mn-$3.0mn in 2007 from its existing stable of funds. The new CLOs could result in a doubling or tripling of 2008 Net Income at Katonah. Should Katonah make $6mn in Net Income in 2008, it would be contributing 20% of the Company's Net Investment Income, up from just below 10% in the last reported quarter. This suggests that investors who thought Katonah would have to be wound down or written off in the wake of the credit crunch have been wrong so far.
In fact, KCAP seems to be committed to deepening its asset management offerings. A few days ago the Company acquired a small alternative asset manager: Scott's Cove Capital Management,LLC. Assets under management are only $60mn, but the acquiree focuses on distressed debt investments. This suggests KCAP wants to be positioned to take advantage of opportunities which might arise in a recession.
Of course, the stock drop at KCAP could have nothing to do with doubts about its asset management affiliate. The market could be worried about write-offs in its loan portfolio or in its equity investments in CLO funds. Last we heard there were no bad debts in either category, and with KCAP's emphasis on senior loans we don't expect any major problems there in the future. We'll get a clearer picture with the fourth quarter 2007 earnings report and conference call. Still, with a current yield of 13.3% and the prospect (barring a sudden jump in non-accruing loans) of higher income from Katonah, as well as lower funding costs, the time may be now to have some faith in KCAP.
Disclosure: We are Long in KCAP already and intend to add to our position.