Junior mining company Crystallex (KRY) announced a public offering of units. According to the press release, the company "plans to use the net proceeds from the financing to develop the Las Cristinas Project, for debt service and for general corporate purposes."
As longtime readers know, I was once bullish on Crystallex, but soured on the stock after the long-anticipated environmental permit never materialized. That was several months ago, and the company still has not received the environmental permit.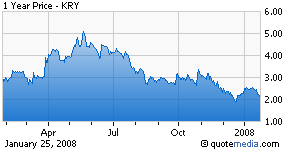 I firmly believe that if the permit was forthcoming, Crystallex would do everything in its power to avoid a dilutive financing at these low levels. Thursday's announcement suggests that Crystallex remains in the same position it was one month, six months, and a year ago — burning cash and praying that one day Hugo Chavez will deliver the permit. Until that happens, I will avoid Crystallex. Hope is not an investment thesis.
DISCLOSURE: No position.