With continuing troubles in Europe, and slowing growth in China, income investors have been increasingly looking for dividend stocks which earn most of their money in the U.S.
Comcast, (NASDAQ:CMCSA), a diversified entertainment company which is the biggest cable TV operator in the US, and also owns theme parks, 51% of NBC, and other stateside assets, and has strong earnings.
Comcast has outperformed the S&P handily in 2012, and over the last approximately 17 months.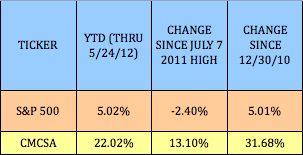 After stumbling a bit in Nov. 2011, it came roaring back by over 38%, and has also held up better during the current market pullback:

CMCSA has begun to bounce back from its May price dip, and is still near the undervalued region on its stochastic chart. (If you want to achieve an even lower cost, see the section on selling Cash Secured Puts further on this article):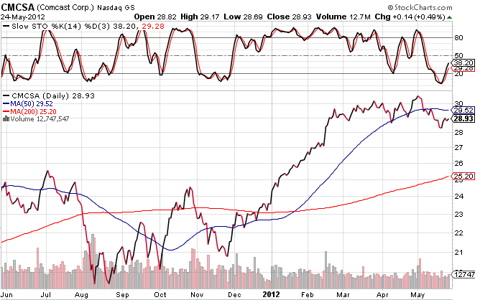 Forward Earnings Growth: Comcast looks undervalued on a 2012 PEG basis, but has a 2013 PEG that's a bit north of 1.00. However, with its big push to expand into more profitable sports cable programming, Comcast may exceed the current average 2013 growth estimate of 15.71%. (Due to its live sports programming, rival Disney's (NYSE:DIS) ESPN earns over 4 times what other cable channels earn). Industry P/E averages have had wild swings over the past 5 years, but there's strong industry growth projected for 2012 and 2013:

Valuations & Quarterly Growth: CMCSA had strong growth in its most recent quarter, and also looks undervalued on a price/free cash flow basis vs. its industry:

Dividend Growth: Comcast increased its quarterly payout by over 44% in April, to $0.163/share, from $0.113.

Covered Calls: Although Comcast isn't a high dividend stock, you can dramatically increase its income via selling covered calls. We ran these Covered Call trades on CMCSA to show two differing option-selling yields available for October 2012.
The $29.00 trade earns a higher call premium, but is only $.07 above Comcast's $28.93 price, which doesn't offer you as high of a potential assigned price gain as the $30.00 call, which offers you a $1.07 in potential assigned price gains. If you're more bullish, you'd sell the higher $30.00 option, receiving less call option premium, $1.41, now, in hopes of realizing a higher overall assigned price gain in October.
If you're interested in creating extra income via selling Covered Calls, you'll find over 30 high yield options trades in our Covered Calls Table.

Cash Secured Puts: If you're interested in achieving an entry cost below current market values, selling cash secured puts can accomplish this. The trade below lists Jan. 2013 $28.00 puts, which are 6.7% below Comcast's current price. This put option pays $2.50, offering you a $25.50 break-even. As with selling call options, you'll get paid within 3 days of making the trade, which is a plus for cash flow.
(You can find over 30 other high yield cash secured puts trades in our Cash Secured Puts Table.)

Financials: At first, Comcast's Management Efficiency ratios seem low, but they're mostly in line with industry averages, and its operating margin is much higher. The debt load interest coverage appears to be well-covered.

Disclosure: I have no positions in any stocks mentioned, but may initiate a long position in CMCSA over the next 72 hours.