Rex Energy (NASDAQ:REXX) is a small/micro cap oil and gas E & P company. It has shown strong growth in production volume and in proved reserves in the last few years (> 50% CAGR). Yet it has evident problems. The reasons are below:
It has lost money on a GAAP basis for the last three quarters in a row. This is no "one time expense" phenomenon, even though the "adjusted earnings" figures have consistently painted a rosier picture.
REXX's production is primarily natural gas. US natural gas prices have fallen dramatically since last summer's high of nearly $5/MMbtu.. Their near term bottom recently was $1.90/MMbtu. They have rallied back to their current $2.65/MMbtu. This may be a dead cat bounce. Given the recent economic and consequent commodities weakness, the most likely direction over the next several months is downward.
US natural gas storage is far above its historical norm after an exceptionally warm winter and over supply of natural gas due to huge amounts of new production from the unconventional shale fields. The EIA put the amount in storage as of Mar. 18, 2012 at 2,774 Bcf. The norm for this time of year is 1,991 Bcf. The rise this past week was far above the usual rise for this off season week. It was 77 Bcf versus the 5 year average of 37.8 Bcf for this week. The maximum volume of US storage is approximately 4,000 Bcf. At the current rate this will fill sometime this summer. At that point all production may go directly into the already glutted market (if they don't draft new storage). Many pundits think this will cause a further fall in prices. Some are projecting a price of $1.34/MMbtu or lower. The fall in prices may start at any time before storage is full.
Some producers have cut back on natural gas production. However, this week's storage gain makes it clear that this is not stopping the increases in supply. The BHI US Gas rig count was 600 for the week ending May 18, 2012. This was up 2 from the previous week. The US gas rig count will not decrease to nothing due to the oversupply situation as some seem to think. Some drilling has to occur because leases are HBP (held by production). Other drilling is directed at more lucrative WetGas (NYSE:NGLS). However, WetGas wells produce natural gas as well. Even oil shale wells often produce natural gas. The US Oil active drilling rig number has increased 45% year over year to 1382 rigs. The wells completed by these rigs produce a non-negligible amount of natural gas. Throwing it away is generally not cheaper. Hence it becomes additional production.
REXX has its natural gas production for 2012 67% hedged at a floor price of $4.43/MMbtu. This still leaves it with significant exposure to low natural gas prices.
REXX has its oil production 87% hedged in 2012 at a floor of $68.39. In this case even the hedging floor leaves it significant downside potential if the EU crisis pushes oil down far enough. With the latest news from Europe, a significant economic disaster in the EU is a real possibility. This mere possibility or even probability may be enough to move REXX's stock price down. It seems likely that oil prices will move down still further from their current level of about $91 before this crisis is over too.
Some of REXX's development lands are in the Pennsylvania Marcellus shale. Pennsylvania recently passed the Unconventional Gas Well Impact Fee Act (Feb. 2012). This will cost REXX significant extra development expenses for its Pennsylvania wells.
The US Congress is considering a new "Anti-Fracking Bill". If this passes, it is sure to cause extra expenses also.
NGLs prices have fallen in the last year. The current cash propane cost (PNY00) is $0.8339 per gallon (42 gallons/barrel * $0.8339/gallon = $35/barrel. This is down -44.24% year over year. A recent ethane price was only $0.0724/gallon. Ethane is not profitable at this price. REXX has significant ethane resources. These may have to be written down this year along with the other NGLs and the natural gas resources. I am unsure of REXX's hedges on NGLs, if any; but it is apparent that this is an area in which margins are decreasing. REXX's current price assumptions are for $100.barrel oil. They are for NGLs to be 52% of $100/barrel Nymex WTI. It seems likely these estimates will both have to come down. At the very least the NGLs estimate will.
The current EU and world economic environment has a negative trend to it. The EU crisis is threatening to become a very severe crisis at any time. Stock markets do poorly in times of extreme economic uncertainty. Small/micro cap energy stocks get beaten down especially badly. REXX falls firmly into this weak category with a market cap of approximately $550 million.
In sum this is a stock you want to unload if you own it, at least until you can see the light at the end of the tunnel economically. If you are an aggressive trader you want to short it.
The two year chart of REXX provides some technical direction for a trade.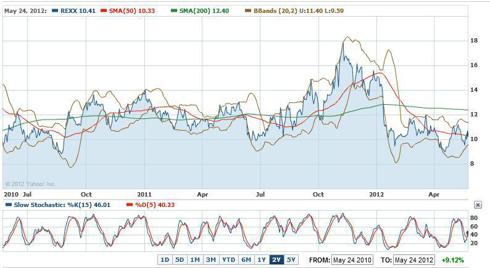 The slow stochastic sub chart shows that REXX is neither overbought nor oversold. The main chart shows that the 50-day SMA is well below the 200-day SMA (signifying a downtrend). Given the above mentioned fundamentals, REXX seems likely to continue its downtrend. Now may be a good time to get into a short position if you think as I do that the recent natural gas price rally has most likely been a dead cat bounce. Even if you believe the recent natural gas rally is likely to continue, there are probably sufficient reasons to short REXX (see above). The easy money may a trip down to $9, but REXX hit a low of $1.12 in 2009. Almost any number is possible. There is some support at $8 and some more at $4.50. If you are interested in other shorts with this theme, some companies with similar, but not identical, problems are: Range Resources Corp. (NYSE:RRC), Cabot Oil and Gas Corp. (NYSE:COG), and QEP Resources Inc. (NYSE:QEP).
Good Luck Trading.
Disclosure: I have no positions in any stocks mentioned, but may initiate a short position in REXX over the next 72 hours.