SunOpta Inc. (NASDAQ:STKL) shares were hammered on Friday after the company revised its 2007 earnings guidance, downward. The stock dropped more than 34% by mid-day.
SunOpta stated that earnings per share for the year is now expected to be in the range of $0.12 to $0.14, revised down from the previous guidance range of $0.35 to $0.40. Revenue, meanwhile, is expected to be slightly more than $800,000 which exceeds the previous guidance range of $775,000 to $800,000.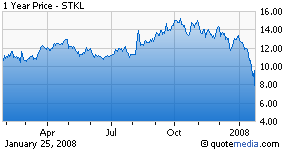 Desjardins analyst Keith Howlett said SunOpta's earnings have been impacted by a mark-to-market inventory writedown of berry inventory of $9,000 to $11,000, and by a newly created reserve of approximately $3,000 pre-tax related to a dispute with a client of the bioprocess group.
"We have placed our target (previously $14.50) and rating (previously Buy - Above-average Risk) under review," Mr. Howlett told clients in a note.