Despite much uncertainty in the markets, I bought Jackson Hewitt Tax Service Inc (JTX) at $23.87 Friday. Jackson Hewitt Tax Service is a classic example of a good company in a solid business with great growth prospects currently trading at a discount.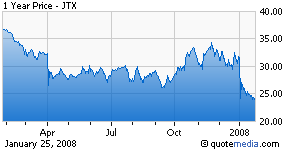 Why is JTX trading at levels not seen since mid 2005, despite good year-over-year earnings growth? Three are four good reasons:
1. A Jackson Hewitt franchisee got into some hot water early last year for messing with the IRS by filing bogus tax returns. (However, the Justice Department law suit alleged misdoing by only 125 Jackson Hewitt franchised locations out of the almost 5,800 and it was settled with no payment from the company.)
2. The IRS decided to take a stab at the rebate anticipation loan business that Jackson Hewitt participates in and derives revenue from by referring their tax preparation clients to financial institutions that do the actual lending. (However, the IRS did not actually do anything to ban the practice, they have only announced that they may want to regulate these types of loans starting in 2009.)
3. The tax preparation business is very seasonal, so Jackson Hewitt (along with just about any other tax preparer) has two quarters of losses every year and their Q2 (last completed quarter of operations August - October 2007) is always the worst.
4. Market players are very nervous these days and tend to overreact to any news that could be perceived as negative.
So why is JTX a good buy at the current price?
Five big reasons reasons:
1. Death and taxes are two things that humans have tried to unsuccessfully avoid since time immemorial – and have always failed. US Congress has attempted to simplify tax code more than once, but have only made it more difficult every time. As a result most everyone in the US needs the help of tax software or tax people to get their taxes done.
2. The #1 tax preparer H&R Block (NYSE:HRB) is bidding for market share among do-it-yourselfers with a massive TV advertising campaign featuring their Tax Cut software "backed up by people." While Jackson Hewitt targets lower middle class filers by placing most of their small footprint office locations inside Wal-Mart stores and in walk / drive up strip malls, strategically chosen to be in working class neighborhoods. JTX customers are more likely to have simple tax returns that they would rather shell out $50 - $150 for somebody else to do, than attempt to figure out how to do it themselves, software or not. H&R Block ads only serve to remind them of the nearing tax deadline and prod potential Jackson Hewitt customers to get their taxes done next time they go shopping at Wal-Mart (NYSE:WMT) or grab a ½ gallon of milk at their neighborhood convenience store.
3. Jackson Hewitt has a great business model! The company gets revenue from the franchisees no matter what happens. Yet it spends considerably less on corporate advertising than H&R Block, relying on location to generate plenty of foot traffic. And there is no software and no associated expense for maintaining, updating and supporting it. Remember that H&R Block has several versions of online and off-line Federal tax software to support as well all the state programs. They compete with the likes of Quicken on the consumer high end, as well as with Tax Act on the low end, which gives away their Federal tax software for free. Not to mention that there is FreeFile for the $94 million filers who earn $54,000 or less.
4. Jackson Hewitt sticks to what they know (and they know it well) – taxes, unlike H&R Block, which wasted more precious resources on an unsuccessful attempt to expand into subprime lending.
5. While Jackson Hewitt is the second largest tax preparer in the U.S, it only has 4% of the market and is positioned well for growing that market with new filers, as well as at the expense of the many mom & pop shops that often close down as their owners retire. (Of course this last statement doesn't apply to my cousin and his wife in Albany, New York who will grow their tax preparation business to compete with Jackson Hewitt before they retire!)
Big thanks goes out to Vitaliy Katsenelson, personally and ContrarianEdge.com website for turning me on to Jackson Hewitt and doing much substantial research on the company.
Disclosure: Author has a long position in JTX