Our 'Shadow Stock" series attempts to identify undervalued and undiscovered stocks that have similarities to well-known public companies. The goal is to take advantage of the factors that make the blue chip successful, but with a better value proposition due to the under-the-radar nature of the shadow stock. This is the fourth monthly installment in this series and a more complete explanation of this concept can be found in our first article in this series.
Some important macro factors that we are considering in our Roth portfolios are healthy food, the obesity epidemic and aging. This article focuses on a company that is addressing those issues.
Shadow Stock Update. Before discussing this month's selection, we would like to briefly comment on how our previous selections fared in the recent earnings season. To date the shadow stocks have outperformed the stocks they mimic by an average of 9%. In general, good earnings growth continued for the group, with three exceptions:
Core Molding Technology (NYSEMKT:CMT) had 54% revenue growth, but only 16% EPS growth. Management indicated some "inefficiencies and start-up costs" for limiting the transfer of the sales success to the bottom line. The stock is still a great value with single-digit PE and strong growth.
Allied Motion Technology (NASDAQ:AMOT) had flat earnings, citing a 9% decrease in sales in Europe, which canceled out an equivalent increase in the US market. It also mentioned a manufacturing problem from a supplied component that caused a recall that reduced profit and sales. AMOT was originally selected for its value metrics, and those are still in place.
Crimson Exploration (NASDAQ:CXPO) reported continuing losses. The company is focusing on increasing oil reserves and has shut in some natural gas wells, due to low NG prices. The recent exploration successes have added to its reserves, and there is room for more success in those fields. The stock has returned about 30% since our selection two months ago, and insiders are buying.
The market has been tough on all stocks this May and it is time to go back and look at the "babies that were thrown out with the bath water." We think that true value ultimately is recognized by the market and we think all the stocks in this series are good long-term holdings.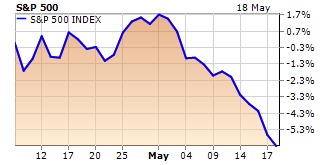 Now lets look at this month's selection.
SunOpta, Inc. (NASDAQ:STKL) is a leading global company focused on natural, organic and specialty foods. The company specializes in sourcing, processing and packaging of natural and organic food products, integrated from seed through packaged products. It focuses on a strategically significant vertically integrated business model. STKL is the world's leading provider of organic soybeans, oat fiber and sunflower seeds, and it supplies both bulk organic foods to processors and branded products to many grocery store chains, including Whole Foods Market (NASDAQ:WFM).
STKL also has a 66% equity interest Opta Minerals (OPM.TO), a profitable manufacturer, distributor and recycler of industrial minerals with a focus on steel mill, foundry and abrasive markets. In the first quarter of 2012, gross profit increased 20% for Opta Minerals.
Whole Foods Market has been an institutional darling in the last few years, as US consumers are becoming more aware of the need to eat healthy. However, its $83 share price is about 35 times predicted 2012 earnings, and the book value is less than $20 per share, in an industry that typically has conservative values in these categories. SunOpta can take advantage of the same macro factors that are benefiting WFM, but the PE is 14 times 2012 analysts estimates and the $5.62 share price is only 20% above book value. WFM does have a better earnings growth history and STKL's present 7%. Additionally, WFM has almost no debt to STKL's leveraged balance sheet.
We love Whole Foods Market, but it is not likely to aggressively expand globally, as indicated by the fact that it has no plans for emerging market stores. WFM is facing more competition, to whom STKL also sells products. On the other hand, STKL has prepared its operating platform for both global sourcing and expansion, and is entrenched as the market leader in several categories. SunOpta also will be bringing new products to the market, which leads us to conclude that, over the long term, it is a good candidate to participate in the growing trend toward organic and natural foods.
While our consideration of stocks is strictly limited to those that we think will make money for our clients, it is notable that SunOpta has established several initiatives to create an environmentally sustainable business. There is nothing wrong with feeling good about a socially responsible investment.
BONUS STOCK: While analyzing STKL, we came across another possible candidate for a value portfolio in the fresh food business. This one may provide a diversification option for SunOpta, but we are still investigating some aspects, which we will go into later in this piece. We thought that it is an interesting investment, and could add helpful information to an article about fresh fruits and vegetables.
Landec Corp. (NASDAQ:LNDC) considers itself a diversified chemical company, as it designs, develops, manufactures, and sells polymer products for food and agricultural, as well as medical devices and products. Its BreathWay packaging allows fresh fruits and vegetables to stay fresher for a longer shelf life. As a result, the company has gotten into the preparation, packaging and delivery of food products as its largest revenue generator. It has a 20% investment in Windset Farms, which operates hydroponics and greenhouses to grow produce, and it just acquired GreenLine Foods, which has, among other things, a 75% retail market share in fresh green beans.
The company's other main business is the production of Hyaluronan Biopolymer, a non-crystalline, hydrophilic polymer that exists naturally within the human body. Hyaluronan is used in ophthalmic, orthopedic, and veterinary products. About 70% of its hyaluronan is used in ophthalmic applications by companies such as Allergan (NYSE:AGN), to develop drugs to relieve eyes during retinal surgery. Although the medical products business represents about 17% of the revenue, it produces about half the gross operating profit, with higher margins than the food business. The revenue and profit in this segment have been flat in 2012.
The company is predicting 40% earnings growth in 2012, giving it a PE of about 14 at today's stock price. Like STKL it is selling about 20% above book value, and sales are 2 times the market cap. On the surface, LNDC appears to be a better growth proposition than STKL, but there are some other factors to consider.
LNDC's income is substantially affected by the evaluation of the "fair market value" of their investment in Windset Farms. As this is not a public company, this calculation is a subjective factor, and lately the gain on investment has been a large part of the EPS gain. One important factor in this evaluation is the value of similar public companies as determined by the capital markets. As the market prices have declined for most public companies, it is entirely possible that these investment gains will be reversed in future quarters.
It is also a concern that the earnings for the medical products area have been flat lately, as that was the biggest growth driver last year. We are believers in the hyaluronan science, and we look favorably on Anika Therapeutics (ANIK), which has shown strong growth using this science. We wrote about ANIK in our article on skin treatment companies. We need to investigate the pipeline to know how LNDC is planning to grow this business.
LNDC probably has a higher reward potential than STKL, but it also has a higher risk, in our opinion. Less conservative readers may be able to get comfortable with the above factors that are a concern to us. We are putting Landec on our watch list for now, and we will evaluate it again after the next quarter's earnings.