Noble Corporation's (NYSE:NE) fourth quarter 2007 earnings and management comments will likely be poked and prodded to a greater extent than usual as Wall Street analysts and investors seek to gain a glimpse of what can be expected from the offshore driller's new leadership.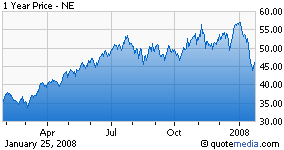 True, the recent naming of David Williams -- an industry veteran who unquestionably knows his way around the offshore drilling business -- as CEO surprised few in the industry. And most followers of the company believe Williams' transition to the corner office will be a relatively smooth one. Nevertheless, whenever there is change at the top, observers inevitably want to understand the implications for the future.
While we don't pretend to know what Noble's specific path going forward will be under Williams, we do believe Noble's customers are likely hoping for as little divergence from the past as possible. To be sure, Noble has fared extremely well in EnergyPoint's customer satisfaction surveys covering drilling contractors and oilfield service providers. In fact, in our most recent study, the company rated number one in both international markets and deepwater applications, two of the industry's most high-profile and high-growth areas. Field personnel, job planning and design, and safety and environmental performance were all areas in which the company was seen as an especially attractive supplier.
While this strong performance with customers is arguably a function of certain institutionalized and widespread factors within Noble, it was nonetheless achieved under the leadership of two men -- Jim Day and Mark Jackson -- who are no longer with the company. While we have no doubt Williams will look to put his own stamp on the company as he searches for ways to get Noble's stock price moving, we also believe the company's culture, including its performance- and customer-centric approach to its business, is a strong differentiator in the market place that's worth protecting.
Clearly, Williams has inherited a competent organization that by all accounts has the people, assets and capabilities to perform very well for both customers and investors. Time will tell if he is able to make the most of it.
Disclosure: none