Wachovia (NASDAQ:WB) bought A.G. Edwards. Jim Cramer says Bear Stearns (NYSE:BSC) is about to taken out.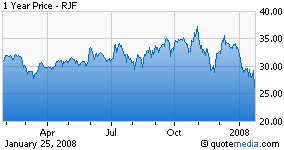 I think a more likely target is Raymond James Financial (NYSE:RJF). When A.G. Edwards was acquired by Wachovia, RJF soared to 36. Why? Because it is the last independent brokerage house out there of any standing. In June, Thomas James, Raymond James' CEO, declared "we are not for sale."
But a lot has changed. RJF had been able to buck the trend. It stayed enormously profitable and pleased its shareholders with a steady stream of earnings. Its stock price appreciated over a 4 year period 160% matching even Goldman's fabulous rise. It seemed this small family-run business would stay independent, largely on stellar performance and the Street quietly ignoring this well-run company.
Then came this quarter's earnings (see conference call transcript). RJF made 47 cents versus last year's 50 cents. The Street expected 53 cents and the stock cratered to $26 a share. In RJF's conference call, CEO James wondered in disbelief why the stock price was taken so low when "we didn't take any big write off or any losses on our balance sheet."
And, indeed, not a lot of bad happened. It wasn't like Citi (NYSE:C) or WaMu (NYSE:WM) or Capital One (NYSE:COF). RJF simply had a tough comparison to last year's blow-out quarter when they had their biggest investment banking deal. This quarter mergers and acquisitions were quiet.
At $26, this one is a steal. No awful blunders, write downs or mismanagement. And RJF has a growing bank inside the investment house which has been growing rapidly. Quarter over last year's quarter, its bank doubled both revenue and earnings, now eclipsing their capital markets division in earnings.
So I think this one would be a jewel for Wells. Its now unbelievably cheap, untarnished. If no one acquires it, it will ramp up its underwriting and merger work, continue to grow earnings and, in a little while, be back to $36.
Disclosure: Author has a long position in RJF