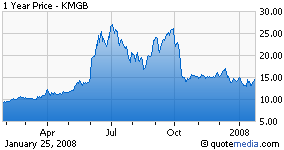 KMG Chemicals, Inc. (Nasdaq: KMGB) can't just say no when it finds a niche specialty chemical business that will immediately add to earnings. KMG is hooked on buying mature, no-nonsense lines from big companies — a mind-bendingly staid strategy that's paying off in profits.
KMG began its five-year acquisition strategy in 2002. It calls for maximizing cash flow from operations, which enables KMG to acquire accretive companies. KMG's priority is to focus on integrating the new businesses efficiently, reducing the drag on cash flow and allowing for a sequence of acquisitions.
Progress is reality. Fiscal 2007 through July saw sales rise 26% to $89.8 million and net income grow 134% to $8.8 million, or $0.80 per diluted share. Net sales have grown steadily in the past three years, from $43.6 million in 2004; earnings have risen from $0.23 per share.
Nearly 80% of KMG's business is in wood treatment products. Its penta products protect electric and telephone utility wood poles from damage, and its creosote products are used as a wood preservative mainly in railroad ties. The company's animal health segment, representing about 17% of business, offers various goods to protect cattle, swine and poultry from pests. KMG also markets agricultural chemicals to safeguard cotton crops and to control highway weed growth.
Chemicals can enhance performance: record gains in 2007 came from strength in the wood treating business (up 23% from 2006) and in animal health (up 63%). KMG launched a new product, Avenger — an insecticidal cattle ear tag from a business bought in February 2006 — that improved margins and strengthened its balance sheet.
What's refreshing about KMG is that its growth strategy is so sanely lacking in creativity. It eschews research and development, so those costs won't bite back in losses, and it doesn't buy other growth companies. Instead, KMG buys mature niche chemical lines from large companies that have outgrown them. These lines may not be in growth mode, but they maintain profits and provide a cushion of customers.
KMG's plan is based largely on the idea that during the maturity phase of a chemical product's lifecycle, volume growth may be flat — or even in gradual decline — but profitability often rebounds as others exit the market and those remaining enjoy solid pricing power, says analyst Ryan Connors at Boenning and Scattergood, Inc. Boenning and Scattergood in part underwrote KMG's July 2006 initial public offering.
Big companies may not want a non-core line that is barely making money and too small to justify the sales and management support needed to maximize revenue and profitability. But these lines nourish KMG, considering its sales in 2007 were below $100 million.
KMG is now adding industrial chemicals to its lineup of wood treating, animal health and agricultural products. "This market is highly fragmented and we believe there is significant opportunity to bring product lines to KMG that meet our investment criteria," CEO Neal Butler said in the company's 2007 letter to shareholders. "We have targeted specific market sectors within the industrial chemical space and are actively pursuing opportunities."
One of these opportunities was the High-Purity Process Chemicals [HPPC] business bought in January from Air Products and Chemicals Inc. (NYSE: APD) — the seventh acquisition in the past five years. The HPPC business had revenues near $90 million in the year ended Sept. 30, so the buy will double KMG's revenues. Although the acquisition is expected to be immediately accretive to earnings, the costs of integration will temper this impact in 2008. With a full year of HPPC sales in fiscal 2009, KMG expects revenues to exceed $180 million. KMG expects fiscal 2008 revenues at $135 million.
The HPPC business is the largest United States supplier to semiconductor manufacturers of high-purity process chemicals used to clean, etch and prepare the surface of semiconductor products. It has a 40% market share in the United States, and is the third largest supplier in Europe with market share near 20%.
Longer term, Butler told shareholders KMG will continue to focus on animal health, believing that this market offers the opportunity for it to become dominant in the United States and to expand internationally. The company's goal is to achieve sales of $250 million in five years through a combination of acquisitions and organic growth.
Connors, who initiated coverage with an "outperform" rating in July of 2006, maintained his rating when KMG reported first-quarter fiscal 2008 results in mid-December. KMG's earnings were flat at $0.15 per share in the quarter ended Oct. 31, compared with $0.14 in the year-ago quarter. Revenues were up 23.6% to $21.3 million, led by a 44% rise in creosote sales and a 73% gain in animal health. Penta sales were flat.
Connors, one of two analysts who follow KMG, said housing-related headwinds in the wood preservation business moved him to lower his earnings estimate for fiscal 2008 to $1.10 from $1.25 per share. His price target is $25, based on a forward price-earnings ratio of 18.
Shares of Houston, Texas-based KMG closed Thursday at $14.30, within the 52-week range of $9.25 to $28.25. The company has a market cap of $157 million. In 2007, KMG had 135 customers, with none accounting for 10% or more of revenues. Sales in the United States were 96% of total.
KMG also appears to be in position to stay in acquisition mode. At the end of the first quarter, debt to capitalization was 16%. KMG had cash of $21.5 million, up from $16 million at the end of fiscal 2007. Butler said on the first quarter conference call that the balance sheet will remain strong to make additional buys.
Clear your head, feed your portfolio. Stick with the five-year plan that's working.