First Solar (NASDAQ:FSLR) has hit a rough patch for the past several years, including earlier this month when it announced a considerable drop in its sales. These events have naturally had an adverse effect on this stock. Could more recent events help the company turn things around?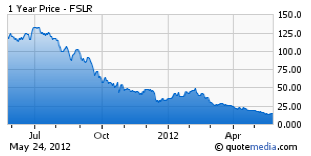 One of those main events involves competing with Chinese solar manufacturers. U.S. solar manufacturers have complained that the Chinese government has been heavily subsidizing their solar manufacturers so that they can sell their products in the U.S. at considerably lower prices. That has led to U.S. manufacturers, like First Solar, being unable to sell their products at competitive prices.
In the fall of last year, several U.S. solar manufacturers took their case to the U.S. Department of Commerce. The goal was to get strict tariffs imposed on certain imports of solar cells and panels from China. In March, the U.S. began imposing fees that range from 2.9% to 4.73%. Then in mid-May, the Commerce department issued a preliminary ruling that would impose tariffs averaging 31% on solar-panel imports from China.
The Commerce Department's final issuance order is set for July 26. It is contingent on the final determinations of it and the U.S. International Trade Commission (ITC). The ITC is scheduled to make its final determination on July 19.
A lot is at stake for solar manufacturers throughout the world. Renewable energy is one of the fastest growing industries. In addition to First Solar, this includes Suntech Power Holdings (NYSE:STP) in the U.S. and LDK Solar (NYSE:LDK), Yingli Green Energy Holding (NYSE:YGE) and Trina Solar Limited (NYSE:TSL) in China. The United States and China are the leaders in the industry and the competition between them is fierce. Determined not to be outdone by the U.S., China's solar manufacturers are being accused of flooding the U.S. with solar cells and panels at margins ranging from 31% to almost 250%.
This has put U.S. manufacturers in quite a quandary, and has even led to some of them going bankrupt. Remember Solyndra? The Obama administration loaned it $500 million because it thought that the company was financially stable enough to make meaningful products that address renewable energy issues. The loan proved to not be enough. The company's finances were in such dire straits that it was unable to make it. It went under in the fall of last year.
First Solar's situation is further aggravated by the large-scale construction projects it has underway. For example, it has embarked on a major construction project in California at Topaz Solar Farms. It entails a 550-megawatt photovoltaic facility that will provide California with renewable electricity.
While the economic benefits of this project serve as an example of the company's importance, I don't think the company is financially stable enough to carry out more of them at this time. Construction on this project began last November, and it is expected to be completed by early 2015. I am concerned about how the company's finances will fare in the interim.
Such projects as Topaz have decreased the company's cash flow. Its gross margin is 29.26% and its operating margin is even worse at 7.44%.
In early May, First Solar announced that its net sales for the first quarter of 2012 were down $163 million from the fourth quarter of 2011. They totaled $497 million. It also reported a first quarter net loss of $5.20 per fully diluted share, compared to a net loss of $4.78 per fully diluted share in the fourth quarter of 2011 and net income of $1.33 per fully diluted share in the first quarter of 2011. That amounts to an adjusted loss of $.08. Wall Street had expected First Solar to post a profit of $.59.
The company blamed a drop in the average selling prices and lower volumes for module-only sales for its revenue declines. It also sited pre-tax charges related to restructuring actions as a reason for the declines.
The company is banking on its restructuring efforts to help rein in costs and boost its earnings per share. It boosted its 2012 guidance for earnings per share to between $4 and $4.50, compared to prior guidance of $3.75 to $4.20.
It also boosted its operating cash flow guidance to between $850 million and $950 million, compared to prior guidance of $800 million to $900 million.
Company chairman Mike Ahearn expressed optimism that the company's long-term strategy, including its restructuring program, will reverse the negative trend of declining revenues. By 2016, the company is hoping to earn a return on invested capital of 13% to 17%.
Is bankruptcy in First Solar's future? Perhaps. It's not often that you see a stock plunge 95% in four years. This was the case with First Solar. Around this time last year, it was trading at about $142. It closed Friday, May 18, after the Commerce Department's announcement, at about $14. It hit an all-time high of $300 in 2008.
Given the pressures this company is facing, the leveling of the playing field that could be accomplished through the anti-subsidy duties won't be enough to stabilize its finances. In the long-term, I believe the company could rebound. Would I put my money on it? No. I think it will be at least 24 to 36 months before the stock could even turn around, if it does at all. I recommend avoiding this stock.
Disclosure: I have no positions in any stocks mentioned, and no plans to initiate any positions within the next 72 hours.