Shares of US Airways Group Inc (LCC) are up 28% over the past month. However, there are good reasons for the rally and I think investors should stick with LCC. I first outlined my bullish stance on LCC in this piece published April 19, 2012.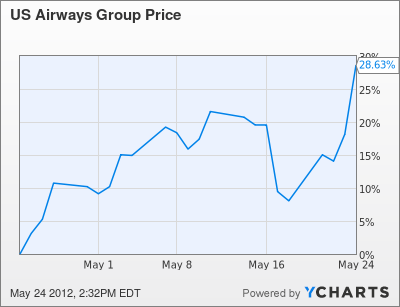 Oil Prices Continue To Fall
Since my initital piece was published on LCC, oil prices have continued to fall. The fall in oil prices is good for LCC as jet fuel is a major variable cost. As prices fall, margins for LCC should continue to imrpove.
Short Interest Continues To Grow
As of April 30th, short interest in LCC stands at 19.23 million shares or 13.8% of the float. This is a slight increase from the short interest figures provided at the end of May. This is a good sign as it means there are still plenty of shorts who need to cover. As the stock continues to move up, the pressure to cover continues to grow.
Analyst Upgrade
An analyst at JP Morgan recently raised earnings numbers for LCC, Delta (NYSE:DAL), and United Continental (NYSE:UAL). Other sector analysts are likely to raise numbers in the wake of declining fuel prices.
Conclusion
While the stock price has increased, the fundamentals also continue to improve led by the decline in oil prices. In my opinion, there is more upside ahead for LCC as shorts will move to cover.
Disclosure: I have no positions in any stocks mentioned, and no plans to initiate any positions within the next 72 hours.