Myrexis (NASDAQ:MYRX) is an early-stage pharmaceutical company that focuses on the development of anti-cancer drugs whose shares are trading -41.00 % from their 52-week high ($ 4.22).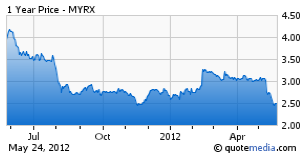 The Salt Lake City, Utah based firm currently has four projects in their product pipeline, only one of which has entered clinical trials thus far (the compound MPC-3100). In February, Myrexis announced the suspension of its pre-clinical and clinical programs to make room for a new acquisition-based strategy to enhance shareholder value.
Despite the change in direction, the stock has been suffering from poor market conditions and remains depressed from the announcement of a change in management. Richard Brewer was appointed the new CEO, replacing Robert Lollini as announced on May 11th 2012. Brewer is an industry veteran who has a long track record of developing successful strategies at better known companies like Roche (OTCQX:RHHBY) and Dendreon (NASDAQ:DNDN). Despite some small problems from managerial changes, the stock's reaction to the hiring of Mr. Brewer was a severe overreaction that may reverse itself in the near future. In fact, shares of the company now trade below net cash.
In addition to the emotionally-charged selloff in response to management changes, we've been seeing a lot of insider buying at Myrexis which reflects optimistic sentiment amongst the company's managers. In the last six months, insiders were net buyers of 441,170 shares, which adds up to roughly 2% of the company's float. By assets, the stock is quite cheap with about $70 million in cash and short-term investments as of March 31st. If the company continued the burn-rate that it had in 2011, the company could operate for just under 3 additional years without raising any additional investor capital. Only .6% of shares are short right now, which indicates relatively light speculation on the bear side.
Despite apparent suspension of its clinical development as the company adjusts its business strategy, the company is going to be presenting an abstract on their cancer metabolism inhibitor MPC-8640 at the ASCO (American Society of Clinical Oncology) 2012 at Chicago. The abstract intends to provide some insight into the drug's ability to suppress tumors when combined with the compound 5-fluorouracil in xenograft (mouse) experiments.
Although current experimental data on any of Myrexis' pipeline drugs is in the very earliest of stages, we could see larger pharmaceutical companies take interest in these early-stage cancer medications in the hopes of developing the next sleeper hit in oncology.
If anything, Myrexis is a value play that has been temporarily depressed from recent news. I expect a return to $3/share eventually, and light signs of speculation on their ASCO presentation on MPC-8640 due to the lack of any Myrexis news for the time being.
Disclosure: I have no positions in any stocks mentioned, and no plans to initiate any positions within the next 72 hours.