The 2012 Annual Meeting of movie theater operator/owner and real estate developer, Reading International (NASDAQ:RDI) this past Thursday, May 17, 2012, disclosed exciting news, primarily an agenda-stealing discussion of sizable bidding interest in the company's two most valuable New York City properties. At the Meeting, Reading disclosed that it had received a conditional proposal to buy, for $100 million (or approximately $4.25/share), both of Reading's Cinemas 1, 2 & 3 property on Third Avenue and Reading's Union Square Theater property. Amongst several other disclosures and insights that came out in the question & answer portion of the meeting, which I discuss in greater detail, below, Reading also disclosed they have received several other proposals for the Cinemas 1, 2 & 3 property, valuing that asset in the range of $40-45 million.
In my original September 30, 2010 Just One Stock interview regarding Reading, and several other Seeking Alpha articles I have subsequently written on the company, I have described RDI stock as trading at a substantial discount to a book value that greatly understates the value of its sizable real estate holdings. I have also put forth the argument that as Reading's strong growth in internationally diversified movie exhibition cash flows and sizable unrealized appreciation in the company's real estate holdings become discovered, the "value gap" that exists in RDI shares should narrow.
Indeed, on the heels of much stronger box office and movie exhibitor stock performances of fellow public peers Regal Cinemas (NYSE:RGC), Cinemark Holdings (NYSE:CNK), Carmike Cinemas (NASDAQ:CKEC) and Marcus Corp. (NYSE:MCS), Reading's stock price has risen to new 52-week highs. However, the stock has only now reached Reading's understated 3/31/12 book value of $5.55/share. RDI still remains well below the company's intrinsic asset values (made clearer by these NY real estate bids) and down 50% from the its $9-10/share trading range of 2007-2008, before the stock was poured out of Russell index funds in mid-2008.
Reading's NY Asset Embedded Value Made Clearer By $100MM Bid
It should be noted that, in Reading's 2011 10-K, the gross book values of the Cinemas 1, 2 & 3 and Union Square Theater properties are listed at only $23.5MM and $9MM, respectively. The mortgage debt on these properties in Reading's March 31, 2012 10-Q is listed as $15.0MM and $7.1MM, respectively. Assuming a $100MM combined value for just these two New York parcels would result in at least a $67.5MM (or almost $3/share) pre-tax book value gain and even more in net cash proceeds. Note, also, the footnotes of the 10-K disclose that, at December 31, 2011, Reading had $95.1MM in tax net operating loss carryforwards ("NOLs") to shield taxable gains. ($45.9MM and $15.8 MM of Australian and New Zealand tax NOL's, without any expiration date, respectively, and $33.4MM of US NOL's not expiring until at least 2025.)
Embedded value in New York City is not limited to just these two large parcels, Reading also owns the land underneath both its smaller but long-held Minetta Lane and Orpheum theaters. They are itemized in Reading's 2011 10-K at Gross Book Values of only $8.3MM and $3.4MM, respectively.
Attending The Typical Reading Annual Meeting Is Valuable
Given that Reading does not hold quarterly conference calls that would consolidate investor questions (sticking the CFO with more individual calls throughout the year), this company's Annual Meeting carries extra importance than most other's annual meetings. At past Reading annual meetings, after quickly dispensing with the formal meeting proceedings, Reading's CFO follows with a short slide show highlighting the past year and recently completed quarter. Thereafter Reading's Chairman and CEO, James Cotter, Sr. usually makes some thematic remarks and finally opens the floor to answer a multitude of investor questions. His answers provide unique insight into not only the current status of Reading's many assets and projects but also his direction and focus for the coming year. For a discussion of highlights from last year's annual meeting last year, read "Reflections on Reading International's Informative 2011 Annual Meeting, where management discussed plans regarding each of Reading's largest developable parcels, including many I discussed in my March 2011 article, entitled "Reading International: There's More Popping Than Just Corn".
This Year's 2012 Reading Annual Meeting - Even More Eventful Head Turner
This year's meeting carried a few positive surprises. First, instead of a cursory slide show of 2011 and Q1 2012 highlights, Reading's CFO presented an elaborate and very detailed slide presentation that is a must for anyone researching this investment. The presentation clearly illustrates, with charts, tables, and a ton of pictures, that Reading is loaded with hard assets, not only in the United States (see also p.42 for additional detail of major US assets) but also in Australia (see also p.29 for additional detail of major Aus assets) and New Zealand (see also p.17 for additional detail of major NZ assets.)
A Very Telling Picture Of 11-Years Of Operating Growth
Set forth, below, is one of the most interesting slides in the presentation, showing the 11-year trend and levels of Revenues, Adjusted EBITDA, Assets and Debt from 2001 through 2011. (If the slide is not legible, it is slide 77 in the May 23, 2012 SEC 8-K filing.)
This slide illustrates accelerated growth in Reading's Revenues, Assets and Adjusted EBITDA in the last several years, while Reading's debt levels have been steadily declining since 2008. Normally growing fundamental operating performance combined with lower debt levels translates enterprise value into a higher equity valuation. Recent RDI price increases only partially correct for this discontinuity and clearly ignore Reading's embedded real estate value. Reading's stock price and market valuation remains compressed to less than 50% RDI's 2007-2008 share price range, just before operating performance substantially accelerated.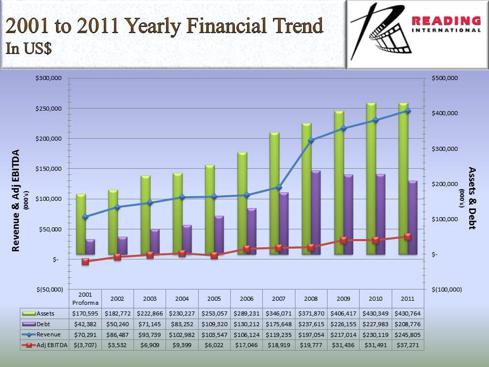 NY Real Estate Bid and Bidder's Letter Dominate Q&A Session
While Reading issued a press release summarizing Mr. Cotter's answers to investor questions, it was a cursory summary. Additional color and details were gleaned from personal attendance and asking many questions.
Leading off the questions was discussion of a letter, circulated amongst the attendees that was sent to Reading's Board by Capstone Equities, a New York real estate firm that is also a Reading shareholder. Capstone's letter stated it valued Reading's sum-of-the-parts at between $12-14/share, that it wanted to offer $100MM for the two large NY City parcels, and it felt the company mistreated its bid due to conflicts. Management said they invited Capstone to attend the meeting and specifically air their concerns with management and the full Board of Directors, which was in attendance. With no one from Capstone present, other investor attendees were invited to ask questions of anything in the letter that concerned them.
What's Wrong With Capstone's $100MM Proposal?
I specifically asked what's wrong with Capstone's proposal and what is Reading's intent with each of these major parcels. Mr. Cotter said there were two primary roadblocks with Capstone's present proposal, and another secondary one that would also have to be overcome. As a long-time shareholder who has contended there is substantial value in the NY parcels, I would like to see these parcels monetized through sale or development as much as any shareholder. However, assuming management's interpretation of Capstone's proposal is correct, I do not fault them from rejecting the proposal in its present state.
Right to Co-Participate: One primary roadblock stems from the fact that, as disclosed in Reading's press release of Annual Meeting highlights, if an adjacent parcel were to be combined with Reading's Cinema 1, 2 & 3 Third Avenue parcel, a very substantial (perhaps $200MM hotel or other) development would be enabled. That adjacent parcel cannot accommodate such a development without Reading's 8000 sq. ft. parcel and Reading is asking for an option to be able to co-participate (at its sale price valuation) in 25% of the property's redevelopment, especially in the event such a combination of properties is assembled. To illustrate, if Reading sells the property for $48MM, it wants the right to buy back into 25% of the deal for $12MM at the time plans and foundation are laid. Reading received (presumably for some modestly lower sale price) such options in the sale for redevelopment of both its Murray Hill and Sutton Hill cinemas sites. Reading did not exercise its option on the Murray Hill redevelopment but did exercise its option and co-participated in the very successful redevelopment of the Sutton Hill parcel into the luxury condo tower known as Place 57. Reading management said that while Capstone revised its proposal to allow for Reading's participation, its participation was only after Capstone earned a sizable preferential return. This was not acceptable to Reading.
Free Lock-Up: The other primary obstacle was that Capstone purportedly desired a window of exclusivity and lock-up of the parcels without putting forth any non-refundable deposit. Reading's appropriate response was "no free options."
Union Square: One potential secondary hurdle on the Capstone proposal was that it called for the purchase of the Union Square Theater parcel as well. Reading has stated previously and reiterated its interest in redeveloping the Union Square Theater site on its own or in Joint Venture. There are prospective tax benefits that may come with developing this site in the existing structure due to landmark issues. It was not clear from management's answers whether Capstone's revised proposal provided for joint venturing Union Square with Reading or required the parcel's outright purchase.
Management said there have been several other bidders for solely the Cinema 1, 2 & 3 parcel. My hope in providing this kind of detail is, if there is a misunderstanding that was conveyed by Reading management at the meeting, hopefully someone from Capstone reading this article has the common sense to contact Reading and restart discussions. I would love to see not only Cinema 1, 2 & 3 go for the highest price but also to accelerate the redevelopment of Union Square.
Comments Regarding Other Reading Real Estate Parcels
With so much time spent answering questions regarding the Capstone bid and the status of the large New York properties, there was limited discussion available on Reading's vast other properties (see slideshow links provided, above.)
202 acres in Coachella, California - Mr. Cotter provided some additional color and detail on the recent $5.5MM purchase out of foreclosure of these 202 acres, which have been up-zoned to be developed into 843 single family residential units, right at the strategic intersection of Interstate 10 and state highway 86. The parcel was last transacted 5 years ago, just before the financial meltdown, for $48MM, comprised of $12MM in equity and $36MM of debt. An additional $3.7MM was spent by the prior developer to entitle this agricultural land into the planned residential development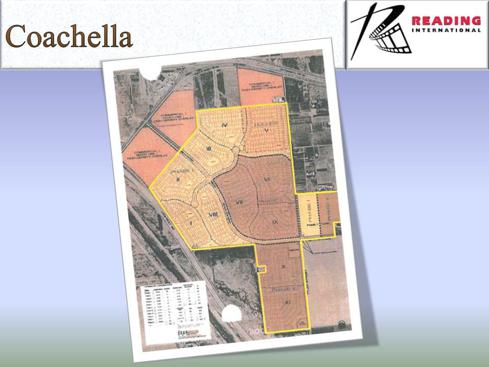 Burwood Square, Melbourne Australia - Mr. Cotter summarized the sale process of Reading's 50+-acre Burwood Square property as frustrating at best. Macquarie, one of Australia's largest investment banks hired to maximize value on the parcel, initially advised offering the parcel in its entirety (Burwood Square Offering Memorandum [large PDF]) and purportedly had 27 parties interested that kicked the tires. Unfortunately, most could not afford the whole 50+-acre parcel and two final bidders were left. Reading opted to pursue subdivision (color-coded Burwood Square subdivision map) into three separately zoned segments: residential [green], residential/commercial [blue], and retail/entertainment [yellow]) to monetize or develop these zones separately, rather than all at once, to maximize the parcel's overall value.
Mr. Cotter said he had extensive discussions with Mirvac, a very large Australian developer and REIT that stretched over 8 months, involving several letters that implied to him he had a deal agreed to, only for Mirvac to "change its tune several times." Finally, while open to Mirvac actually finalizing a proposal, Reading has opted to step back and move forward with limited site work on its own and to re-offer the properties pieces for sale later this year.
Mr. Cotter said that the parcel was worth at least $75MM in "his view." It is unencumbered by any debt.
Sizable Valuable Assets And Cash Flow For Free
If Burwood's unencumbered value (my range is $60MM-90MM) were combined with the net values for the New York City parcels, Reading's current $5.50/share stock price implies its remaining sizable real estate and what is the 11th largest cinema exhibition business in the United States, 4th largest in Australia and 3rd largest in New Zealand that, combined, generate around $35MM EBITDA/year are free.
Reading's Annual Meeting Lived Up To Expectations Again
Many annual meetings are perfunctory formalistic events that last only the 15 minutes it takes to read pre-prepared scripts of motions and seconds and pre-submitted vote tallies. The Reading International meeting thankfully hasn't been like that in the past and this year's meeting didn't disappoint.
I believe Reading's book value still greatly understates the current fair market value of the company's Australian, New Zealand, New York and Chicago real estate, much of which has appreciated in value from up-zoning or development into rent-generating parcels. For those attending this year's annual meeting, Reading's transactional announcements at some future date won't come as a surprise, possibly just the valuations.
Disclosure: I am long RDI. Funds I manage are long RDI, RDIB, CNK June 20 puts, and short CNK June 17.5 puts and CKEC June 15 calls. These funds or its affiliates may buy or sell securities of these issuers at any time.