Zynga (NASDAQ:ZNGA) has been under pressure lately, falling to new lows and closing Thursday at $6.80. The disastrous Facebook (NASDAQ:FB) IPO last Friday, as well as next week's ending of the lockup period for Zynga insiders to sell have been cited as the reasons for the decline in Zynga's stock. Zynga's active monthly users have also fallen 12% over the past 30 days. Zynga has already said new games are weighted towards the back half of this year, so I would look current trends of declining monthly active users to reverse soon.
I believed the Facebook IPO would lift Zynga's stock. This IPO however was poorly managed, I believe the pricing range should have never been upped and more shares should not have been added to the IPO. Had the Facebook IPO created excitement in Facebook stock, it could have also created interest in Zynga as the companies are closely tied. Zynga is Facebook's largest revenue contributor outside of its primary ad business.
With all the negative news surrounding Zynga it is important to note it is still a fast growth company, adding employees, creating new games, and expanding their reach to new platforms. The company is a long ways away from fully monetizing their over 200 million monthly active users. With over $1 billion in cash and no debt the company is also in strong financial shape, and in position to make key acquisitions.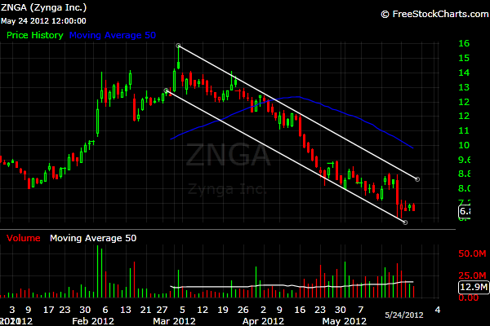 Click to enlarge
Technically I don't see any reason to buy Zynga here, as it is still locked in a descending channel. It could be weeks or months before the stock gets the catalyst it needs to breakout. I believe the ending lockups next week and over the summer are unlikely to push the stock much lower. Many insiders might not want to sell at these current low prices. Zynga also has 26% of the float sold short, and any good news could create a strong short covering rally.

When you look at Zynga compared to other game developers, I think Zynga appears to be reasonably priced. Like any company exaction of their plan and reaching growth targets will be critical to their stock's performance. Watch for changes in Zynga's monthly active users, and their ability to monetize new games, especially on mobile platforms over the upcoming quarters.
Data sourced from Yahoo!Finance, and company filings. Chart from Freestockcharts.com.
Disclosure: I am long ZNGA.