In my short stint as a Seeking Alpha contributor, I have found that writing is a continual improvement process, and believe that the work done to produce my articles has helped me develop as a writer and an investor. Over the last couple of weeks, I have produced what I believed were thought-provoking articles on a host of varied topics including the outperformance of low-volatility strategies, the appearance of an increase in structural volatility in equity markets, and the demographic influences on future economic performance of the BRIC economies. All of the interest in these articles paled in comparison to the leading question I have received from friends, family, and colleagues over this period: "Should I buy Facebook (FB)?" I have also learned over my brief time producing Seeking Alpha content that you have to give your readers what they want, so here is a look at Facebook's valuation through a basket of companies trading at a similar capitalization.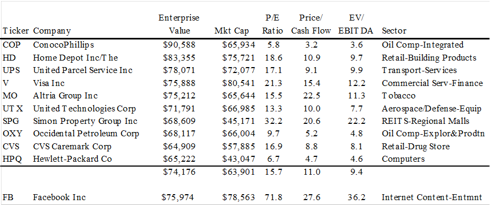 Click to enlarge
Source: Bloomberg (as of close of business on 5/24)
The chart above is obviously not intended to be a peer group, and companies in different industries should trade at different multiples given inherent differences in industry growth opportunities and risk. I included the table because sometimes it is difficult for retail investors to gauge company valuation without putting the capitalization in more familiar terms. The current Facebook trading price values the company at the average enterprise value of:
This group of global industry leaders is currently valued at 15.7x trailing earnings while Facebook, even with its recent post-IPO swoon, is priced at 71.8x its trailing twelve month earnings. If Facebook were priced at the average earnings multiple of these ten companies, then the company's market capitalization would be $17.2bn and its stock would be trading at $7.23 instead of yesterday's close of $33.03. Google (NASDAQ:GOOG), the search engine leader who also derives much of its revenue from internet advertising, trades at a more pedestrian 18.3x trailing earnings and 13x trailing cash flow. Google's 2011 revenues from internet advertising ($36.5 billion) were over eleven times greater than Facebook's 2011 ad revenues of $3.2 billion, but Facebook trades at roughly half of Google's $152 billion dollar enterprise value. None of the aforementioned companies is trading at near the multiple of earnings, cash flow, or sales at which Facebook is priced.
Bulls on the company's stock performance will point to a higher level of future earnings growth at the social networking giant as compared to the more mature business profiles of this set of peers to justify the inflated multiples that the company trades at today. Both first quarter revenue (-6% to $1.06 billion) and profit (-32% to $205 million) declined from the organization's fourth quarter numbers, which brings into question the company's growth trajectory. The graph below from a recent Wall Street Journal article does not present the exponential growth in profits investors are assuming. Users do continue to grow, and have now eclipsed 900 million, up a third in the last year. Given the company's aggressive valuation, a high level of future growth is baked into the share price, but whether the company can translate users into robust earnings streams remains to be seen. How many more users can the company expect to add when one in eight people in the world already have an account?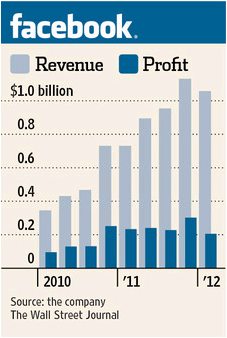 Facebook did have a more developed business model when it first issued shares to the public as compared to other recent tech IPOs. The current valuation of Facebook factors in both tremendous growth and relatively low risk inherent in the discount rate applied to the company's future cash flows. Given the network effect omnipresent in social networking sites, the value of the network is dependent on the number of users. Social networks have risen spectacularly and failed just as dramatically due to user exodus - just mention MySpace to NewsCorp (NASDAQ:NWS). While the currency Facebook has generated from its IPO could allow it to snap up potential rivals or invest heavily in the business to prevent technological problems, the risk remains that users defect to the next generation platform. This risk does not appear to be adequately discounted in the share price. Most of the ten companies charted above have more clear economic moats than Facebook, whose business model appears more replicable than UPS' delivery infrastructure, Home Depot's store footprint, or ConocoPhillips' reserve base.
Social networking has been revolutionary, connecting the world in new and unique ways. The path from a Harvard dorm room to a record setting IPO has been breathtaking. This does not necessarily mean that this idea can be easily translated into a sustainable and profitable business model. I have been a long-time user of the service, logging on since the company sported a "the" and required a college email address to sign-up. However, I can not recall a recent ad that I have noticed on the site as the company battles the Catch-22 of having the ubiquity of its chief revenue source potentially clouding user experience. I have also never tried a Facebook game or paid for any associated product. How does the company expect to extract revenue from users like me? Is Mark Zuckerberg even motivated by maximizing profits?
If you believe that continued exciting growth is ahead for Facebook, you may well be right; however, this level of growth is probably already factored into the current valuation, and the downside risk of unfulfilled expectations makes Facebook stock a tough purchase. The only people certain to make money off Facebook are the founders and venture capital funding vehicles selling shares to the public, and you can rest assured that more shares will hit the market over the next year as lock-ups expire if this valuation persists.
Disclosure: I have no positions in any stocks mentioned, and no plans to initiate any positions within the next 72 hours.