We Are DIY Investors ... Just Like You
By way of background, Parsimony Investment Research is a group of Do-It-Yourself investors that whole-heartedly believe that individuals can and should educate themselves and manage their own money. That is, of course, if you are willing to dedicate the time and patience necessary to do so. In today's low interest rate environment, paying even modest fees to a financial advisor can significantly eat into your profits. At the end of the day, it's YOUR money and you alone are the best shepherd of your capital.
We started Parsimony to share our experiences, strategies and research with fellow DIY investors. At the end of the day, we are all in the same boat … so let's set sail and preserve and grow our wealth together!
Building A DIY Dividend Portfolio
Over the course of the next few weeks, we are going to highlight our top-ranked dividend stocks within each of the sectors below (see links for previous articles):
Part 4: Consumer Discretionary
Part 5: Financials
Part 6: Technology
Part 7: Industrials
Part 8: Materials
Part 9: Energy
Our goal is to provide fellow investors with a diversified pool of high-quality dividend stocks that we feel have the potential to be a core holding in your DIY Dividend Portfolio.
Rating Methodology
We use a combination of fundamental and technical analysis to determine which stocks to buy and when to buy them. For dividend stocks in particular, we have a proprietary rating system that ranks over 700 U.S. dividend stocks on a weekly basis.
Our composite rating is derived by ranking each stock based on 28 key fundamental and technical data points in five sub-rating categories:
Risk-Reward Profile (e.g., current yield, Calmar ratio)
Financial Stability (e.g., sales and EPS growth, ROE, leverage)
Dividend History (e.g., historical dividend stability and growth)
Future Dividend Potential (e.g., payout ratio, EPS estimates)
Relative Strength (e.g., 12-month total return and trends)
It should be noted that we also believe that patience is a virtue. Just because a stock has a high Parsimony composite rating, it doesn't necessarily mean that you should run out and purchase it that day. We scan the charts of our top-rated stocks daily looking for strong levels of support and resistance, which ultimately helps us determine a target "Buy Zone" for each stock. We believe that patiently waiting for a low-risk entry point for a given stock will drastically improve your long-term investment results.
Part 4: Consumer Discretionary
The Consumer Discretionary sector as a whole has performed relatively well over the past 5 years, with a total return of 18.2% (which is the 3rd highest among the nine S&P 500 sectors). The sector is considered to be cyclical in nature and it has the 4th highest average beta (1.11) of all the sectors. You can actually see the high beta in full effect in the chart below. The sector has underperformed the broader market to the downside and overperformed to the upside.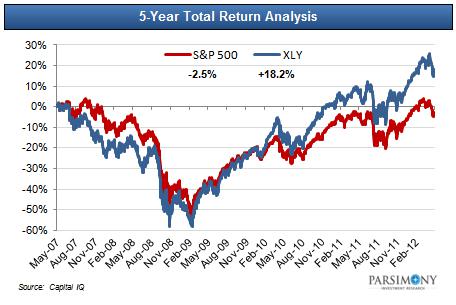 Below is a list of our top-rated dividend stocks in the Consumer Discretionary sector. Note that our composite rating ranges from 0 (lowest) to 99 (highest).

The sector is really made up of a mixed bag of industries, from restaurants and retail to media and auto components. That said, there are many stocks in the sector that you could argue are more of a "staple" than a true discretionary stock. As you can see from the table above, our top-rated stocks in the sector all have a beta under 1.00 and each has significantly outperformed the sector as a whole, averaging a 5-year total return of 92.7%!
There are actually two stocks in the sector that carry the coveted "99" Parsimony rating (which s the highest rating in our system): McDonalds Corp. (NYSE:MCD) and Sturm, Ruger & Co (NYSE:RGR). Both of these stocks act more like a "staple", and you could argue that their industries are almost counter-cyclical in nature (fast food and guns). As a matter of fact, with the exception of Darden Restaurants (NYSE:DRI), we think all of these top-rated stocks have a counter cyclical component to them. Home Depot (NYSE:HD), the home improvement retailer geared toward DIY-ers, has done exceptionally well in the wake of a stagnant economy and housing market. The same can be said for Genuine Parts Co. (NYSE:GPC), which distributes automotive and industrial replacement parts. When consumers and businesses are weary about the economic outlook, they tend to try to make due with what they have and shy away from making new purchases.

As shown in the table above, the top-rated stocks have pretty consistent ratings among all the sub-categories and we believe all of these stocks would make a nice addition to your DIY Dividend Portfolio.
Conclusion
Any DIY Dividend Portfolio should include several stocks from the Consumer Discretionary sector. However, picking the right stocks in the sector has clearly made all the difference for investors. The key takeaway here is that many of the broader sectors have sub-industries that perform much better than the sector as a whole. This is part of the reason why we developed the Parsimony rating system. If you rank all of the stocks in a sector against their peers on a consistent basis, it becomes clear which companies are the strongest and which offer the best investment opportunities going forward.
Note to readers: We will detail our specific "Buy Zones" for these top-rated Consumer Discretionary stocks in a future article. Also, we will highlight our top-rated stocks in the Financial sector in Part 5 of this series.