Too often, investors get burned by putting their money into energy stocks that are too closely levered to the price of commodities. When the price of the underlying commodity plunges, the stock plunges as well. However, there are energy-related companies that are not levered to commodity prices. These companies are the pipeline MLPs. These partnerships benefit from inelastic demand, high barriers to entry, and stable cash flows.
One standout among the MLPs is Energy Transfer Partners (NYSE:ETP). ETP makes money from fees collected for the use of its oil and gas pipelines. It has a nice yield of 7.9%. ETP offers a DRIP plan so that these high distributions can be automatically reinvested.
Click to enlarge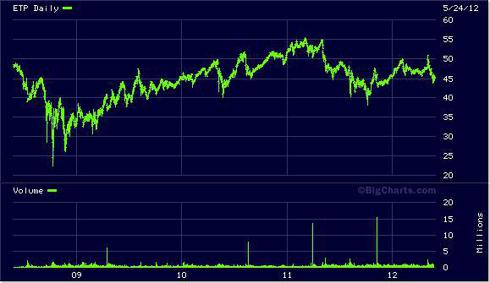 Just a few weeks ago, ETP announced that it will acquire Sunoco (NYSE:SUN) for $5.3 billion. This acquisition diversifies ETP into crude oil and refined products logistics that will be added to its existing natural gas and NGL infrastructure. The acquisition also satisfies ETP customer's desire for a fully integrated midstream services operation. The transaction is expected to be completed in 4 to 6 months.
The Sunoco acquisition adds 7,940 more miles of pipeline to ETP's existing 23,000 miles. Of the 7,940 miles, 40 miles are NGL pipelines, 5,400 miles are crude oil, and the remaining 2,500 miles are for refined products.
The acquisition also adds 107 Mbpd of NGL throughput, 1,747 Mbpd of crude oil throughput, and 522 Mbpd of refined product throughput. As far as storage, Sunoco adds 1 MMbbl of NGL storage, 25 MMbbl of crude oil storage, and 16 MMbbl of refined products storage. Also added are: 44 refined products storage facilities, four crude oil storage facilities, and one NGL storage facility. The total retail market outlets added equals 4,900.
The acquisition expands ETP's business mix and balances its sources of cash flows. This is consistent with ETP's initiative to increase fee-based services over the long term.
ETP is undervalued as it trades at only 1.59 times net asset value per unit. It has a high profit margin of 23.75% and an operating margin of 17.56%. Operating cash flow is $1.31 billion.
With the Sunoco acquisition strengthening and diversifying the partnership, ETP increases its energy footprint. Its fee-based revenue system should provide continued stable returns for unit holders as it acts as a toll collector in the energy sector.
Disclosure: I have no positions in any stocks mentioned, and no plans to initiate any positions within the next 72 hours.