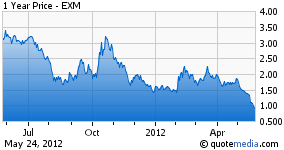 I will start this article with a very detailed disclosure. About a month ago, I nearly bet the farm to short (NYSE:EXM), but I did not, and now I regret it a bit.
Now to the "numbers." I say numbers with emphasis because the drybulk sector is in such chaos that believing any financial statement of any company in the sector seems a bit naive to me. But straight from the most recent quarterly financial statement, Excel Maritime lost over $156 million just in operating income alone. This is all occurring at a time when there is absolutely no chance for a drybulk recovery to save the company.
"Book value" is now showing that equity per share is $17.40 per share! LOL. If you believe that, I have a bridge I would like to sell you. To give you some support for why I am so skeptical about that figure, one needs to look back at equity since the drybulk bubble peaked. In 2007, the company reported $400 million in equity, then slightly over a billion in 2008, and close to $1.5 billion every year since. Since 2009, Excel Maritime has seen its operating income fall dramatically, now to the point of being significantly negative. Ship values have fallen some 50% or more since the peak of the bubble, very similar to housing in the United States. Yet it appears that the accounting used to value the ships is reporting these ships with little to no losses in value (no impairment at all).
Meaning, not only is the profit totally gone and not coming back, at least half of the reported equity is suspect to disappear at the snap of a finger. The price/book ratio is currently at 0.06. This is an efficient pricing by the market. I have had the misfortune of having dialogue with many writers whom are completely uneducated in accounting and financial reporting, and these same individuals use logic which is so simple-minded that their conclusion with Excel Maritime would be that it is cheap and should be purchased because it is selling for below recorded book value!
Many understand the situation going on with world trade. Much of the trade to and from the United States and China will be permanently altered due to the currency changes taking place. This will hurt drybulk more than most sectors, to the point of pushing nearly every company into bankruptcy.
Highlights or rather lowlights of Excel Maritime:
Lost $156 million in operating income last quarter.
Company likely has zero equity when assets valued correctly.
Current ratio is down to 0.49, meaning there are not a lot of current assets on hand to pay down soon-to-be due liabilities.
Company has diluted the common shares by a factor of 4 over the past six years, and now the share price is so low dilution may no longer be possible.
Company will be delisted and moved to the pink sheets soon unless the stock price rises significantly.
Company technically does not have enough cash on hand to pay its debt due soon.
Only chance for survival is a boom in shipping rates, which is economical impossible for years.
If credit lines become unavailable, this company is history.
In conclusion, this company has a 99% chance of going bankrupt in the next two years. I missed my chance at shorting it, but there are other similarly disgraceful companies in this sector still floating. Some other companies in the sector include (NASDAQ:DRYS), (NYSE:DSX), and (NASDAQ:EGLE). Stay tuned because my next article will highlight Eagle Bulk Shipping.