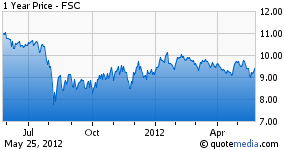 Mid-sized BDC Fifth Street Finance (NYSE:FSC) announced today the intention to buy-back below Net Asset Value ("NAV") up to $30,000,000 of it's common stock. Click here for the full press release.
BDC Reporter Two Cents: Fifth Street is no stranger to buy-backs. The company has announced stock repurchase programs before and most recently bought back some convertible debt issued last year when the price dropped to bargain levels. In this case, the NAV is at $9.87, and the stock price $9.22 at time of writing.
FSC did not explain in their press release why they have launched a stock repurchase at this time. Certainly, the discount to NAV is relatively modest (4%-6%). If you want to see a real gap between current price and NAV check out BDCs such as Gladstone Investment (NASDAQ:GAIN) with a 23% gap and no plan to repurchase, or Apollo Investment (NASDAQ:AINV), which has its own buy-back program.
WHY REPURCHASE NOW?
We'd guess that management is just frustrated by the decline in its stock price, down a whopping 25% from its 52 week high back in 2011. Even in 2012, FSC's price reached $10.56 in January, before dropping to as low as $9.02 a few days ago. Admittedly the Company has had a number of write-offs and write-downs on its ever increasing portfolio of 62 loans, and reported NAV has dropped from $10.07 to $9.87 in the last 6 months.
On the other hand, the company has plenty of dry powder to invest, with revolver debt from multiple sources barely drawn, over $100mn in cash and, as of yesterday, a second SBIC license approved for another $75mn in long term, inexpensive debt capital. The analyst consensus for earnings for FY 2013 (ends September) is for $1.16, which translates into a forward PE of 8.0x. The BDC Reporter's own forward PE data for 22 companies tracked shows an average forward PE of 9.2X, suggesting FSC is trading at a significant discount to its peers.
COMPARABLE?
Take for example Triangle Capital (NYSE:TCAP), which also has an SBIC license, and plenty of capital to spend. The TCAP analyst consensus is for earnings of $2.16 by December 2013, and the stock trades around $20.0, which equates to a PE of 9.3x, and a substantial premium to NAV.
BDC STOCK REPURCHASES
There are a number of BDCs that have announced buy-back programs in recent months, and over the history of the industry. Most repurchases have been modest in scope and not had much of an impact on NAV or stock price. The only exception that comes to mind is the very aggressive buy-backs that American Capital (NASDAQ:ACAS) has been conducting for months now thanks to the huge gap between its nominal NAV and the stock price. However, ACAS is in de-leveraging mode and has plenty of free cash to spend. Most BDCs have bank lenders to contend with who are less than enthusiastic about lending out funds to benefit shareholders, rather than be deployed into loan assets that add collateral.
LIKELY IMPACT OF FSC BUY-BACK
We don't expect the FSC program to move the needle much-if at all-given its relatively small size and the shallow discount to NAV. The announced buy-back serves more as a signal from management that they feel the market is under-valuing the Company's prospects.