Weatherford International (NYSE:WFT) released fourth quarter 2007 financial results that were in part highlighted by better-than-expected growth in revenues, both on the domestic and international sides of its business. The company's results are notable since only weeks ago most industry prognosticators would not have guessed that such revenue upside was in store for the company's domestic operations. While stronger home-grown growth is undoubtedly the result of myriad factors -- including the impact of seemingly more aggressive pricing practices -- it looks to us that a subtle but nascent shift in domestic customers' attitudes towards the company might have played a role as well.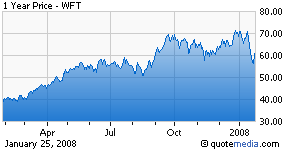 Long-time followers of EnergyPoint's surveys know that Weatherford has not fared particularly well in our industry-wide polls. In fact, since 2004 the company has consistently ranked at or near the bottom when compared to its major competitors -– Schlumberger (NYSE:SLB), Halliburton (NYSE:HAL), Baker Hughes (NYSE:BHI), Smith Int'l (SII) and BJ Services (BJS) -- in many of the product and service areas in which it competes. Having pushed its way onto the scene through a series of acquisitions over the years, Weatherford's suite of offerings, while appearing great on paper, have left many of those participating in our surveys feeling less than enthused. Quality and performance have generally lacked the kind of consistency many buyers look for, causing some to question whether the company will ever realize its full potential.
But recently we have detected a change in how domestic customers might be viewing the company. Upon examination of what at first glance is a relatively unremarkable set of customer satisfaction figures for the company over the last few years, there is evidence that clients in the U.S. & Canada might be developing a bit of newfound admiration for the company's products and services. For better or worse, part of this appeal is due to attractive pricing, especially relative to the premium-priced offerings of industry juggernaut Schlumberger. But changes in customers' attitudes also reflect perceived incremental improvements in performance, reliability and post-sale support –- all important areas in today's oilfield.
There's little question that Weatherford has ways to go before it reaches the overall customer satisfaction levels enjoyed by companies such as Smith and Grant Prideco (GRP). And like so many other things with Weatherford, these recent positives are partially offset by some lingering negatives, in this case lower satisfaction ratings in its international business. Furthermore, although lower domestic pricing might lead to market share gains and incremental improvements in overall satisfaction in the short term, price-driven strategies can establish some sticky precedents and expectations in the long run. So, the real question is whether the company can continue to gain ground with customers in areas outside of pricing. If so, even greater surprises might be in store for the future.
Disclosure: none