Regular subscribers to my columns on Seeking Alpha will be aware that I'm very bullish on uranium, having previously argued that prices could go to $200 per pound. I consider it increasingly likely that uranium will go significantly past its all-time highs near $140 reached in 2007. In this post, I wanted to take a close look at the supply/demand numbers.
First, consider the chart below, courtesy of Agora Financial. The world currently demands 2 billion pounds of uranium to keep reactors that are currently running in operation through 2018. There is just over 1 billion that can be achieved from existing mines, and another 400 million-plus from secondary supplies like the Megatons to Megawatts program (which is set to conclude at the end of 2013). As secondary supplies are diminishing, we are entering a phase where greater mining production is needed. Miners will only come on board if the price of uranium is sufficiently high to make mining worth the effort. With uranium prices currently at around $51 per pound, I believe prices will need to go much higher to get serious interest from mining firms.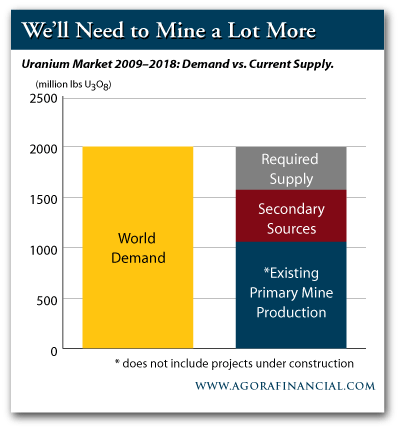 The numbers above reflect demand for uranium from existing nuclear reactors. The chart below, courtesy of the World Nuclear Association, illustrate how many more reactors are planned. The demand for nuclear power comes from growing economic power of many countries in the Eastern and Southern hemispheres of the world, as prosperity and energy are highly correlated, their greater wealth naturally leads to greater demand for energy and electricity. And with concerns about pollution and climate change (justifiably or not) growing rapidly and leading to taxes being imposed upon energy sources that emit greenhouse gases, the incentive for emission-free energy sources is also growing. The result is that the stage is being set for what could be a long-term, multi-decade bull market in uranium - or at least until breeder reactors and other innovations enter the nuclear market that make uranium obsolete or recyclable.
(Click to enlarge)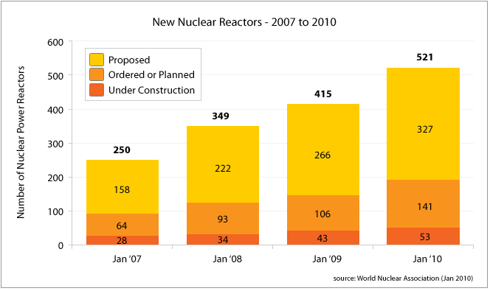 A common rebuttal is that due to the Fukushima event, plans to build nuclear reactors are being shut down. As I noted in my write up on nuclear opportunities post-Fukushima, the reactors that are being shut down are occurring largely in European countries. Meanwhile, the majority of plans for new nuclear reactors are coming out of China, Russia and India. As the chart below suggests, these three countries remain committed to nuclear power. So long as they remain committed, the demand for uranium to fuel additional nuclear reactors will remain very strong.
(Click to enlarge)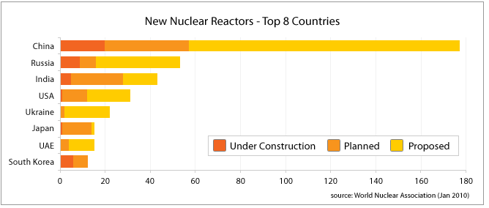 To get an idea of the kind of moves we may see in the price of uranium, I think it is worthwhile to consider history. The chart below shows uranium prices going back to the 1940s. We see there were three notable bull markets:
1947-1952, in which uranium moved from an inflation-adjusted price of $50 to $80
1972-1975, in which inflation-adjusted uranium prices went from around $20 to approximately $115
2003-2007, marking a price move from $9 to nearly $140
We see a pattern in which bull markets in uranium are growing increasingly intense. If this pattern continues, we could see a twenty-fold increase from our current prices. $1,000 uranium? I agree it seems hard to believe. I did manage to find this article from back in the uranium bull market of 2007 that also suggested uranium prices could go that high, particularly if gas prices were to enter double digit territory. For now, I think it is safe to say we will see new all-time highs - but investors should be especially wary of parabolic moves, and note that bull markets in uranium have not lasted more than five years in the past century before experiencing sharp and sustained corrections.
My preferred way of playing the opportunity in uranium is through uranium miners. I like many, although my favorites include Uranium Energy Corporation (NYSEMKT:UEC), Strathmore Minerals (OTC:STHJF), Cameco Corporation (NYSE:CCJ) and Uranerz - they are all uranium miners in my portfolio.
Disclosure: I am long UEC, URZ, CCJ.
Additional disclosure: I'm long Strathmore Minerals on Canada's TSX.