I thought I'd do a follow up to my recent analysis on Canadian Banks and also comment on their respective earnings releases.
I was talking to someone very smart today about which bank they would own for the future (they worked for one of the five) and got some great insight. Although RBC (NYSE:RY) is the largest and holds dominant positions in several key areas, the story behind Toronto-Dominion (NYSE:TD) and Bank of Nova Scotia (NYSE:BNS) are fundamentally sound and investable.
For BNS, that is an international growth profile in the Caribbean and other 'higher growth - higher risk' markets. For TD, that is leveraging an extremely strong presence in the US. TD was one of the first in the online brokerage space and TD Ameritrade is right up there with Schwab. It also still has a minority stake (45%, I believe) and buying out the remainder would be a fantastic move.
Some money managers are worried about a bubble in Canadian housing prices; I see it a little differently. After a global housing bubble burst, people will naturally be on the hunt for similar capital destroying events. This leads me to side with those that feel we are not in a bubble. That being said, common metrics linking housing prices with incomes, debt levels, and GDP are showing the market is undoubtedly stretched. I think the most likely scenario is a neutral to slightly negative growth situation for the banks in Canada.
With this as the growth outlook, we have to go elsewhere to find the growth. BNS and TD have done that successfully - but are their stories reflected in the numbers? I've looked at all the relevant figures, and they do. While Royal's numbers have been just as good (and the market to this point has been efficient), I think that will change going forward and investors should transition from RY to TD and BNS in their portfolios. Again, the execution has been terrible at CIBC (NYSE:CM) and Bank of Montreal (NYSE:BMO), and besides short-term speculation on quarterly earnings, I see no reason for investors to buy shares. The figures are included below: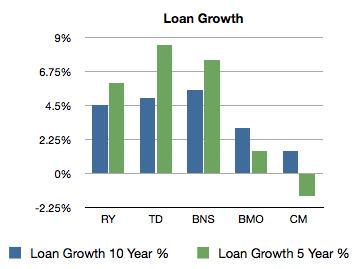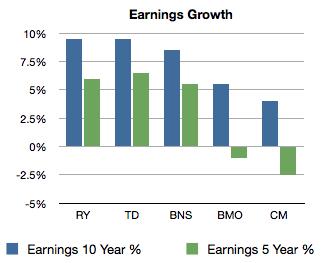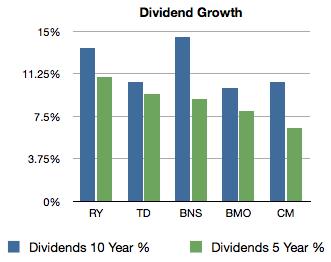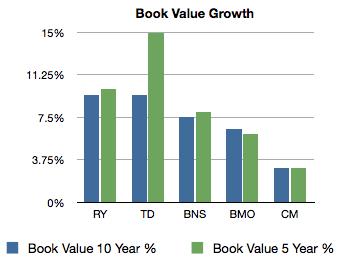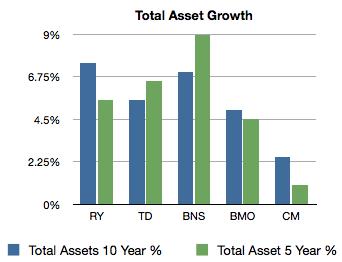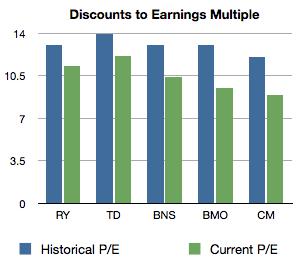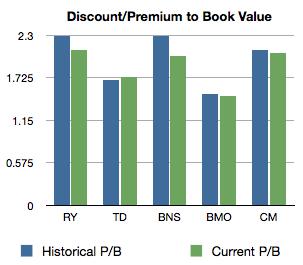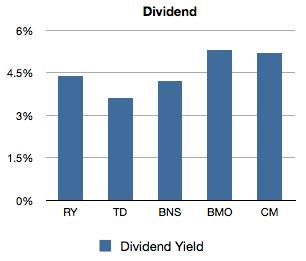 I'm still confident for both TD and BNS to outperform and would recommend Canadians ignore the hype and continue to hold both these banks - price target of $85 for TD and $61 for BNS. The technical charts of these companies are both promising as well:
Click to enlarge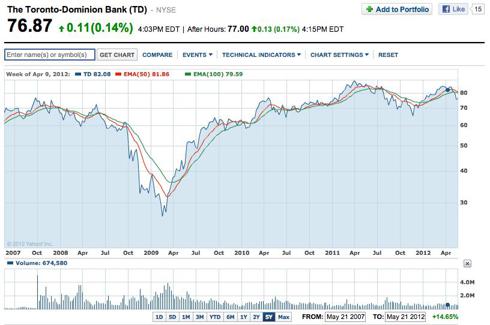 Click to enlarge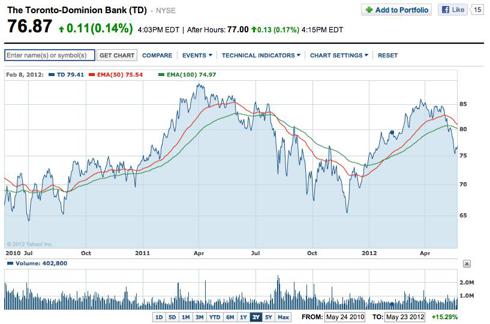 Click to enlarge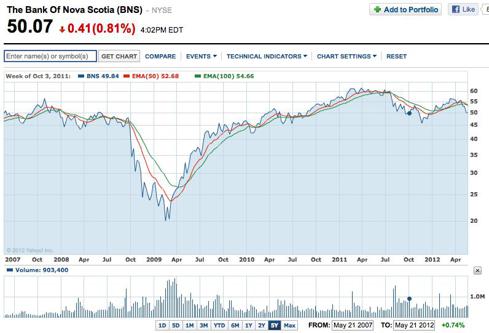 Click to enlarge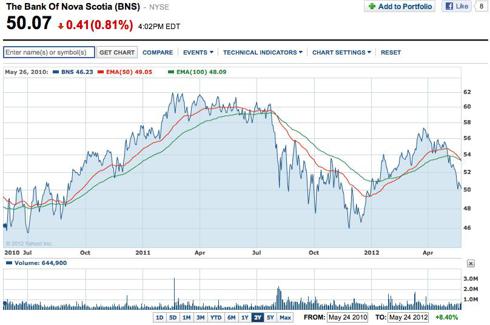 Click to enlarge
For me, this signals TD is a buy around $75 where there was a cross of the 50-day through the 100-day MA and to be careful around $83 where it last crossed to the downside. For BNS, these indicators point to a buying opportunity at $52 (which we are currently below) and to be careful at $59. Both these are short-term entry/exit points and my price targets reflect fundamental calculations and estimates of intrinsic value. This being said, both these businesses have the plans and the execution to grow this intrinsic value significantly going into the future.