ComScore (NASDAQ:SCOR), incorporated in August 1999, provides a digital marketing intelligence platform, which comprises its databases and a computational infrastructure that measures, analyzes and reports on digital activity. The Company delivers its digital marketing intelligence through its comScore Media Metrix product family and comScore Marketing Solutions.
Media Metrix delivers digital media intelligence by providing an independent, third-party measurement of the size, behavior and characteristics of Website and online advertising network audiences among home, work and university internet users.
The Marketing Solutions products combine the Company's information gathered from the comScore panel to deliver digital marketing intelligence, including the measurement of online advertising effectiveness, customized for specific industries. It delivers its Media Metrix products electronically in the form of weekly, monthly or quarterly reports. The Marketing Solutions products are delivered on a monthly, quarterly or ad hoc basis through electronic reports and analyses.
Back on December 18, I posted a blog post on 10 New IT Tech Trends for 2008. One of them is Metadata Management. SCOR is already currently benefiting from this, and will continue to into the future.
Metadata Management: Over the next three years, companies working to integrate both customer data and product data will link these master data management efforts together in an overall enterprise information management [EIM] strategy. According to Gartner, "This critical part of a company's information infrastructure will enable optimization, abstraction, and semantic reconciliation of metadata to support reuse, consistency, integrity and shareability." Metadata management, Gartner notes, also extends into SOA software development projects with service registries and application development repositories.
ComScore competes with Compete Inc., Hitwise Pty. Ltd, NetRatings, Inc. (NTRT), aQuantive, Inc. (AQNT), DoubleClick Inc. (DCLK), ValueClick Inc. (VCLK), WPP Group plc (NASDAQ:WPPGY), Arbitron Inc. (NYSE:ARB), Nielsen Media Research, Inc., Taylor Nelson Sofres plc, Omniture, Inc. (OMTR), WebSideStory, Inc. (WSSI), WebTrends Corporation, Harris Interactive Inc. (NASDAQ:HPOL), Ipsos Group, IMS Health Incorporated (RX) and Telephia, Inc.
We have just taken a position in Omniture as well as ComScore.
SCOR 6 month chart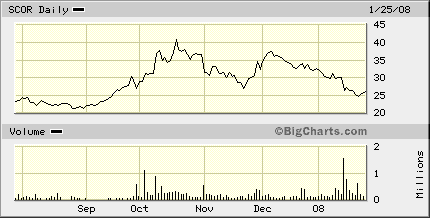 SCOR Current Price: 26.18 Buy at 24.66 and above. Stop-Loss 22.95.
Target Price 30.00 to 39.00
Comscore has issued Q4 2007 guidance in line with analyst's estimates, and fiscal year guidance above analyst's estimates. Current Quarters Estimate 0.20. Current Year's Estimate 0.53. Last Quarter's Earnings 0.13. PE on CY Estimate 49.87. Year Ago Earnings 0.30. Next Fiscal Year Estimate 0.76. PE on Next FY Estimate 34.68.
SCOR will report financial results for the quarter ended December 31, 2007 and provide guidance for 2008 on Thursday, February 7 at 4:30 p.m. EST.2007 Quarterly Operating Revenues Q3 22.39, Q2 20.81, and Q1 18.68. 2007 Quarterly Gross Operating Profit Q3 17.38, Q2 15.79, and Q1 14.16. 2007 Quarterly Net Income. Q3 3.79, Q2 1.24, and Q1 1.54.
ComScore Media Metrix
Media Metrix provides its subscribers, consisting primarily of publishers, marketers, advertising agencies and advertising networks, with intelligence on digital media usage and a measurement of the size, behavior and characteristics of the audiences for Websites and advertising networks among home, work and university Internet populations. Media Metrix also provides insights into the effectiveness of online advertising.
Media Metrix data can be used to identify and target key online audiences, evaluate the effectiveness of digital marketing and commerce initiatives, support the selling of online advertising by publishers and to identify relative competitive standing. The Company's principal product, Media Metrix 2.0, details the online activity and site visitation behavior of Internet users, including use of networks, such as AOL, instant messaging, audio and video streaming, and other digital applications.
Its customers subscribe to ongoing access to the Company's digital marketing intelligence reports and analyses, including reports detailing online behavior for home, work and university audiences; demographic characteristics of visitors to Websites and properties; buying power metrics that profile Website audiences based on their online buying behavior; detailed measurement and reporting of online behavior for over 30 countries and over 100 United States local markets; measurement of key ethnic segments, including the online Hispanic population, and reach and frequency metrics for online advertising campaigns that show the percent of a target audience reached and the frequency of exposure to advertising messages.
In addition to its core offering, customers can subscribe to Plan Metrix, World Metrix, Video Metrix, and Ad Metrix products in the Media Metrix product family. Plan Metrix is a product that combines the continuously and passively observed Internet behavior provided by Media Metrix with comprehensive attitude, lifestyle and product usage data collected through online surveys of its United States Internet user panel. Plan Metrix provides advertising agencies, advertisers and publishers with multiple views of Website audiences, including their online behavior, demographics, lifestyles, attitudes, technology product ownership, product purchases and offline media usage. These data are used in the design and evaluation of online marketing campaigns.
comScore, Inc. provides insights into worldwide Internet activity through its World Metrix product, which delivers aggregate information about the behavior of online users on a global basis, for approximately 30 individual countries and for regional aggregations, such as Latin America, Europe and Asia Pacific. Video Metrix provides insights into the viewing of streaming video by United States Internet users. The product measures a range of video players and formats, including Windows Media, Flash, RealMedia and QuickTime. Video Metrix offers site-level measurement and audience ratings by demographics and time-of-day to assist agencies, advertisers and publishers in designing and implementing media plans that include streaming video.
Available through the Media Metrix client interface, Ad Metrix provides advertisers, agencies and publishers with a variety of online advertising metrics relating to impressions, or advertisements on a Website that reach a target audience. Ad Metrix helps customers determine the impressions delivered by advertising campaigns across Websites and online properties, including how many visitors are reached with advertisements and how often. In addition, Ad Metrix allows customers to determine the demographic profile of the advertising audience at a particular site, as well as how the volume of impressions changes over time on that site.
comScore Marketing Solutions offer solutions for specific industry verticals, including the automotive, consumer packaged goods, entertainment, financial services, media, pharmaceutical, retail, technology, telecommunications and travel sectors. The core information products offered by comScore Marketing Solutions include Market Share Reports, Competitive Benchmark Reports, Loyalty and Retention Analysis, Customer Satisfaction Reports, qSearch, Campaign Metrix, Internet Advertising Effectiveness Studies and Survey-Based Products.
Market Share Reports track a company's share of market as measured by industry-specific performance metrics. The metrics of choice vary by industry vertical, including share of online credit card spending for credit card issuers; share of online travel spending for travel companies; or share of subscribers for Internet service providers (ISPs). Competitive Benchmark Reports allow customers to compare themselves to competitors using various industry-specific metrics.
Loyalty and Retention Analysis provides an understanding of the extent, to which consumers are also engaged with competitors, and identifies loyalty drivers to assist customers in capturing a higher share of the consumer's wallet. Customer Satisfaction Reports are based on panelist responses to survey questionnaires that ascertain the degree of satisfaction with various products or services offered to consumers. This information is often integrated with the online usage information that the Company collects from its panelists in order to identify which digital media usage activities affect customer satisfaction.
qSearch is a monthly scorecard of the search market that provides a comparison of search activity across portals and major search engines. It helps identify the reach of a search engine, the loyalty of its user base, the frequency of search queries, and the effectiveness of sponsored links displayed on search result pages in driving referrals to advertiser sites. qSearch is used by major search engines and advertising agencies in planning search campaigns.
Campaign Metrix provides detailed information about specific online advertising campaigns. These reports, available through a Web-based interface, describe for each advertising image, or creative within an advertising campaign, the size and demographic composition of the audience exposed to that particular advertisement, the average number of impressions delivered and other details regarding ad formats and ad sizes used in the campaign.
Internet Advertising Effectiveness Studies provide an understanding of the effectiveness of particular advertising campaigns by measuring the online and offline behavior of a target group of comScore panelists, following their exposure to a particular advertisement, and comparing their behavior to that of a control group of comScore panelists who were not exposed to such advertisements. This type of a study allows a marketer to understand the impact of their advertising campaign and to estimate the return on their investment in online marketing.
Survey-Based Products leverage the Company's ability to administer surveys to its panel members to obtain valuable information that can be integrated with online behavioral data to provide its clients with additional insights into the drivers of consumer behavior.