Going into a four-day weekend many traders do not like to hold stocks. Personally, I am 50/50 on this one as the extra day often times can help when faced with a choppy overall market that we are in now. Below, I list a few stocks I think will have nice gains next week, provided we have a stable market, and the technicals indicate to me we should at least for next week.
Antares Pharma (AIS)
Antares engages in the development and marketing of self-injection pharmaceutical products and technologies, and topical gel-based products.
What to watch for:
The trading pattern today of split .5's normally indicates quiet short covering associated with the so called "Market Makers"(MM'S). Just about every time I see this type of trading activity with Antares, a large upside move occurs within three trading sessions. I also expect a near term update on the company's much talked about female Gel birth control product, Nestragel.
IsoRay (NYSEMKT:ISR)
IsoRay engages in the development, manufacture and sale of isotope-based medical products and devices for the treatment of cancer and other malignant diseases primarily in the United States. The company produces Proxcelan Cesium-131 brachytherapy seeds that are used for the treatment of prostate cancer; ocular melanoma; head, neck, and lung tumors; breast cancer; liver cancer; brain cancer; colorectal cancer; gynecological cancer; esophageal cancer; and pancreatic cancers.
What to watch for:
The company announced on May 22nd 2012, that the GliaSite radiation therapy system, the world's only balloon catheter device used in the treatment of brain cancer, has earned the European CE Mark, allowing immediate sale in 31 European countries. The system's balloon catheter is a landmark technology that allows physicians to treat more patients than ever before with brachytherapy or internal radiation and provides important benefits over other radiation treatment options.
I do not think the market knows about the above news as it should, and it seems the company is under most traders/investors radars. I might cover this company moving forward in the coming weeks.
This is an interesting little company selling for around $0.65 a share with a market cap of roughly $19M, without ever having a reverse split to date. The chart also looks interesting:
*(Click to enlarge)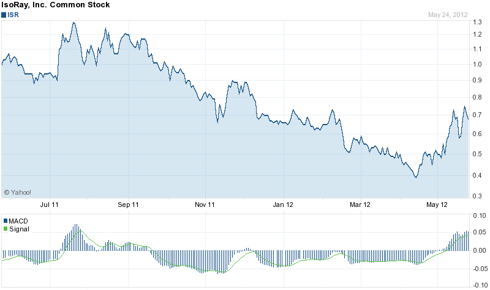 Click to enlarge
I can see a hugely bullish pattern taking shape above which I do not think I need to explain in much detail as most people will be able to clearly see the first two waves in a new uptrend channel. This one might break above a dollar soon.
Arena Pharma (NASDAQ:ARNA)
Arena engages in discovering, developing and commercializing oral drugs that target G protein-coupled receptors in the therapeutic areas of cardiovascular, central nervous system, inflammatory and metabolic diseases. The company just received a favorable recommendation from an FDA advisory panel for its much talked about weight loss drug, Lorcaserin.
What to watch for:
It appears more likely than not Arena will not be required by the FDA to engage in a Risk Evaluation and Mitigation Strategy (REM) as Vivus (NASDAQ:VVUS) was required to do when its weight loss drug Qnexa was also recently recommended for approval by an advisory panel.
Another fellow Seeking Alpha author recently offered some interesting insight to the current Arena situation:
Arena secured financing shortly after an FDA advisory panel recommended approval of their weight-loss drug candidate, Lorcaserin, by a vote of 18-4, winning over even their harshest critics at TheStreet.com. Investors are optimistic but Nathan Sadeghi-Nejad cautions that like peer Vivus (VVUS), a final decision for Lorcaserin could be delayed three months "to give the FDA more time to craft an effective Risk Evaluation and Mitigation Strategy, or REMS," the columnist wrote last week. As big a problem as obesity may be, no single drug has seen sales >$1 billion in this indication. But even as the debate rages on, and an FDA decision nears, sophisticated investors have essentially insisted that Arena is "fairly-valued' at $5.50 a share, plus an expected return (i.e. the 'discount'). As with Dr. Frost's direct investment in Prolor, institutional investment in Arena bodes particularly well for the company ahead of a seemingly less and less binary event (as investors are suggesting approval is more likely than not).
It is my opinion that approval of Lorcaserin is a given at this point. Again, it does not seem to me that a REM will be required by the FDA, possibly making Lorcaserin the first doctor proscribed weight loss drug to hit the market since 1999. Arena to me is looking less like a speculative investment, and more like a long term winner. Keep a close eye on this one after a successful secondary offering was completed at $5.50 a share. This might be a good time to buy Arena stock for the long haul in my opinion.
As of this writing, Arena stock is trading near $6.00 a share.
Progenics Pharmaceuticals (PGNX)
Progenics engages in the development and commercialization of therapeutic products to treat the unmet medical needs of patients with debilitating conditions and life-threatening diseases in the United States and internationally. Its primary programs focus on gastroenterology, oncology and virology. The company offers Relistor (methylnaltrexone bromide) subcutaneous injection, a therapy for opioid-induced constipation.
What to watch for:
7/27 PDUFA for RELISTOR. Salix (SLXP) will pay Progenics $40M on the approval milestone for RELISTOR for non-cancer pain. This should move the stock higher over coming weeks, possibly seeing $9.50 to $10 right before the PDUFA date. The Salix stock should also see a benefit from this potential catalyst as well.
In the most recent Phase III clinical trial involving the drug, 1,034 patients were tested in a one year safety study of Relistor in non-malignant pain patients with OIC symptoms. In addition to strong toleration for the drug, it was shown that 34.1% of methylnaltrexone 12mg subcutaneous injections resulted in bowel movements within four hours. Subjective assessments were taken too, which showed statistically significant improvements from the baseline with regards to straining and the number of bowel movements along with relief.
Progenics stock trades for around $8.30 a share, and as I remarked in my feature article about the company, I feel a stock price move to up over $9.50 a share will occur before the 7/27 PDUFA for RELISTOR.
*Chart data provided by Yahoo Finance.
Disclosure: I am long PGNX and Antares Pharma (AIS)
Disclaimer: This article is intended for informational and entertainment use only and should not be construed as professional investment advice, but rather my opinions as a writer only. Always do you own complete due diligence before buying and selling any stock.