Sun Microsystems' (JAVA) recently announced annual results for 2007 point to some interesting trends. Here is one company which has pioneered more than a dozen of market leading technologies, but continues to make profits of just $473 million on revenues of $13.8 billion, giving it a profit margin of just over 3%. In comparison, Microsoft's (NASDAQ:MSFT) margins are somewhere around 30%, with IBM (NYSE:IBM) and HP (NYSE:HPQ) coming in around the 10% margin mark. If you think that open source technologies are great for the developer community and the future of technology, but not so for the investors and in a way, for the continued financial survival of the company, then you are spot on.
Let us take Sun's technologies/solutions/products for example. Java, Sun's flagship solution, rules the application development market and helps developers deploy applications across multiple platforms thanks to its cross-platform independence. If you are using a leading application in a mobile phone or a washing machine or even a super computer or just browsing the web, you maybe using Java Technology. There is no doubt that Java's ubiquitous nature is largely due to the fact that it is so open and is part of the GNU public license. This which makes it hot among developers who can build on, and develop applications for everything.
If Java and most of its software products like Solaris Operating System are virtually free, how does Sun make revenues? Through it's support contracts which run into millions. Sun's investors can look to the fact that Sun doesn't have many customers, worldwide, that will run an unsupported product in their data center. Though a lot of companies have internal support systems, enterprise support is the lifeline for many enterprise products. This model works for numerous open source companies including RedHat.
Logically, Sun being a player in the enterprise IT market should fare slightly better than a company like RedHat which is both customer and enterprise focused. But even RedHat's margins are more than 10%, though RedHat's revenues are somewhere around the $400 million range, while Sun's revenues are as high as $13 billion.
Sun opened up its Solaris Enterprise System, and gave it for free, a couple of years ago. What it had done by doing so, was that it lowered the initial cost for companies to use an enterprise operating system and applications around it including Java. No doubt, Free software grows revenue opportunities and you get a bandwagon of customers signing in to this movement.
We have millions of customers signing into Sun every year and without a doubt, most of them choose Sun for support. But why do margins lag? I guess most of the lag is due to the fact that support in itself is a low-margin game. Enterprise software support requires more and more logistics cost and the margins become thinner and thinner if complexities of support increase.
Though open source software helps in removing barriers to revenue, it also means that there are barriers to profit. These are interesting pointers to organizations that want to take the open source way.
But on the other side, with telecommunications improving like never before and with such advancements, logistics costs tend to get lower. Although to get the best of support employees, you need to pay them much higher salaries.
Sun has been improving its profit margins from negative to positive and this augurs well for the whole open source community and its investors.
Is Open Source a model for technology innovation? Yes, no doubt about it. Is it a model for breaking revenue barriers? Yes, to a certain extent.
Is Open Source a model for bettering profits? This is a big question, investors have to analyze before investing in companies like Sun Microsystems?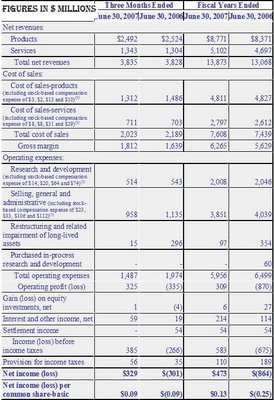 Note: In addition to such open technology solutions, Sun is a major player in the enterprise server business, thanks to its SPARC processors. Despite this, Sun's server revenue was down 2.4 percent to $1.59 billion in the latest quarter. The company did experience strong growth in its support services and data-storage divisions, whose sales each grew more than 4 percent, to $1.04 billion and $655 million, respectively.