American Oil & Gas Royalty Trusts have fallen well out of favor in the past month due to weakness in the underlying commodities. Companies like Chesapeake Granite Wash Trust (NYSE:CHKR) have reported lower-than-expected distributions leaving investors to speculate how low its Q2 distribution will be. While we cannot predict exactly what the number will be, we can say with a high degree of certainty that it will not be below 61 cents, the subordination threshold.
When Chesapeake Energy Corporation (NYSE:CHK) spun off CHKR, it retained 57% of the total shares. From these company owned shares, they earmarked a portion (25% of the total outstanding shares) and established a subordination threshold for each quarterly distribution. If the dividend falls below this amount, Chesapeake is required to reduce its income from that 25% retained position to cover the shortfall.
Here is a list of companies which include Chesapeake Granite Wash Trust , Sandridge Mississippian Trust II (NYSE:SDT), Sandridge Mississippian Trust II (NYSE:SDR) and Ridge Permian Trust (NYSE:PER). Below is a table detailing the companies' forward 12-month yields based on its current price and its next four quarterly subordination threshold dividends:


Source: Prospectus of the companies
We can push this concept further and create a baseline forward yield curve based on the distribution floor: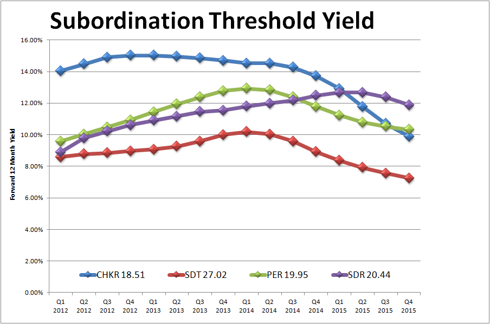 Click to enlargeSource: Prospectus of the companies
The realized yield on these will, in all likelihood, be higher than referenced above but it is important to establish and be comfortable with the downside risk of these out-of-favor equities.
We often espouse the worst-case-scenario approach when considering value, and it seems to apply well to this situation. You can participate in a rebound in commodities and overall market sentiment while limiting your downside to a very adequate yield.
Disclosure: I am long CHKR, PER.
Additional disclosure: Saibus Research has not received compensation directly or indirectly for expressing the recommendation in this report. Under no circumstances must this report be considered an offer to buy, sell, subscribe for or trade securities or other instruments.