Last month, GlaxoSmithKline (NYSE:GSK) made an offer to Human Genome Sciences (HGSI) in a buyout of the company for $13 a share. The stock price of HGSI nearly doubled on the news.
(Click to enlarge)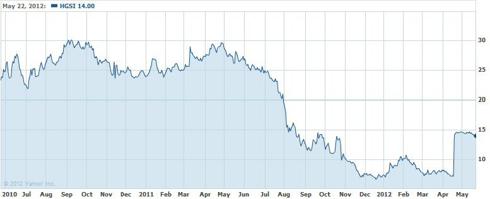 Click to enlarge
HGSI management does not believe the offer values the company properly. I have to disagree with the company's management. I believe the company expects they can get an offer between $20 - $30 per share since the stock was trading around that price just last year. What Human Genome's management fails to see is that Benlysta was not that big of a success as initially planned.
HGSI's management should understand that since GSK was a partner for the drug, that it would be the most viable solution for the company to be acquired by them. Otherwise, there are not many other suitors that could say the same.
I urge shareholders to liquidate their positions in HGSI especially due to the news of the poison pill offer. Management does not seem as if they want to get bought out. Shareholders should sell at the $13 price as I do not believe GSK is so badly in need of Benlysta. The best case scenario is that HGSI will reject and GSK could raise the bid to $15-$16 per share. Worst case, HGSI rejects and GSK pulls the bid. The stock would then drop at least 40%. I recommend that shareholders sell their stakes or at least sell a large portion.
Disclosure: I have no positions in any stocks mentioned, and no plans to initiate any positions within the next 72 hours.