We posted Part 3 of our "Building A DIY Dividend Portfolio" series this morning, which highlighted our top-ranked dividend stocks in the Healthcare sector (see summary table below).

As we highlighted in Part 3, we believe that patiently waiting for a low-risk entry point for a given stock will drastically improve your long-term investment results. Just because a stock has a high Parsimony composite rating, it doesn't necessarily mean that you should run out and purchase it that day. We scan the charts of our top-rated stocks daily looking for strong levels of support and resistance, which ultimately helps us determine a target "Buy Zone" for each stock.
Tactical Strategy for the DIY Dividend Portfolio
As a follow up to Part 3 (Part 3b, if you will), below are our target "Buy Zones" for each of these top-rated Healthcare stocks. For the most part, Healthcare stocks got hit pretty hard during the broader correction in the equity market in mid 2011 (June-Oct.). That said, many of these stocks have never fully recovered and are now seeing weakness again in this correction. In our mind, the Healthcare sector is currently offering investors some very attractive entry points right now.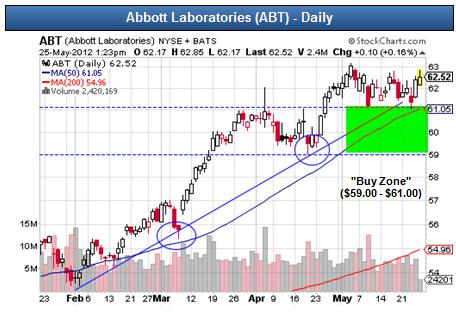 Despite the uncertainty surrounding the AbbVie spinoff later this year, Abbott Laboratories (NYSE:ABT) continues to be a must own dividend stock in our mind. The company rates highly in risk-reward, financial stability and dividend history. The stock is in a very strong trend and the 50-day moving average continues to be a strong level of support. The stock consolidated briefly in the $59.00-$61.00 range in March and April and we will be a buyer of ABT if it falls back into this range. If the stock falls below it's 50-day moving average ($60.66), consider it a gift.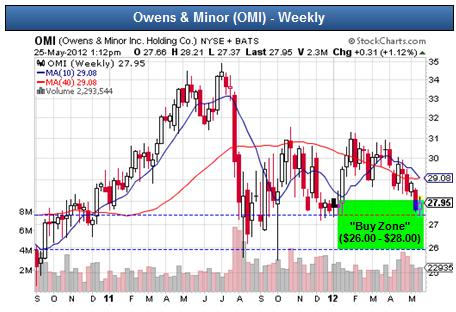 For a company with very high-ratings (>90) in Financial Stability and Dividend History, Owens & Minor (NYSE:OMI) seems like a great buy at current levels. We think the stock will get very strong support around the $26.00 level on any further weakness, so we feel that any purchase in the $26.00-$28.00 range is a pretty low risk entry point.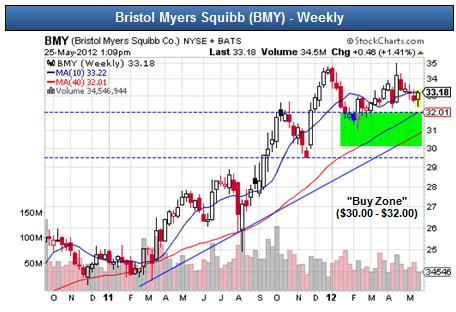 Bristol Myers Squibb (NYSE:BMY) has had a very nice recovery from its lows in August 2011. Along with Abbott, it is certainly one of the stronger trending stocks in the Healthcare sector. As you can see in the chart above it has been getting great support at the 40-week moving average on any pullback. Consider the stock a buy if it pulls back to its current 40-week average again ($32.00).
The chart of Becton Dickinson (NYSE:BDX) looks very similar to the chart of OMI above. That said, we feel that BDX is also trading at a very attractive entry point right now. We believe the stock will get strong support around the $70.00-$72.00 range on any further weakness. This is a great price for a S&P Dividend Aristocrat!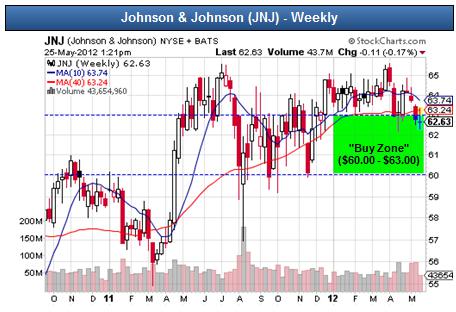 Johnson & Johnson (NYSE:JNJ) is certainly a dividend fan favorite. The stock has a very long and stable dividend history and its current 4% dividend yield is very attractive. We also believe that JNJ is in a low risk entry zone right now. We expect the stock to get very strong support around $60.00 on the downside. Feel free to start buying the stock at current levels.
Summary
Investors should consider all of these great stocks for their DIY Dividend Portfolio, but please be patient with your entry points.
That said, three of the stocks above are currently in their respective "Buy Zones" (OMI, BDX, and JNJ). Feel free to pull the trigger on those stocks immediately.
Investors should use their discretion with the other two (ABT and BMY) in the short-term as we believe all of these stocks will eventually hit our "Buy Zones".
Good luck out there ... be safe!
Please make sure to "follow" us as we will be continuing our DIY Dividend Portfolio series over the coming weeks. We will also update readers if there are any new stocks entering their "Buy Zones".