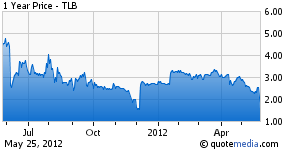 As an M&A investment banker focused on the retail sector, and creator of the Web-only Retail Index, a diverse group of constituents have asked me to comment on today's official word from Talbots (NYSE:TLB) that Sycamore Partners was not prepared to execute a transaction.
In reality there are four other stakeholder perspectives that are relevant. This includes shareholders, Talbots' board, Talbots' management and the broader equity markets.
In M&A you have to think through the motivations/predicament of each stakeholder and extrapolate an outcome. When I studied the facts I concluded that the deal wouldn't get done. Why is that?
Talbots' board's negotiating posture was weak as it is the subject of legal suits (breaches of fiduciary duties in connection with conduct related to the proposed sale of the company) and the company is in poor financial condition.
Sycamore's negotiating posture was strong. In my opinion, Sycamore's offer of $3.05 per share was too high and they needed to take it down.
Talbots' legal problems would have become Sycamore's if it had proceeded and that also calls into question the reasonableness of the $3.05 offer.
The straw that breaks the camel's back is this: Talbots is publicly traded. If the company had been private, the board of directors and Sycamore would have come to an agreement, which I believe would have been below $3.05 per share.
Because Talbots is public, its board was petrified by the prospect of another round of lawsuits, alleging breach of fiduciary duties in connection with its conduct related to the proposed sale of the company.
Where do the stakeholders go from here? Consider my thoughts, then look at the stock price and tell me what you think.
FOCUS Investment Banking Web-only Retail Index
Web-only Retail Index companies include Amazon (NASDAQ:AMZN), Blue Nile (NASDAQ:NILE), Bluefly (NASDAQ:BFLY), Coastal Contacts (CSOAF.PK), eBay (NASDAQ:EBAY), Expedia (NASDAQ:EXPE), Facebook (NASDAQ:FB), Google (NASDAQ:GOOG), Groupon (NASDAQ:GRPN), Netflix (NASDAQ:NFLX), Nutrisystem (NASDAQ:NTRI), Orbitz (NYSE:OWW), Overstock.com (NASDAQ:OSTK), PetMed Express (NASDAQ:PETS), Priceline (NASDAQ:PCLN), Shutterfly (NASDAQ:SFLY), Stamps.com (NASDAQ:STMP), U.S. Auto Parts (NASDAQ:PRTS), United Online (NASDAQ:UNTD), Vistaprint (VPRT), Vitacost (NASDAQ:VITC) and 1-800-Flowers.com (NASDAQ:FLWS).
(Click to enlarge)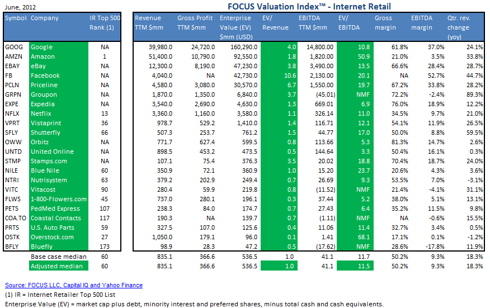 Disclosure: I have no positions in any stocks mentioned, and no plans to initiate any positions within the next 72 hours.