The Bank of Nova Scotia (NYSE:BNS), together with its subsidiaries, offers various personal, commercial, corporate, and investment banking services in Canada and internationally. It operates in the Money Center Banks industry.
It is scheduled to report its Q2 FY2012 results on May 29, 2012, before the market opens.
Recent EPS Actuals vs. Estimates
The company has met or exceeded analyst estimates in three out of four last quarters. In the last quarter it reported $1.23 EPS, beating consensus analyst estimates of $1.14 EPS.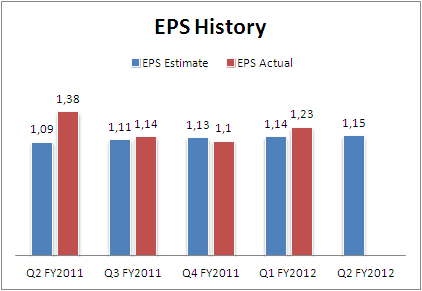 Analyst Estimates
The consensus for EPS is $1.15 based on 16 analysts' estimates, down from $1.38 a year ago. The average target price by analysts for the stock is $59.74.
Average recommendation: Overweight
Source: Marketwatch
Key Metrics
Market cap: $56.91B
52 week trading range: 45.79 - 61.83
Trailing P/E: 10.82
Forward P/E: 9.68
P/S: 3.48
P/B: 2.01
PEG Ratio: 1.23
Annual dividend yield: 4.4%
Total debt: $93.93B
Return on Equity: 17.36%
Return on Assets: 0.93%
Latest Developments
On May 22, 2012, Reuters reported that The Bank of Nova Scotia has agreed to sell the Toronto office towers that house its corporate headquarters for CAD1.27 billion ($1.25 billion) to a pair of Canadian real estate investment trusts (REITs).
On April 17, 2012, The Bank of Nova Scotia announced that it has closed the acquisition by Scotia Capital Inc. of Howard Weil Incorporated, a U.S.-based energy investment boutique. Terms of the transaction were not disclosed and are not financially material to Scotiabank.
On March 29, Ex-Date for dividend payment of $0.55.
On March 6, The Bank of Nova Scotia announces dividend on outstanding shares.
On February 9, 2012, The Bank of Nova Scotia announced that it has completed its previously announced public offering of 33 million common shares, at a price of $50.25 per common share, for gross proceeds of $1,658,250,000.
On February 1, 2012, The Bank of Nova Scotia announced that a public offering of 30 million common shares, at a price of $50.25 per common share, for gross proceeds of $1,507,500,000.
On January 18, 2012, The Bank of Nova Scotia announced the closing of its acquisition of 51% of Banco Colpatria. Through this long-term partnership with Mercantil Colpatria, who retains 48.7% ownership, Scotiabank will participate in significant growth opportunities in Colombia. The purchase will be satisfied through a combination of USD500 million in cash and 10,000,000 common shares of The Bank of Nova Scotia.
Competitors
Technical Insight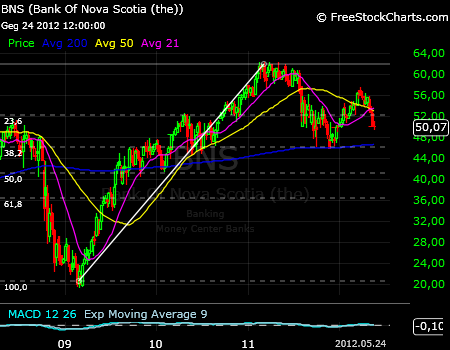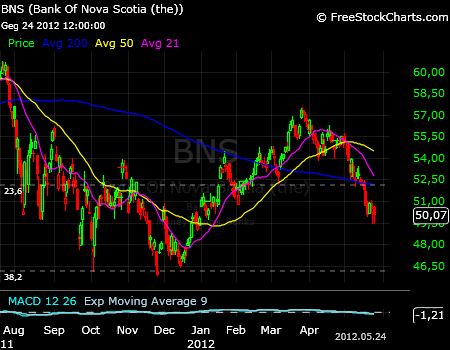 Here are weekly and daily charts for BNS. The weekly graph shows that recently it tested the 200-week moving average. Moreover, if you draw a Fibonacci retracement levels from the uptrend, which started in March 2009 and reached the recent highs in the spring of 2011, it has tested the 38.2% Fibonacci level and has rebounded back up. In the daily chart you can see the strong downtrend. I would suggest it tests 200-week moving average again during this summer, unless there are major fundamentals in play.
See a list of other major stocks reporting earnings in week 22 (May 28-31).
Sources: Yahoo Finance, Google Finance, CNBC, Marketwatch, Reuters, Forbes.
Disclosure: I have no positions in any stocks mentioned, and no plans to initiate any positions within the next 72 hours.