Over the past three months, Nokia (NYSE:NOK)'s stock has been pounded hard by the the market. Already losing ground YTD, Nokia went from over $5 to below $3. Today, a big piece of news came out that Nokia is outselling iPhone in China in smart phones. This is obviously encouraging news. Is Nokia now a convicted buy?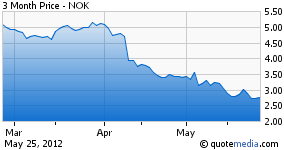 The problem is sales in China is mostly lower end Lumia 800C and Lumia 610C, with cheaper price and lower profit margin. Neither phone is important for the most diagnostic market of global product popularity, the U.S.
I have been very carefully following the progress of Nokia, especially its Lumia 900, which had a big splash in the market early on, but the sales have not topped the chart lately. Microsoft's (NASDAQ:MSFT) resources and willingness to get into the mobile OS market cannot be underestimated, and I am very positive that Window 8 will be a major OS platform. However, Microsoft can achieve this with or without Nokia. Many hardware companies, such as smart phone manufacturers Samsung (OTC:SSNLF) and HTC, and PC manufacturers such as HP (NYSE:HPQ) and Dell (NASDAQ:DELL), will produce Windows 8 based smart phones and tablets. Given the recent hardware developments, Windows 8 based gadgets will be at least comparable to, likely as good as Apple's (NASDAQ:AAPL) iPhone and iPad.
So the issue with Nokia is not whether Microsoft can succeed. It is whether Nokia can prosper.
The question boils down to two key issues. First, can Nokia survive? Second, can Nokia turnaround?
1. Survival
The recent downgrade of Nokia's bond to "junk" by S&P and Fitch raises some concerns. Now that the interest expense of Nokia's debt will be higher, it will burn cash more quickly.
Moreover, Nokia may be burning cash too quickly while working on its new phones. French bank Societe General analyst Juliano Torii recently downgraded Nokia, and said:
"In our opinion, the company's ability to repay even its shorter-term 2014 bond could be an issue. Nokia's spreads do not reflect the severity of the company's situation."
The estimate is Nokia might burn 2 billion euros out of its cash pile by 2013. That may not sound crushing given that Nokia has a net of more than $6 billion cash minus debt. But for tech companies with large R&D expense, a high cash buffer is common practice.
All that said, Nokia's survival is actually closely tied to its turnaround. As a tech company, it cannot just hang in the current situation.
2. Turnaround
The turnaround has been widely discussed at Seeking Alpha and various finance websites. Currently, Nokia has a fairly serious short term problem. Its Lumia 900 is selling well but not well enough to turn things around quickly. As of today, the Lumia 900 is No. 5 on Amazon's (NASDAQ:AMZN) bestseller list.
(Click to enlarge)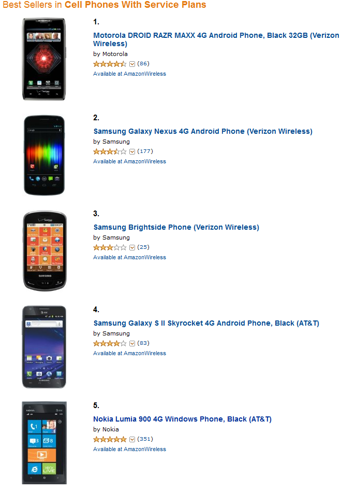 It is especially troubling that the pending release of Windows 8 might dampen demand for Lumia 900 at least in the next quarter, just like iPhone 5 will likely negatively influence the sales of iPhone 4S as consumers defer their purchases to until the new product comes out. For that reason, I expect Nokia's situation to get worse before it gets better, at least until this autumn.
A second question is about the scale of the turnaround in the long run. Another smart phone maker Research In Motion (RIMM) has a market cap of $5.78 billion, perhaps facing a likely bankruptcy. Nokia's market cap is still above $10 billion. If cooperating with Microsoft is going to save Nokia, how big can Nokia become in 2013? We can do a gross estimate to get an idea about the rough range. I'm going to use some very optimistic assumptions.
First assume Windows 8 picks up and occupies 10% of the smart phone market by 2013. Assuming the smart phone market doubles in 2013 from 2011 to 1 billion unit sales. That gives about 100 million unit sales of the Windows 8 phone. Out of this, say Nokia gets 50% (again very optimistic), or 50 million phones. On average, each Lumia phone sells for $300 (based on Nokia's number). This gives $15 billion in revenue. With a 10% profit margin, Nokia would be making $1.5 billion in profits. Using a P/E ratio of 15-20, Nokia is going to be worth $22.5 to $30 billion.
This scenario suggests Nokia could double in a couple of years. But again the assumptions are extremely optimistic. If say, Nokia gets 25% of Windows 8 phone's market share (still a reasonable number), it would be worth between $11.25 and $15 billion, pretty much the same market cap.
Overall, what I see in Nokia is a very hopeful yet high risk case. We have to accept the scenario that even if Nokia survives this crisis, it will be a much smaller player than it used to be. Buying Nokia now is like picking up coins in front of a bulldozer - too much risk with too little short term returns. Patient investors should wait for more positive information confirming a turnaround in the works.
Disclosure: I have no positions in any stocks mentioned, and no plans to initiate any positions within the next 72 hours.