Jarden Corp. ("JAH" or the "Company") continues to demonstrate how desperate it is to mask its deteriorating operations and support its overvalued share price by issuing laughable press releases. About two weeks ago, JAH issued a press release covering its expectations for Q4 2007, indicating the company would be "in line with...expectations" and that JAH is "comfortable with Analysts' estimates for as adjusted EPS for fourth quarter and the full year 2007."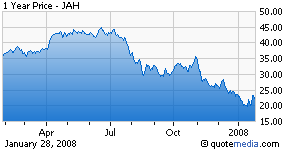 Given how the sellside is spoon-fed these "pro forma, as adjusted for constant charges, synergies that will never happen" figures, it should not come as a huge surprise that JAH is comfortable with its own internal estimates. JAH is an amazing company in that its management skillfully directs the bucketshop research analysts towards whatever JAH feels is important and then issues irrelevant press releases that goad support for its shares while management wheels and deals in the background. JAH's investor relations team might have done investors a better service by issuing press releases for other, far more relevant items.
Outside of its most recent press release, in July 2007 JAH made a point to inform investors that its CEO Martin Franklin and CFO Ian Ashken purchased about $2MM worth of shares in the open market. Considering the compensation these men have received in recent years as well as the stock awards in JAH and other entities they have invested in, the aggregate open market purchases by JAH's executives was a joke and hardly worthy of a press release. Following that, after poor Q3 2007 results, JAH decided to commence a $100MM share repurchase.
This is for a company with very aggressive leverage ratios, an abominable balance sheet, and a bunch of mediocre consumer products with declining operating margins. Given the terrible capital returns for JAH's previous acquisitions, it appears that management is staying consistent in allocating capital that destroys firm value through the announced buyback. I suspect the share repurchase was done solely to prop up Q4 EPS estimates and "surprise" the Street.
While these three press releases might have encouraged investors to hold or add to their shares in JAH, I feel that the Company's IR team should have also addressed a number of other items through its press releases.
For example, in late 2006 JAH could have alerted shareholders to the fact that Franklin and Ashken created Freedom Acquisition Holdings ("FAH") which went on to merge with UK-based hedge fund GLG Partners in spring 2007. Rather than devote 100% of their time to running JAH, the Company's CEO and CFO were busy prospecting for potential targets for FAH. Another interesting item would have been Franklin and Ashken's foray into yet another SPAC with their launching of Liberty Acquisition Holdings Corp ("LIA") in December 2007.
In both cases, I can't seem to find evidence through Company filings where JAH indicated that its CEO and CFO would be devoting less than 100% of their efforts to JAH and would be busy enriching themselves at the expense of JAH shareholders. The only way JAH shareholders would realize Franklin and Ashken were involved in other material events outside of JAH would be by sifting through arcane SPAC filings.
I suggest JAH's IR team should follow up with a new press release entitled "Jarden's management team enriches itself while Company investors lose 50%" and then commend the Company's CEO and CFO for their involvement in two SPACs. JAH investors should feel happy to know that while JAH's operating margins have declined, sales have stalled, and debt has risen, their CEO and CFO have been able to purchase a UK-based hedge fund and raise another SPAC.
Based on Franklin's share of these two entities it appears as though his value is roughly $300MM which appears to be significantly greater than his total stake in JAH (including stock awards). This chart compares GLG and JAH's one-year performance showing that Franklin's interest in GLG increased by about 33% while JAH shares have fallen about 50%.
JAH's IR team also neglected to issue a press release covering the recent board-approved acceleration of equity grants for the Company's management team. Perhaps JAH insiders are starting to realize the party is coming to an end and it's soon going to be time to blow out as many share grants and awards as possible before their left holding this toxic stock. Franklin and Ashken are paid by JAH shareholders yet have used that time and compensation to focus on lining their pockets in other ventures while Company shareholders have been gored through poor operating performance and capital allocation.
If JAH implodes, JAH shareholders will be left holding the pieces while Franklin and Ashken will be on to their next scheme.
DISCLOSURE: AUTHOR MANAGES A HEDGE FUND THAT IS SHORT JAH